EVALUATION OF GERMICIDAL UV-C LIGHT FOR SURFACE DISINFECTION IN A TERTIARY CARE HOSPITAL
Qanita Fahim

Combined Military Hospital Lahore/National University of Medical Sciences (NUMS) Pakistan

Nasir Uddin

Combined Military Hospital Lahore/National University of Medical Sciences (NUMS) Pakistan

Najam Ul Hassan

Combined Military Hospital Lahore/National University of Medical Sciences (NUMS) Pakistan

Nargis Sabir

Combined Military Hospital Nowshera/National University of Medical Sciences (NUMS) Pakistan

Anum Tariq

Combined Military Hospital Lahore/National University of Medical Sciences (NUMS) Pakistan

Ayesha Bashir

Combined Military Hospital Lahore/National University of Medical Sciences (NUMS) Pakistan

Sarmad Ahmad

NUST College of Electrical and Mechanical Engineering, Rawalpindi Pakistan
Keywords:
Disinfection, Microorganisms, Ultraviolet-C light
Abstract
Objective: To check the efficacy of 36-Watt Ultraviolet-C tube light, in terms of distance and time against medically important microorganisms (Staphylococcus aureus, Escherichia coli, Pseudomonas aeroginosa, Candida albicans and Aspergillus species).
Study Design: Quasi-experimental study.
Place and Duration of Study: Pathology department, Combined Military Hospital, Lahore Pakistan, from Jun to Sep 2020.
Methodology: ATCC control organisms of above mentioned bacteria, yeasts, and fungi were exposed to ultraviolet-C light for different times and distances to ascertain its germicidal effect. Two methods were selected, one in which micro-organisms inoculated plates were exposed to ultraviolet-C light and second in which McFarland suspensions of microorganisms were exposed before inoculation. Both the methods were compared. Observations were noted down after repeated performance of both the procedures.
Results: An exposure time of 15 minutes, mean ± SD (13.8 ± 10.1) at 1-foot distance was proved ideal for all the tested bacteria, but yeasts and fungi required >30 minutes, mean ± SD (17.5 ± 13.5) to be killed. Moreover, distance and time of exposure were found out to be directly proportional irrespective of microbial load. Greater the distance longer the ultraviolet C exposure was required.
Conclusion: Ultrviolet-C light 36-Watt can have efficient inactivation of bacterial, fungal and archaeal species up to 6 feet for >30 minutes exposure time. Ultraviolet-C light disinfection is best for areas like closed rooms, operation theatres, PCR Labs, and bio-safety cabinets keeping bio-safety guidelines in view.
Downloads
Download data is not yet available.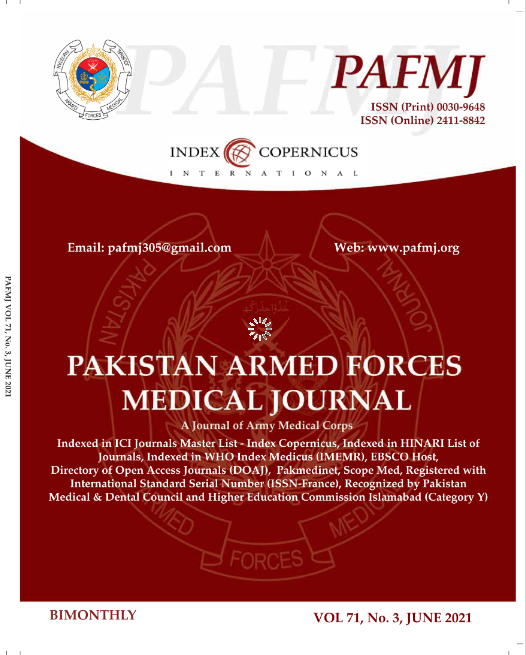 How to Cite
Fahim, Q., Uddin, N., Hassan, N., Sabir, N., Tariq, A., Bashir, A., & Ahmad, S. (2021). EVALUATION OF GERMICIDAL UV-C LIGHT FOR SURFACE DISINFECTION IN A TERTIARY CARE HOSPITAL. Pakistan Armed Forces Medical Journal (PAFMJ), 71(3), 889-94. https://doi.org/10.51253/pafmj.v71i3.5894
Section
Original Articles