EFFECTS OF UNILATERAL INTRAVITREAL BEVACIZUMAB ON THE CONTRALATERAL EYE HAVING DIABETIC MACULAR EDEMA
Aziz Jan Bashir

Al-Shifa Trust Eye Hospital, Rawalpindi Pakistan

Abdul Hannan

Al-Shifa Trust Eye Hospital, Rawalpindi Pakistan

Salman Sohail Chaudhary

Al-Shifa Trust Eye Hospital, Rawalpindi Pakistan

Sarah Zafar

Al-Shifa Trust Eye Hospital, Rawalpindi Pakistan

Abdullah Naeem Syed

Al-Shifa Trust Eye Hospital, Rawalpindi Pakistan

Syed Hassan Massana

Al-Shifa Trust Eye Hospital, Rawalpindi Pakistan
Keywords:
Bevacizumab, Central retinal thickness, Diabetic macular edema, Intravitreal injection
Abstract
Objective: To investigate the effect of unilateral intravitreal Bevacizumab on contralateral eye in bilateral diabetic macular edema.
Study Design: Quasi-experimental study.
Place and Duration of Study: Retina Department of Al-Shifa Trust Eye Hospital, Rawalpindi, from Sep to Dec 2020.
Methodology: Thirty-two patients were enrolled with consecutive sampling. All the patients had clinically diagnosed diabetic macular edema having >275µm macular thickness on OCT. They were injected with 1.25mg/0.05mL of Bevacizumab in one eye. Baseline macular thickness was compared with 4 weeks follow up macular thickness, using Optical Coherence Tomography.
Results: The central macular thickness in the untreated eye at baseline was 396.97 ± 29.79 µm and 388.34 ± 30.06 µm at 4 weeks (p-value=0.001). The difference in central macular thickness in treated and untreated eyes were 28.44 ± 4.11 µm and 19.81 ± 5.31 µm respectively (p-value = 0.001). There were statistically significant differences between these measurements.
Conclusion: Injecting Bevacizumab in one eye for diabetic macular edema has statistically significant effect on the contralateral non-injected eye macular thickness.
Downloads
Download data is not yet available.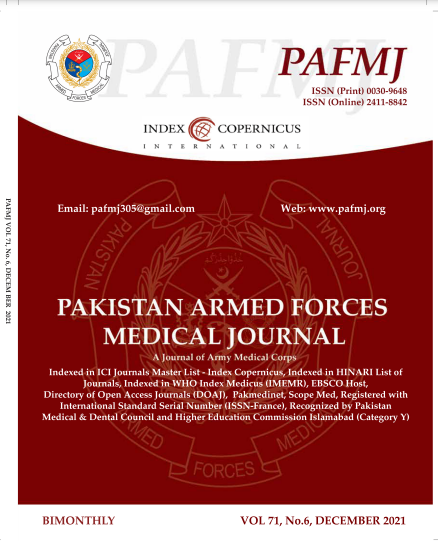 How to Cite
Bashir, A., Hannan, A., Chaudhary, S., Zafar, S., Syed, A., & Massana, S. (2021). EFFECTS OF UNILATERAL INTRAVITREAL BEVACIZUMAB ON THE CONTRALATERAL EYE HAVING DIABETIC MACULAR EDEMA. PAFMJ, 71(6), 2075-77. https://doi.org/10.51253/pafmj.v6i6.5853
Section
Original Articles