PREDICTION OF SHORT-TERM PERINATAL OUTCOME IN OLIGOHYDRAMNIOS AT TERMROLE OF UMBILICAL CORD ARTERIAL BLOOD LACTATE LEVELS
Amera Tariq

PNS Shifa Karachi Pakistan

Afeera Afsheen

Combined Military Hospital Multan/National Institute of Medical Sciences (NUMS) Pakistan

Bushra Iftikhar

PNS Shifa Karachi Pakistan

Rabiah Anwar

PNS Shifa Karachi Pakistan

Rizwana Bashir Kiani

PNS Shifa Karachi Pakistan

Saira Mahboob

PNS Shifa Karachi Pakistan
Keywords:
Neonatal outcome, Oligohydramnios, Umbilical cord arterial blood lactate levels
Abstract
Objective: Investigating the perinatal outcome in pregnant patients with oligohydramnios at term.
Study Design: Prospective observational study. Place and Duration of Study: Department of Obstetrics and Gynaecology, Pakistan Naval Ship (PNS) Shifa Hospital Karachi, from Mar to Oct 2020.
Methodology: The investigation comprised of 60 parturient ladies with gestational amenorrhoea of 37-42 weeks and no associated medical illnesses. Collection A consisted of 30 patients with maximum vertical pocket (MVP) <2cm or amniotic fluid index (AFI) ≤5cm. Collection B involved 30 pregnant women having normal amniotic fluid index >5cm. The 2 collections were tallied with respect to demographic characteristics and perinatal outcome particularly low birth weight, delivery mode, poor APGAR score, umbilical artery acidosis and meconium staining. Neonatal future stands upon evaluation of levels of lactate found in umbilical cord arterial blood.
Results: According to our findings, commonest mode of childbirth 37 (61.7%) was Caesarean section. No statistical difference was found between the two aggregations of low weight at birth i.e. 4 (13.3%). Based on our study, meconium staining at birth was prevalent in 8 (13.3%) of neonates however no meconium aspiration was seen, umbilical artery acidosis was apparent in 27 (45%) and only 5 (8.3%) accounted for poor APGAR scores.
Conclusion: Detrimental pregnancy aftermath and elevated perinatal morbidity correlates with oligohydramnios.
Downloads
Download data is not yet available.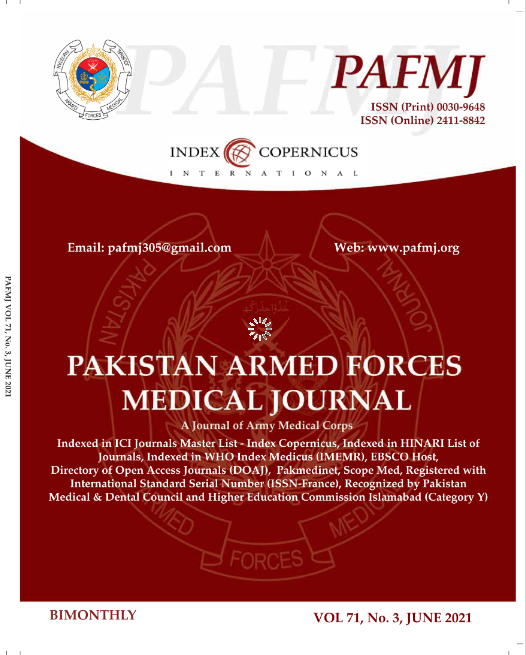 How to Cite
Tariq, A., Afsheen, A., Iftikhar, B., Anwar, R., Kiani, R., & Mahboob, S. (2021). PREDICTION OF SHORT-TERM PERINATAL OUTCOME IN OLIGOHYDRAMNIOS AT TERMROLE OF UMBILICAL CORD ARTERIAL BLOOD LACTATE LEVELS. PAFMJ, 71(3), 966-70. https://doi.org/10.51253/pafmj.v71i3.5836
Section
Original Articles