COMPARISON BETWEEN TRAGAL CARTILAGE WITH PERICHONDRIUM AND TEMPORALIS FASCIA GRAFT BY UNDERLAY ENDOSCOPIC TYMPANOPLASTY
Muhammad Tahir

Karachi Institute of Medical Sciences, Karachi Pakistan

Asim Abbass

Karachi Institute of Medical Sciences, Karachi Pakistan

Faiz Ul Hassan Nawaz

Karachi Institute of Medical Sciences, Karachi Pakistan

Syed Asad Shabir

Pakistan Naval Ship Shifa Hospital, Karachi Pakistan

Atif Rafique

Combined Military Hospital Multan/ National University of Medical Sciences (NUMS) Pakistan
Keywords:
Endoscopic tympanoplasty, Tragal Cartilage with perichondrium graft, Temporalis fascia graft, Underlay technique tympanoplasty
Abstract
Objective: To compare the results of tragal cartilage with perichondrium versus temporalis fascia graft in endoscopic tympanoplasty using underlay technique.
Study Design: Comparative prospective study.
Place and Duration of Study: Study conducted in Tertiary Care Hospital, Karachi, from Jul 2018 to Feb 2020.
Methodology: Overall, 34 patients having permanent unilateral tympanic membrane perforations were included in this study, in whom underlay endoscopic tympanoplasty was performed. Group A patients underwent temporalis fascia graft while group B received a tragal cartilage with perichondrium graft. The success rate between groups was compared in respect of reduction in postoperative air-bone gap and healing of perforation.
Results: The success rate of graft was 88% (30/34) in group A and 94% (32/34) in group B after 6 months follow-up, the difference was not found to be statistically significant (p=0.368). Hearing improvement in the form of closure of air bone gap in group A was from 24.52 ± 1.73 dB (decibel) to 13.56 ± 5.67s dB and in group B it was from 19.76 ± 3.47dB to 11.94 ± 3.9dB, the difference was not significant statistically (p=0.333).
Conclusion: Keeping in view the results of our study, we conclude that both tragal cartilage with perichondrium and temporalis fascia graft are considered equally successful in endoscopic tympanoplasty.
Downloads
Download data is not yet available.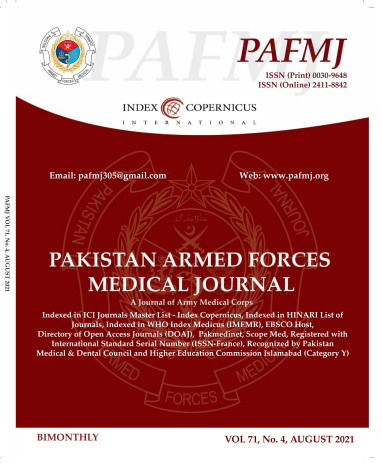 How to Cite
Tahir, M., Abbass, A., Nawaz, F. U., Shabir, S., & Rafique, A. (2021). COMPARISON BETWEEN TRAGAL CARTILAGE WITH PERICHONDRIUM AND TEMPORALIS FASCIA GRAFT BY UNDERLAY ENDOSCOPIC TYMPANOPLASTY. Pakistan Armed Forces Medical Journal, 71(Suppl-3), S622-25. https://doi.org/10.51253/pafmj.v71iSuppl-3.5819
Section
Original Articles