Determination of Lipid Derangements in Human Immunodeficiency Virus Patients Undergoing Anti-Retroviral Therapy
Qamar Bashir

Armed Forces Institute of Pathology/ National University of Medical Sciences (NUMS) Rawalpindi Pakistan

Zujaja Hina Haroon

Armed Forces Institute of Pathology/ National University of Medical Sciences (NUMS) Rawalpindi Pakistan

Naveed Asif

Combined Military Hospital, Quetta/National University of Medical Sciences (NUMS) Pakistan

Muhammad Qaiser Alam Khan

Combined Military Hospital, Lahore/National University of Medical Sciences (NUMS) Pakistan

Eijaz Ghani

Armed Forces Institute of Pathology/ National University of Medical Sciences (NUMS) Rawalpindi Pakistan

Syed Raza Jaffar

Armed Forces Institute of Pathology/ National University of Medical Sciences (NUMS) Rawalpindi Pakistan
Keywords:
Acquired immunodeficiency syndrome (AIDS), Antiretroviral therapy (ART), Cholesterol, Human immunodeficiency virus (HIV), hyperlipidemia
Abstract
Objective: To determine lipid derangements in HIV-positive patients receiving anti-retroviral therapy (ART).
Study Design: Comparative cross-sectional study.
Place and Duration of study: Chemical Pathology Department, in cooperation with the Department of Virology at Armed Forces Institute of Pathology (AFIP), Rawalpindi Pakistan, from Mar 2019 to Mar 2020.
Methodology: In this study, two groups were made. In Group-1, lipid profile estimation was done in HIV patients without treatment. In contrast, lipid profile estimation was done after one year of treatment with anti-retroviral drugs in Group-2.
Results: One hundred and two HIV-positive subjects were included in our study. Of these patients, 88(86.27%) were males,and 14(13.73%) were females. Independent sample t-test revealed a statistically significant difference (p-value<0.05) in serum cholesterol, serum triglycerides, serum high-density lipoprotein (HDL-c), low-density lipoproteins (LDL) and very lowdensity lipoproteins (VLDL) between the two groups.
Conclusion: Hyperlipidemia in HIV patients getting anti-retroviral therapy (ART) exposes them to a high risk of coronary artery diseases and myocardial infarction. Hence lipid profile of patients getting ART must be regularly monitored, and hyperlipidemia, if present, should be managed.
Downloads
Download data is not yet available.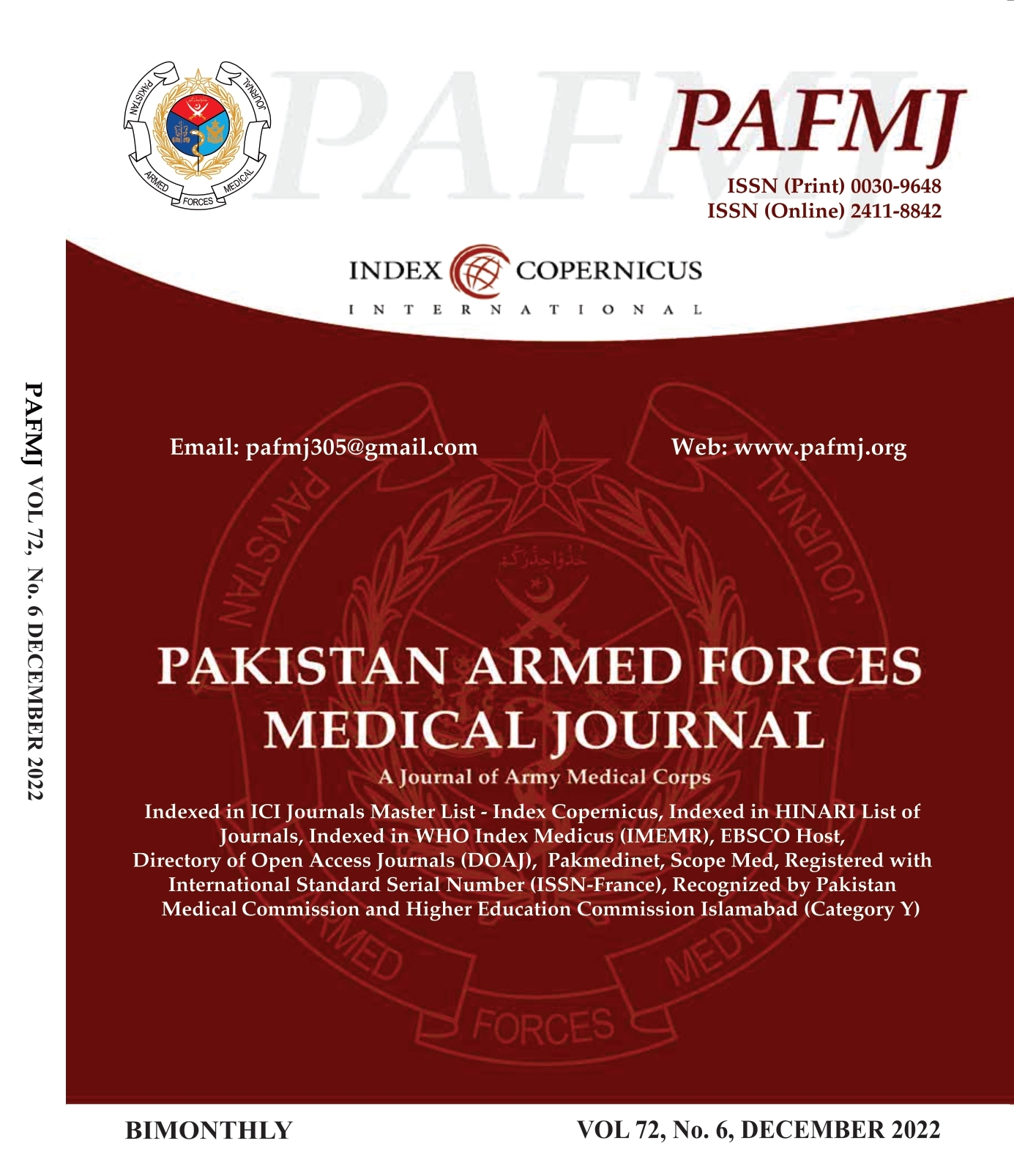 How to Cite
Bashir, Q., Haroon, Z. H., Asif, N., Alam Khan, M. Q., Ghani, E., & Jaffar, S. R. (2022). Determination of Lipid Derangements in Human Immunodeficiency Virus Patients Undergoing Anti-Retroviral Therapy. Pakistan Armed Forces Medical Journal, 72(6), 1871-73. https://doi.org/10.51253/pafmj.v72i6.5810
Section
Original Articles