ASSOCIATION OF STRESS LEVEL WITH GENDER, SEMESTER OF STUDY AND CLINICAL PRACTICE IN UNDERGRADUATE PHYSICAL THERAPY STUDENTS: A CROSS SECTIONAL SURVEY
Keywords:
Clinical practice, Semester of study, Stress level, Physical Therapy, Undergraduate students
Abstract
Objective: To find association of stress level with gender, semester of study and clinical practice in undergraduate physical therapy students.
Study Design: Cross sectional observational survey.
Place and Duration of Study: Superior University, University of Management and Technology, University of Lahore, Lahore Medical and Dental College and Imperial University, from Apr to Jul 2019.
Methodology: Study was conducted on 358 students of physical therapy. Non-probability purposive sampling technique was used for data collection. Standard student Stress Inventory scale was used for the measurement of stress among students.
Results: Mean age of all the students in this study was 21.26 ± 1.997 with minimum of 18 years and with maximum of 25 years. There were 254 (70.9%) female students and 104 (29.1%) male students who participated in the study. Results showed 14.15% "Mild Stress", 58.44% "Moderate Stress" and 27.4% "Severe Stress" in "Pre-Clinical Stage (1st - 4th semester)". Chi-square test described a p-value of <0.001 (less than alpha level, α=0.05) for gender, semester of study and clinical practice which showed a strong association among these variables and students' stress level.
Conclusion: Stress levels were more significant in females than males. "Severe Stress" was more prominent in ninth semester, "Moderate Stress" was more prevalent in third semester students and "Mild Stress" was highly present in sixth semester. Level of stress was more worthy of attention in "Pre-Clinical" students who were not doing any clinical practice.
Downloads
Download data is not yet available.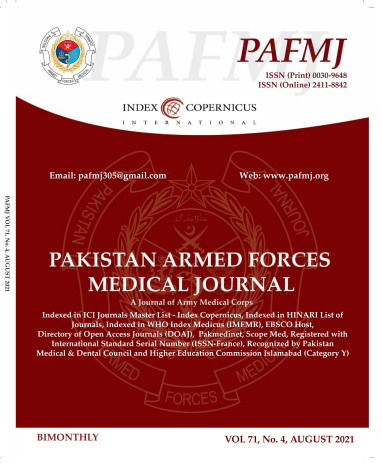 Downloads
How to Cite
Ashraf, H. S., Sohail, M., Tanveer, F., Farooq, H., & Masood, H. (2021). ASSOCIATION OF STRESS LEVEL WITH GENDER, SEMESTER OF STUDY AND CLINICAL PRACTICE IN UNDERGRADUATE PHYSICAL THERAPY STUDENTS: A CROSS SECTIONAL SURVEY. Pakistan Armed Forces Medical Journal, 71(4), 1239–42. https://doi.org/10.51253/pafmj.v71i4.5793
Section
Original Articles