Is Sevelamer Carbonate Better Than Calcium Acetate in ControllingChroni Kidney Disease-Mineral Bone Disease in Dialysis Patients
Keywords:
Chronic kidney disease, Calcium, hospitalization, mortality, Phosphate binders, Sevelamer
Abstract
Objective: To ascertain the efficacy of Sevelamer Carbonate as a better phosphate binder for controlling mineral bone disease biochemical parameters in dialysis patients of a tertiary care centre compared to calcium acetate.
Study Design: Prospective Quasi-experimental study.
Place and duration of the study: Dialysis unit of Pakistan Emirates Military Hospital Rawalpindi Pakistan from Aug to Dec 2020.
Methodology: The sample population comprised 91 patients undergoing maintenance thrice weekly haemodialysis patients treated with Sevelamer Carbonate or Calcium Acetate. CKD-MBD was assessed by serum calcium, phosphorus, ALP, albumin and PTH at the start of the study and then at the end of three months after being treated with phosphate binders.
Results: Both Groups had reduced serum phosphorus significantly from baseline to 12 weeks but Sevelamer slightly more than calcium acetate. (Group-1 from 6.90±1.35 to 5.10±1.21, while Group-2 from 7.00±1.31 to 5.90±1.48). The mean Calcium × Phosphorus product was also significantly reduced (p<0.005), decreases after 12 weeks, with 50.0 ± 16.0 in the Sevelamer Hydrochloride Group and insignificantly reduced (52.20±5.20mg2/dl) in the calcium acetate Group. The mean serum calcium increased significantly in the calcium acetate Group from 9.55±0.47 to 10.50±0.90) p=0.003 but was unchanged in the Sevelamer
hydrochloride Group (9.56±0.60 to 9.57±0.67; p=0.94).
Conclusions: CKD-MBD and its sequelae need special medication, and early detection of biochemical abnormalities and timely intervention with phosphate lowering therapy can abridge the disease burden, thus revamping the quality of life and ultimately abatement of cardiovascular morbidity and mortality.
Downloads
Download data is not yet available.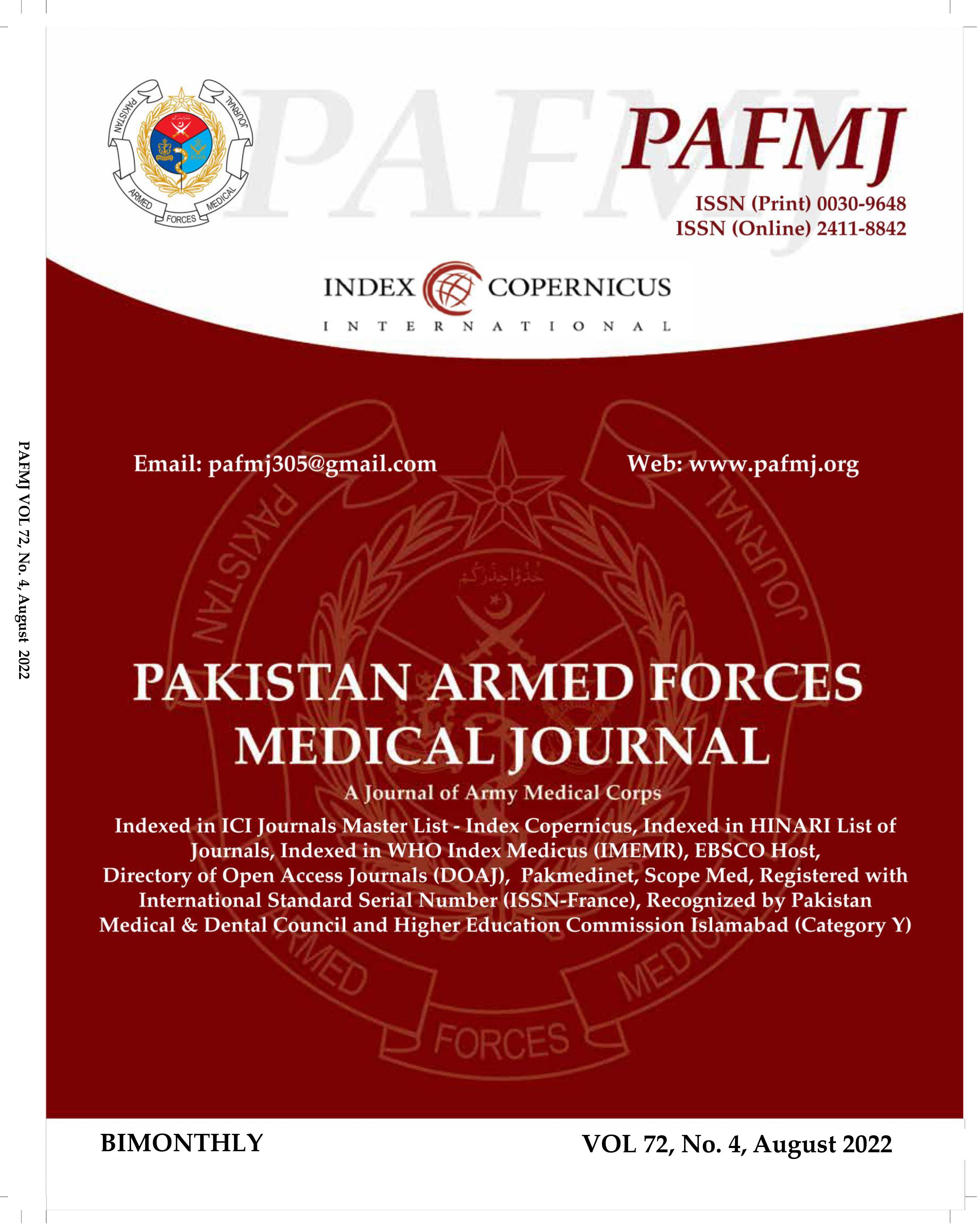 Downloads
How to Cite
Tahir, T., Raja, K. M., Azam, M. N., Butt, B., Mir, A. W., & Ahmed, N. (2022). Is Sevelamer Carbonate Better Than Calcium Acetate in ControllingChroni Kidney Disease-Mineral Bone Disease in Dialysis Patients. Pakistan Armed Forces Medical Journal, 72(4), 1383–87. https://doi.org/10.51253/pafmj.v72i4.5788
Section
Original Articles