OPERATIVE OUTCOMES IN THORACOSCOPIC-ESOPHAGECTOMY WITH TWO-LUNG VENTILATION IN PRONE POSITION
Operative Outcomes in Thoracoscopic-Esophagectomy
Ibrahim Baloch

Combined Military Hospital/National University of Medical Sciences (NUMS) Rawalpindi Pakistan

Bilal Umair

Combined Military Hospital/National University of Medical Sciences (NUMS) Rawalpindi Pakistan

Asif Asghar

Combined Military Hospital/National University of Medical Sciences (NUMS) Rawalpindi Pakistan

Muhammad Imtiaz Khan

Combined Military Hospital/National University of Medical Sciences (NUMS) Rawalpindi Pakistan

Muhammad Shoaib Hanif

Combined Military Hospital/National University of Medical Sciences (NUMS) Rawalpindi Pakistan
Keywords:
Minimally invasive esophagectomy, One-lung ventilation, Thoracoscopic-esophagectomy, Two-lung ventilation
Abstract
Objective: To study the post-operative outcomes of two-lung ventilation in patients undergoing prone position thoracoscopicesophagectomy.
Study Design: Prospective comparative study.
Place and Duration of Study: Department of Thoracic Surgery, Combined Military Hospital, Rawalpindi Pakistan, from Jan to Dec 2019.
Methodology: A total of 60 patients operated for both groups of thoraco-esophagectomy in which 34 patients for TLV (two-lung ventilation) and 26 patients for One-lung ventilation were studied. Patients position was prone for Two-lung ventilation in Thoracoscopic-esophagectomy. Post-op blood loss, Hospital stay, duration of anesthesia and operative morbidity was calculated.
Results: A total of 60 patients underwent two-lung ventilation in prone position out of which patient of thoracoscopicesophagectomy were 34, while 26 underwent One-lung ventilation in semi-decubitus position thoracoscopic-esophagectomy. All of them were successfully performed without conversion to open thoracotomy. In the study with preparation span for anesthesia induction, mean time of mobilization of thoracic esophagus, mean blood loss during the thoracic mobilization phase, the mean Intensive care unit stay and total hospital stay in two-lung ventilation was less than one-lung ventilation (p<0.05).
Conclusion: The present study summarized the clinical outcomes of two-lung ventilation for thoracoscopic-esophagectomy operated patients. This study data showed that Two-lung ventilation intubation in prone position is better approach during the Thoracoscopic-esophagectomy.
Downloads
Download data is not yet available.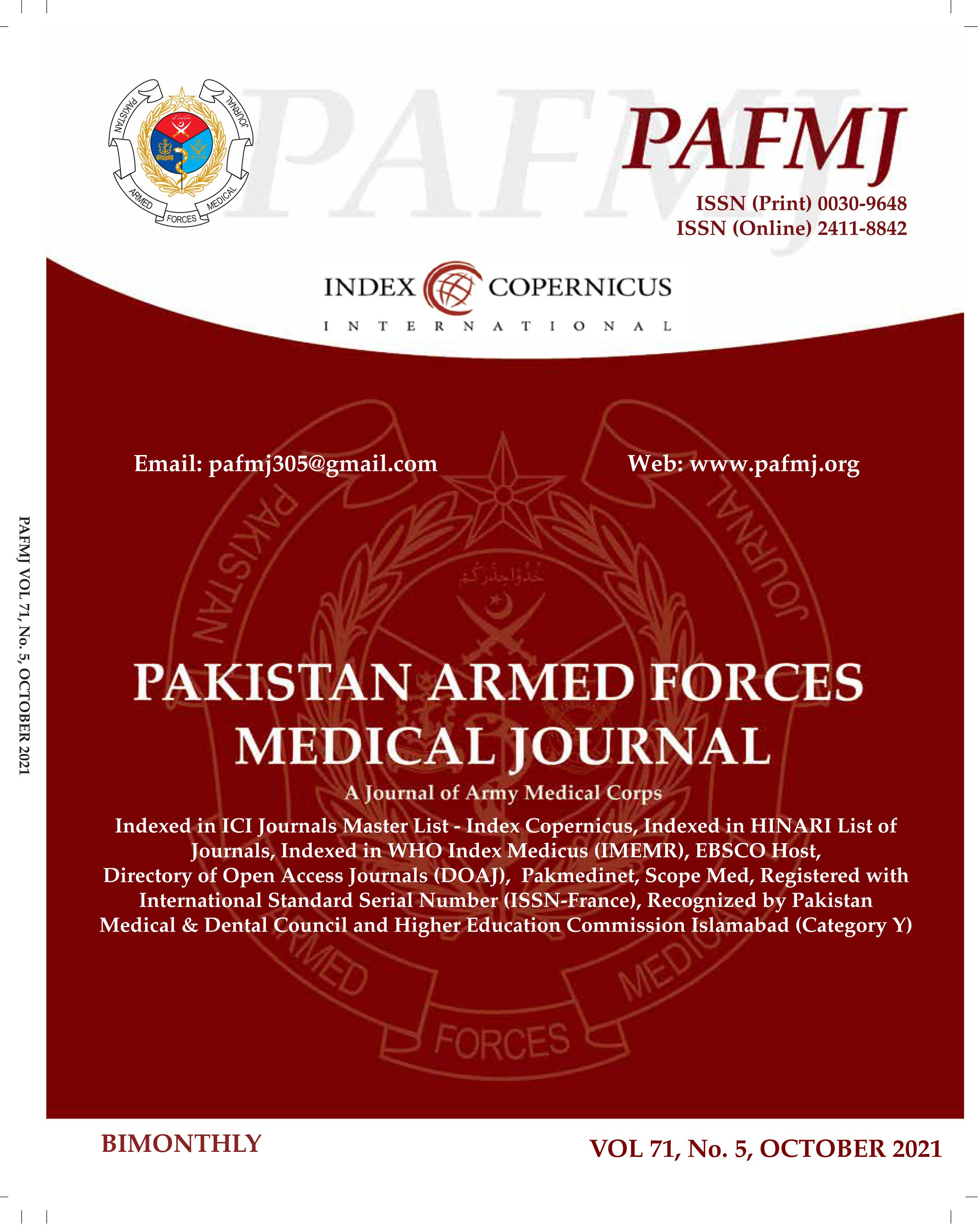 How to Cite
Baloch, I., Umair, B., Asghar, A., Khan, M., & Hanif, M. (2021). OPERATIVE OUTCOMES IN THORACOSCOPIC-ESOPHAGECTOMY WITH TWO-LUNG VENTILATION IN PRONE POSITION. PAFMJ, 71(5), 1820-23. https://doi.org/10.51253/pafmj.v71i5.5773
Section
Original Articles