Ewing Sarcoma of Chest Wall: Analysis of 19 Patients
Keywords:
Chest wall, Ewing tumor, Malignant, Reconstruction
Abstract
Objective: To share the short and long term outcomes of the patients having Ewing Sarcoma of the chest wall.
Study Design: Prospective longitudinal study.
Place and Duration of Study: Thoracic Departments of Combined Military Hospital Rawalpindi, Combined Military Hospital Lahore and Combined Military Hospital Multan from Jan 2010 to Jun 2020.
Methodology: In total, 19 patients were enrolled. Inclusion criteria were physiologically fit patients for one-lung ventilation with proven true-cut histopathology. Exclusion criteria were poor performance status and non-compliance to chemotherapy.
Results: Out of 19 cases, 13 males (68.42%) and six females (31.58%) patients. The age range was from 8 to 29 years, with a mean age of 17.6 + 4.16 years. The most common symptom was palpable mass 19, followed by chest pain 8 and one patient presented with fungating mass. All patients showed partial response to neo-adjuvant chemotherapy as per RECIST criteria. Following resection and confirmation of negative margins, primary reconstruction was done. The soft tissue coverage was provided using Latissimus Dorsi Muscle Flap in 16 Cases (84.21%) and in 03 patients (15.79%) Rectus Abdominis muscle was used. Post operatively, less than 02 blood transfusions were needed in six patients. There was no post-operative ventilatory support required, and mortality was zero.
Conclusion: Ewing Sarcoma of the chest wall is a rare tumour in the adult population. An excellent outcome can be achieved through early diagnosis, meticulous surgical technique and good teamwork in a multi-disciplinary setting.
Downloads
Download data is not yet available.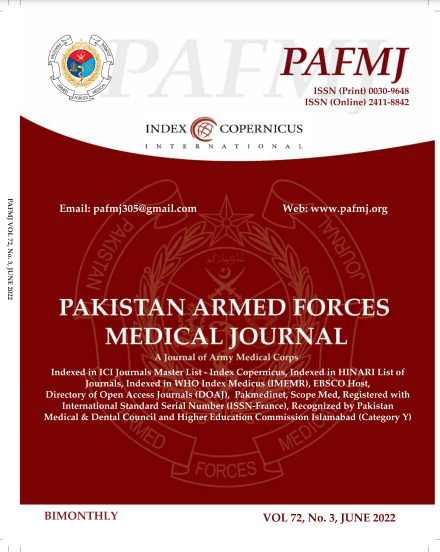 Downloads
How to Cite
Majeed, F. A., Ali, G., Paraccha, M. N., Hameed, S., Khan, Y. S., & Hussain, Z. (2022). Ewing Sarcoma of Chest Wall: Analysis of 19 Patients. Pakistan Armed Forces Medical Journal, 72(3), 971–74. https://doi.org/10.51253/pafmj.v72i3.5738
Section
Original Articles