Effect of Intensive Training Programme on the Knowledge and Practice of Infection control among Auxiliary staff in a Tertiary care Hospital of Rawalpindi
Keywords:
Auxiliary staff, Infection control practices, Training programme
Abstract
Objective: To determine the impact of health education intervention in the auxiliary healthcare staff regarding infection control knowledge and practices.
Study Design: Quasi-experimental study.
Place and Duration of Study: Inpatient departments, Fauji Foundation Hospital Rawalpindi, from Aug to Sep 2020.
Methodology: Study participants were working as the auxiliary staff at Inpatient departments of Fauji Foundation Hospital. Pre-test was carried out for baseline assessment of knowledge and practice of infection control. There was training session of 3 hours comprising of lecture, practical demonstration and hands-on training regarding WHO five steps of hand hygiene, safe disposal of sharps and use of PPEs. Effectiveness of training intervention was assessed after one month.
Results: Mean knowledge score increased from 8.22 ± 2.83 to 12.43 ± 2.05 after the training (p<0.001). Similarly significant improvement was observed in infection control practices i.e., mean practice score improved from 3.64 ± 1.39 to 6.11 ± 1.27 (p<0.001).
Conclusion: Training brought about significant improvement in both the knowledge and practice in all the three areas of infection control.
Downloads
Download data is not yet available.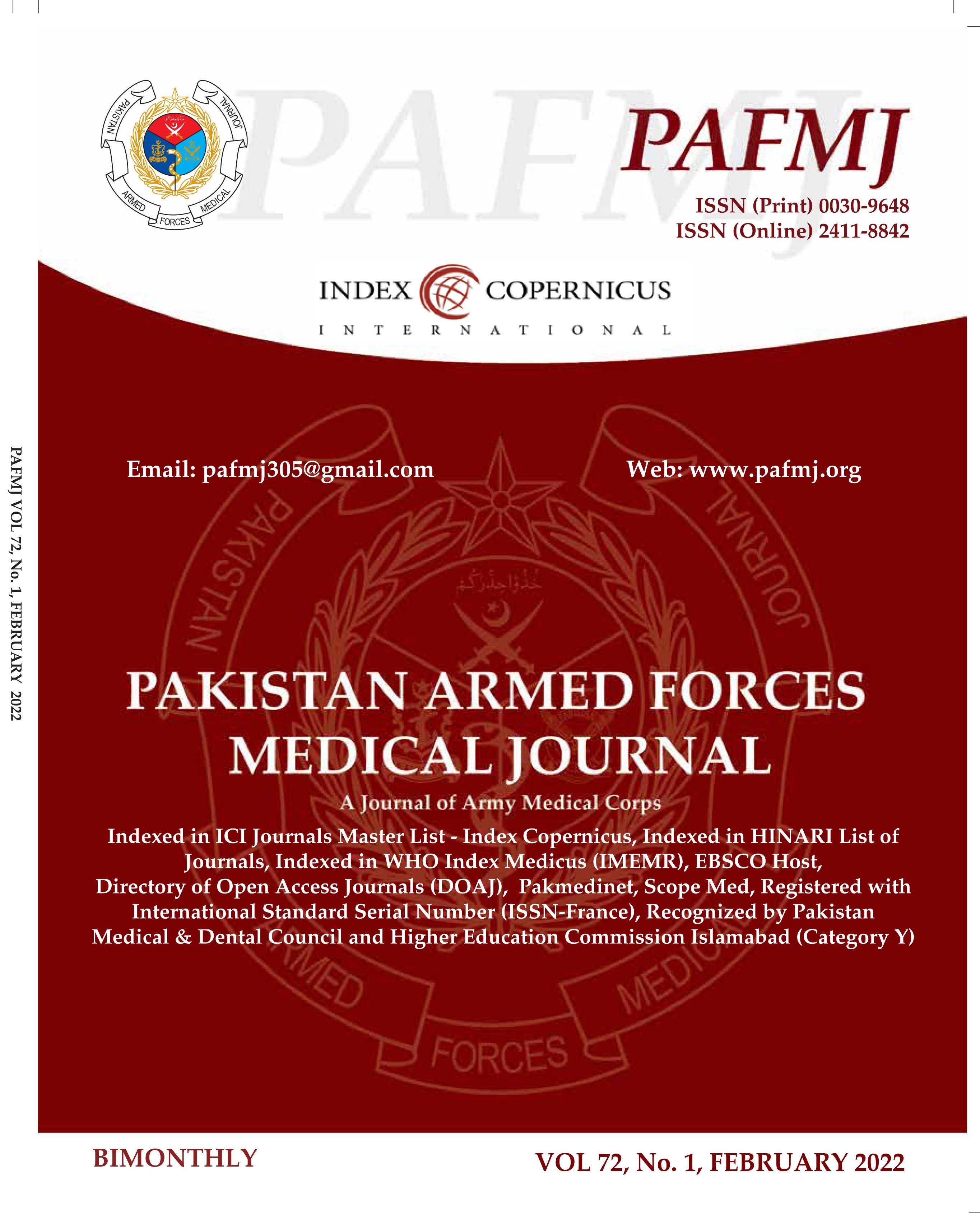 Downloads
How to Cite
Khan, N., Azam, N., Mahmood, H., Iftikhar, A., & Afzal, A. (2022). Effect of Intensive Training Programme on the Knowledge and Practice of Infection control among Auxiliary staff in a Tertiary care Hospital of Rawalpindi. Pakistan Armed Forces Medical Journal, 72(1), 54–57. https://doi.org/10.51253/pafmj.v72i1.5637
Section
Original Articles