EVALUATION OF HAEMATOLOGICAL PARAMETERS IN MALARIA INFECTION AND ITS ASSOCIATION WITH DIFFERENT SPECIES OF MALARIAL PARASITE
Ali Hyder

Armed Forces Institute of Pathology/National Institute of Medical Sciences (NUMS) Rawalpindi Pakistan

Asad Mahmood

Armed Forces Institute of Pathology/National Institute of Medical Sciences (NUMS) Rawalpindi Pakistan

Rafia Mahmood

Armed Forces Institute of Pathology/National Institute of Medical Sciences (NUMS) Rawalpindi Pakistan

Muhammad Ijaz Iqbal

Armed Forces Institute of Pathology/National Institute of Medical Sciences (NUMS) Rawalpindi Pakistan
Keywords:
Fever, Hemoglobin, Lymphocyte, Malaria, Plasmodium falciparum, Plasmodium vivax
Abstract
Objective: To determine the association of various haematological parameters with different species of malarial parasites.
Study Design: Cross sectional study.
Place and Duration of Study: Department of Haematology, Armed Forces Institute of Pathology (AFIP) Rawalpindi, from Sep 2018 to Sep 2019.
Methodology: Thick and thin blood smears stained with Leishman stain were examined for the presence of malarial parasites under light microscopy. After the organism was detected by examination of thick blood films, identification of malarial parasite species was carried out using thin blood smears. Basic haematological parameters were evaluated using automated analyzer (Sysmex KX-21).
Results: Plasmodium falciparum was identified as the causative organism in 100 (38%) of the malaria cases whereas 100 (62%) of the cases had Plasmodium vivax. A trend towards decreased Hemoglobin, Red Blood Cells, platelet, lymphocyte and eosinophil count was observed in Plasmodium falciparum group as compared to Plasmodium vivax group (p=0.001), whereas, the former showed an increase count of white blood cell, neutrophil and monocyte (p=0.001).
Conclusion: Hematological parameters like Hemoglobin, RBC count, WBC count and Platelet count vary significantly with the type of plasmodium species causing malarial infection.
Downloads
Download data is not yet available.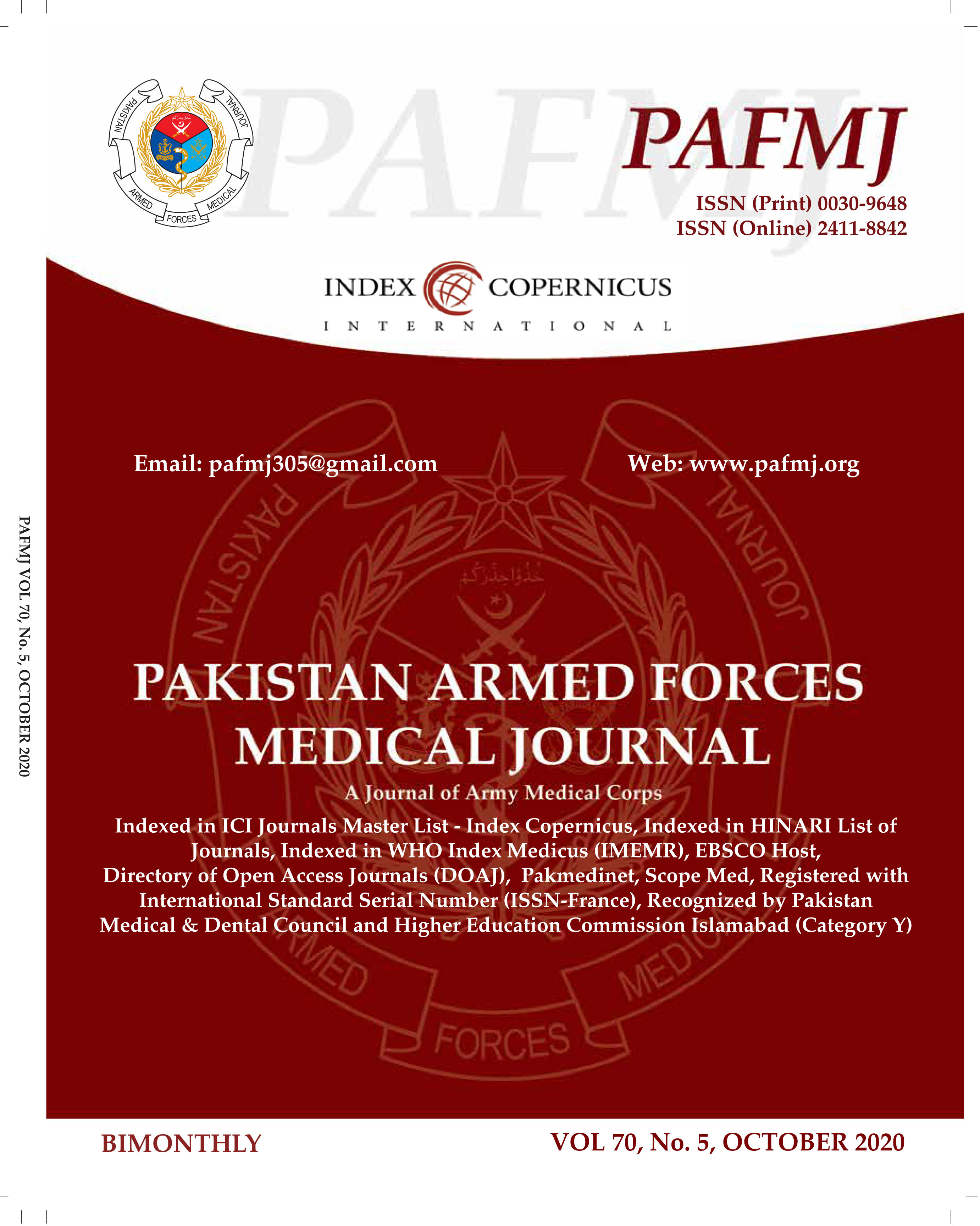 How to Cite
Hyder, A., Mahmood, A., Mahmood, R., & Iqbal, M. (2020). EVALUATION OF HAEMATOLOGICAL PARAMETERS IN MALARIA INFECTION AND ITS ASSOCIATION WITH DIFFERENT SPECIES OF MALARIAL PARASITE. PAFMJ, 70(5), 1576-80. Retrieved from https://pafmj.org/index.php/PAFMJ/article/view/5608
Section
Original Articles