COMPARISON OF SERUM FERRITIN LEVELS IN PREGNANT WOMEN WITH AND WITHOUT GESTATIONAL DIABETES MELLITUS
Tallat Naureen

National University of Medical Sciences (NUMS) Rawalpindi Pakistan

Umbreen Ahmed

Army Medical College/National University of Medical Sciences (NUMS) Rawalpindi Pakistan

Asma Hayat

Pak Emirates Military Hospital/National University of Medical Sciences (NUMS) Rawalpindi Pakistan

Muhammad Sameer Hanif

Army Medical College/National University of Medical Sciences (NUMS) Rawalpindi Pakistan
Keywords:
Ferritin, Gestational Diabetes Mellitus, Hemoglobin
Abstract
Objective: To compare serum ferritin levels in pregnant women with and without gestational diabetes mellitus.
Study Design: Comparative cross sectional study.
Place and Duration of Study: Physiology Department, Army Medical College in collaboration with Pak Emirates Military Hospital, Rawalpindi, from Mar to Nov 2019.
Methodology: Pregnant females after twenty four weeks of gestation were subjected to oral glucose tolerance test. Thirty healthy pregnant females with normal glucose tolerance test and thirty patients of gestational diabetes mellitus were selected. The diagnosis of gestational diabetes mellitus was based on International Association for Diabetes and Pregnancy Study Group (IADPSG) criteria. Serum ferritin levels of all the subjects were evaluated using electrochemiluminescence immunoassay. Data were analyzed using statistical package for social sciences (SPSS) version 22. Quantitative variables were expressed as mean ± SD. The two groups were compared using independent samples t test. Pearson correlation coefficient was used to assess the association between different quantitative variables. A p-value of ≤0.05 was considered significant.
Result: Mean serum ferritin levels were significantly higher in women with gestational diabetes mellitus (49.61 ± 42.43 ng/mL) compared with healthy
controls (18.30 ± 15.7 ng/mL). Moreover, serum ferritin levels correlated positively with fasting plasma glucose, 1 hour and 2 hour post prandial plasma glucose as well as hemoglobin (p-value <0.05).
Conclusion: Serum ferritin levels were markedly higher in gestational diabetes mellitus patients than healthy controls. Higher serum ferritin may be regarded a possible risk factor for the development of gestational diabetes mellitus.
Downloads
Download data is not yet available.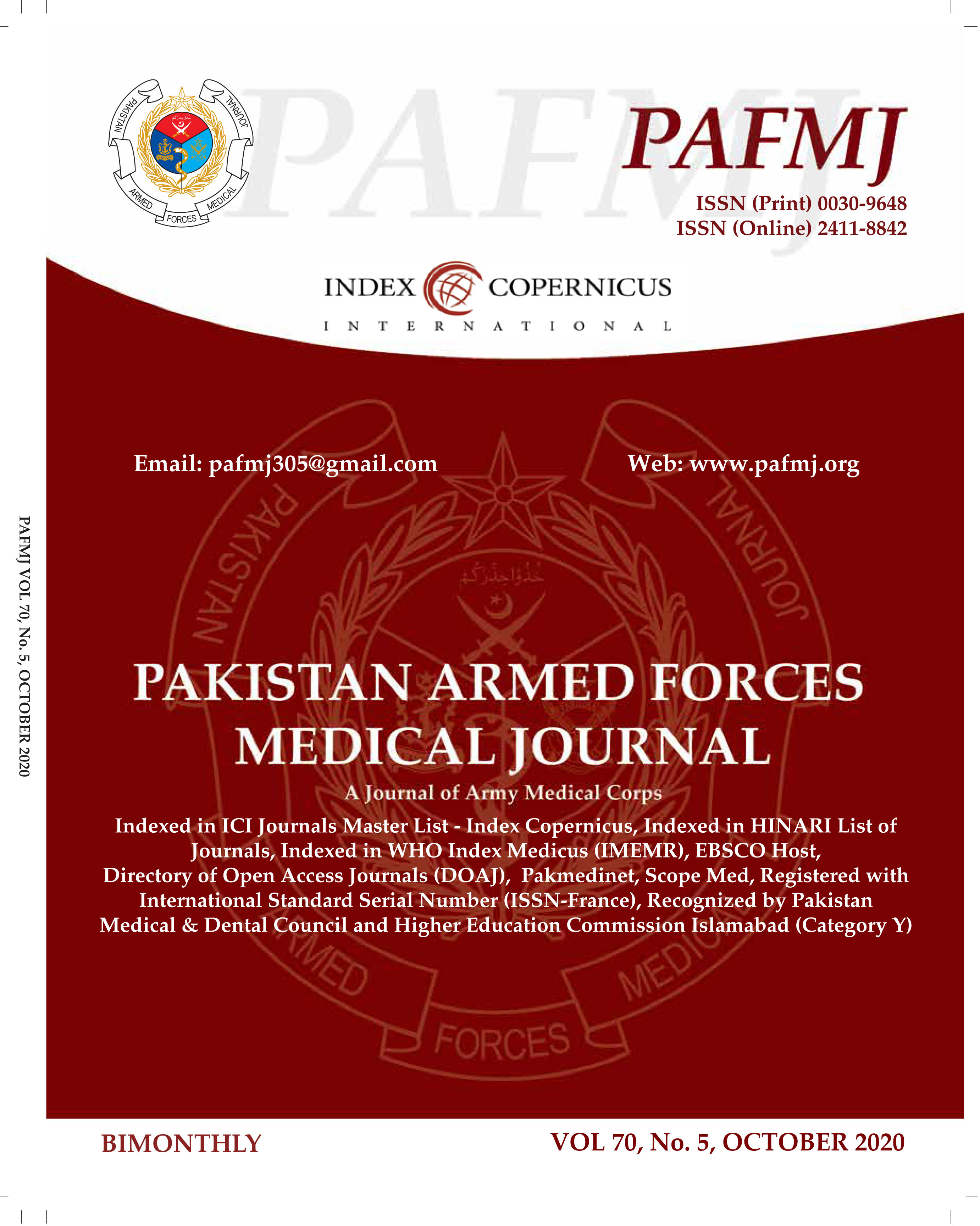 How to Cite
Naureen, T., Ahmed, U., Hayat, A., & Hanif, M. (2020). COMPARISON OF SERUM FERRITIN LEVELS IN PREGNANT WOMEN WITH AND WITHOUT GESTATIONAL DIABETES MELLITUS. PAFMJ, 70(5), 1571-75. Retrieved from https://pafmj.org/index.php/PAFMJ/article/view/5607
Section
Original Articles