CLINICAL AND MORPHOLOGICAL SPECTRUM OF CONGENITAL ANOMALIES OF KIDNEY AND URINARY TRACT (CAKUT) - A TERTIARY CARE CENTER EXPERIENCE
Javairia Shakoor

Children's Hospital & Institute of Child Health, Lahore Pakistan

Naureen Akhtar

Children's Hospital & Institute of Child Health, Lahore Pakistan

Shahida Perveen

Children's Hospital & Institute of Child Health, Lahore Pakistan

Ghulam Mujtaba Zafar

Children's Hospital & Institute of Child Health, Lahore Pakistan

Adeela Chaudhry

Children's Hospital & Institute of Child Health, Lahore Pakistan

Farkhanda Hafeez

Children's Hospital & Institute of Child Health, Lahore Pakistan
Keywords:
Clinical spectrum, Congenital anomalies, Kidney and urinary tract
Abstract
Objective: To determine the type, frequency and clinical presentation of congenital anomalies of kidney and urinary tract in children.
Study Design: Cross sectional study.
Place and Duration of Study: Pediatric Nephrology Unit of the Children's Hospital and Institute of Child Health Lahore, from Mar 2018 to Feb 2019.
Methodology: All patients from birth to 18 years of either gender with suspicion of congenital anomalies of kidney and urinary tract presenting to Pediatric Nephrology unit with different clinical manifestation were enrolled for study. All the children were subjected to detailed history and physical examination including age, gender, height, weight and associated anomalies of other systems while screening ultrasound was carried out with other radiological investigations accordingly.
Results: One hundred and forty subjects were enrolled in the study with male to female ratio = 3:1. The mean weight and height of children were 13.35 ± 9.35 kg and 89.66 ± 29.95 cm respectively. Total 85 (60.7%) patients were product of consanguineous parents while 12 (8.6%) were premature and 31 (22.1%) were small for gestational age (SGA). There was history of birth asphyxia in 4 (2.9%) subjects while mothers of 6 (4.3%) were diabetic at the time of conception. Patients had diverse clinical presentation - the most common being urinary tract infection (UTI) seen in 67 (47.86%) while 32 (15.7%) subjects had associated anomalies of other systems. Most common primary anomaly was vesicoureteic reflux (VUR) 83 (59.3%).
Conclusion: The most common type of congenital anomalies of kidney and urinary tract seen in our patients was vesicoureteic reflux. Majority of children presented in infancy with urinary tract infection being the clinical presentation in two-thirds subjects.
Downloads
Download data is not yet available.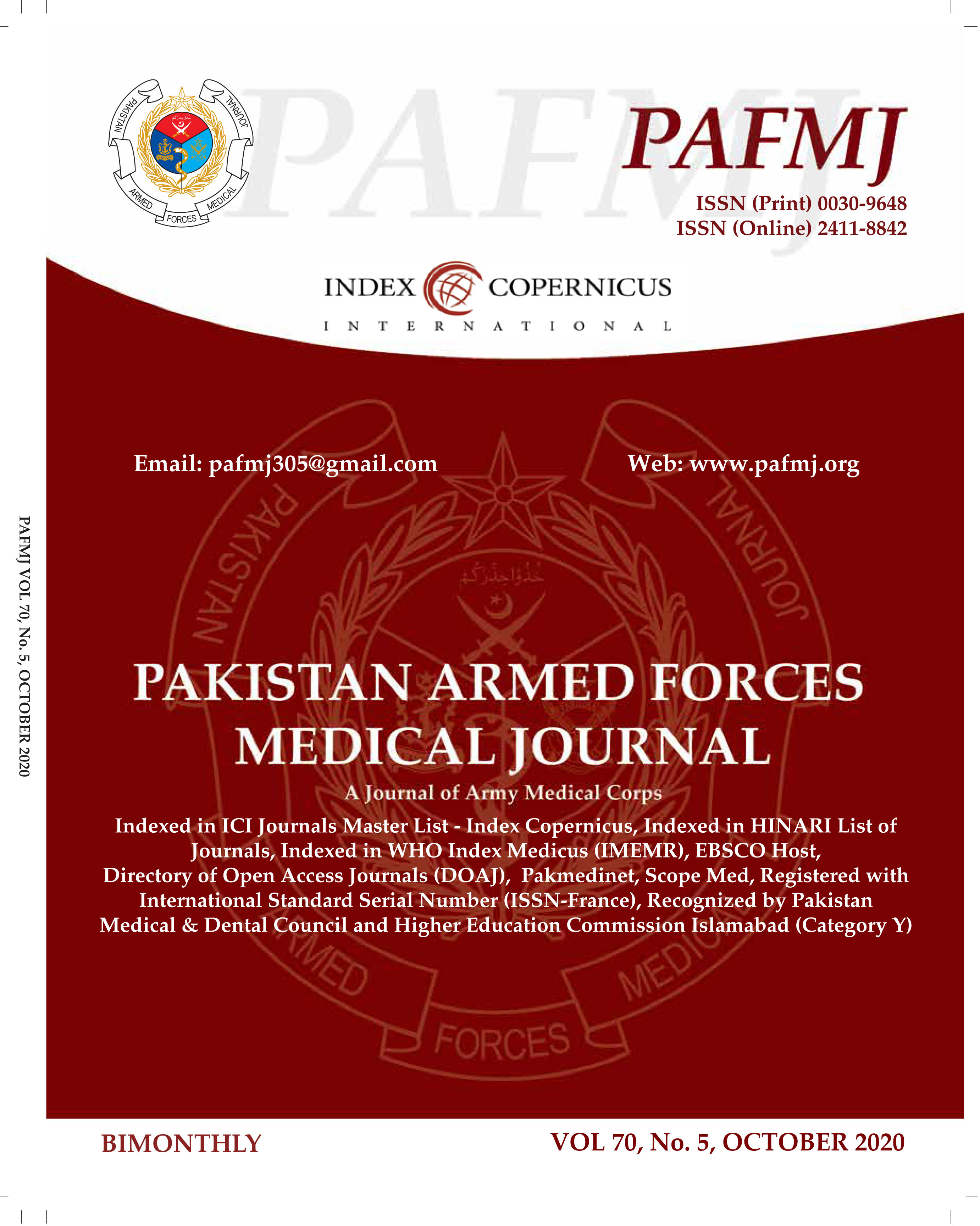 How to Cite
Shakoor, J., Akhtar, N., Perveen, S., Zafar, G., Chaudhry, A., & Hafeez, F. (2020). CLINICAL AND MORPHOLOGICAL SPECTRUM OF CONGENITAL ANOMALIES OF KIDNEY AND URINARY TRACT (CAKUT) - A TERTIARY CARE CENTER EXPERIENCE. PAFMJ, 70(5), 1565-70. Retrieved from https://pafmj.org/index.php/PAFMJ/article/view/5606
Section
Original Articles