SUPERVISORS' OPINION OF SKILLS REQUIRED OF GENERAL SURGICAL TRAINEES
Rana Hassan Javaid

Combined Military Hospital/National University of Medical Sciences (NUMS) Rawalpindi Pakistan

Ahmed Waqas

Heavy Industries Taxila (HIT) Taxila Pakistan

Amer Mian

Combined Military Hospital Lahore/National University of Medical Sciences (NUMS) Pakistan

Asma Afzal Kiani

Armed Forces Institute of Radiology and Imaging/National University of Medical Sciences (NUMS) Rawalpindi Pakistan
Keywords:
Clinical skills, Questionnaire, Surgeons
Abstract
Objective: To find the appropriate skills which a surgery resident should have acquired at the end of the first year of training.
Study Design: Descriptive study.
Place and Duration of Study: Department of Surgery Combined Military Hospital Rawalpindi (CMH), from Jan 2008 to Mar 2009.
Methodology: The study was conducted at CMH Rawalpindi to find the important skills expected to be acquired by a general surgery trainee at the end of first year of training. Important attributes/traits expected to be present in a surgery trainee were chalked out (after consultation with surgical supervisors). A questionnaire was formulated for ranking of each trait. Importance of each skill was assessed on an arbitrary scale ranging from 1 to 10 where, 1 stood for "irrelevant" and 10 meant "absolutely essential". Each numerical rank of a quality was accompanied by a box to be ticked. It was sent by postal mail to 29 general surgery supervisors, all registered with CPSP, serving in Pakistan Army Medical Corps in all four provinces of Pakistan. Twenty two consultants (76%) responded to the questionnaire. The weightage/value assigned to each item was analyzed using statistical package for the social sciences software for Windows 16.
Results: Skills rated as most important by the supervisors surveyed came from the domains of clinical and team work skills. The team work skill of "Seeks advice when beyond limit of competence/when in doubt" was rated the most important of all 77 skills; with 68.20% of supervisors claiming it was "absolutely essential".
Conclusion: Assessment of surgical trainees during training needs to be done objectively. An effort has been made to objectively define the qualities/skills according to which a trainee can be assessed and may be use a template for formulating further research and assessment criteria.
Downloads
Download data is not yet available.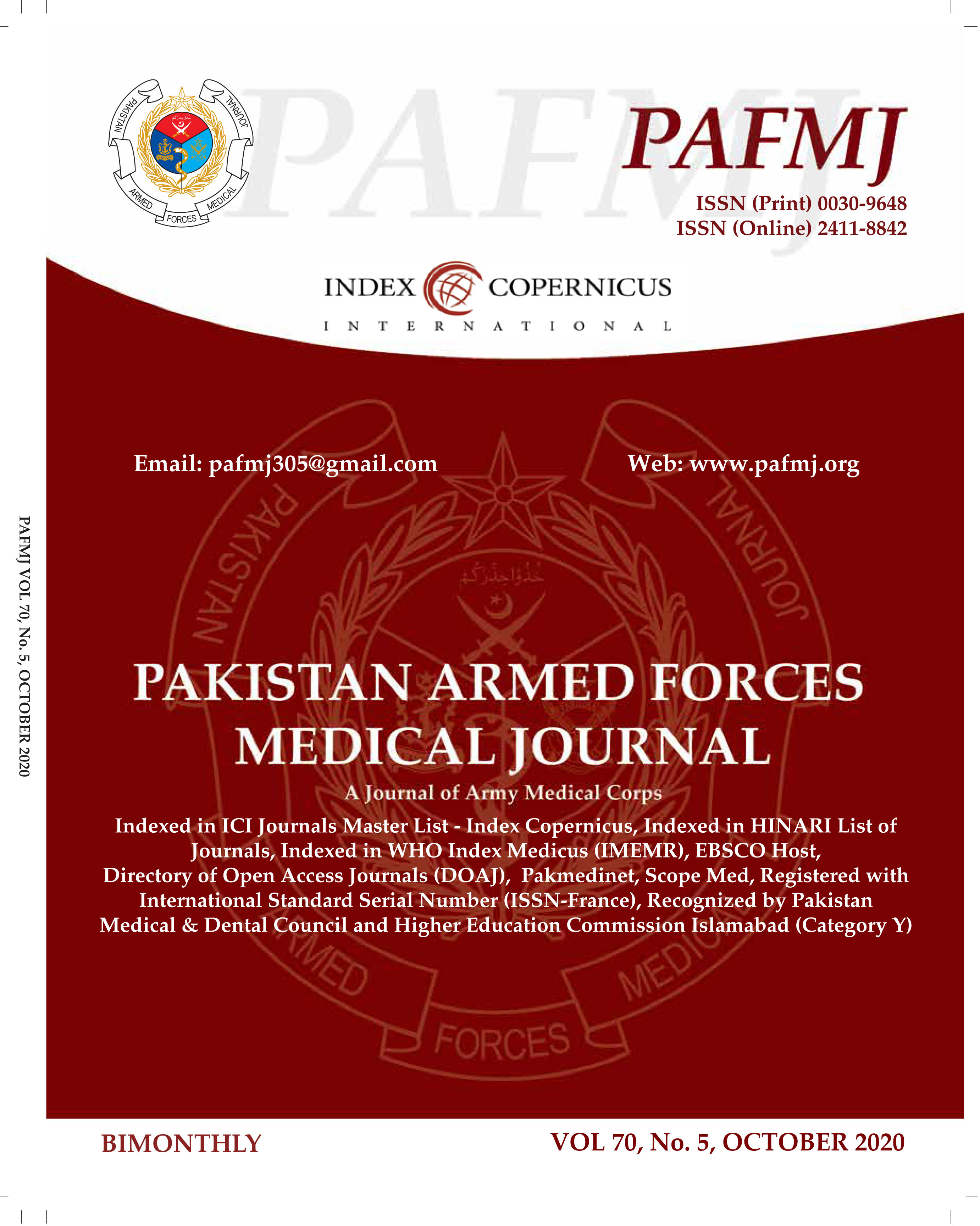 How to Cite
Javaid, R., Waqas, A., Mian, A., & Kiani, A. (2020). SUPERVISORS' OPINION OF SKILLS REQUIRED OF GENERAL SURGICAL TRAINEES. PAFMJ, 70(5), 1559-65. Retrieved from https://pafmj.org/index.php/PAFMJ/article/view/5605
Section
Original Articles