DIASTASIS RECTI ABDOMINIS AND ITS ASSOCIATED RISK FACTORS IN POSTPARTUM WOMEN
Muhammad Hussain Iqbal

University of Lahore, Lahore Pakistan

Tanveer Hussain

Rising Sun Institute of Special Children, Lahore Pakistan

Fariha Khalid

University of Lahore, Lahore Pakistan

Malik Mubashar Ali

Punjab Thalasemia Prevention Program, Gangaram Hospital, Lahore Pakistan

Iqra Ashraf

University of Lahore, Lahore Pakistan

Tehreem Nazir

University of Lahore, Lahore Pakistan
Keywords:
Antenatal, Diastasis Recti, Diastasis Recti Abdominis, Postnatal, Pregnancy, Postpartum
Abstract
Objective: To determine the frequency of diastasis recti abdominis and its associated risk factors in postpartum women.
Study Design: Cross-sectional study.
Place and Duration of Study: Omar Medical Center Lahore, Yaseen Medical Center Lahore and Social Security Hospital Lahore, from Sep 2019 to Dec 2019.
Methodology: This study included 128 participants fulfilling the eligibility criteria. The assessment of diastasis recti abdominis was done manually by a female physiotherapist using single finger, double finger and three finger methods on abdomen at three levels: at the umbilicus, 4.5 cm below and above the umbilicus.
Results: The frequency of diastasis recti abdominis out of 128 participants was 97 (75.8%). Out of 128 participants about 38 (29.7%) were primigravida and 90 (70.3%) multigravida. Statistical significance (p=0.015) was found between presence of diastasis recti abdominis and number of pregnancies (gravidity). No association was present between diastasis recti abdominis and delivery method (p=0.09). The p-value (0.56) showed no significant association of diastasis recti abdominis with pelvis floor dysfunction and urinary incontinence.
Conclusion: The findings of this study concluded high frequency of diastasis recti abdominis in postpartum women. As the number of pregnancies increased, it decreased the integrity of linea alba and caused the separation of rectus abdominis muscle.
Downloads
Download data is not yet available.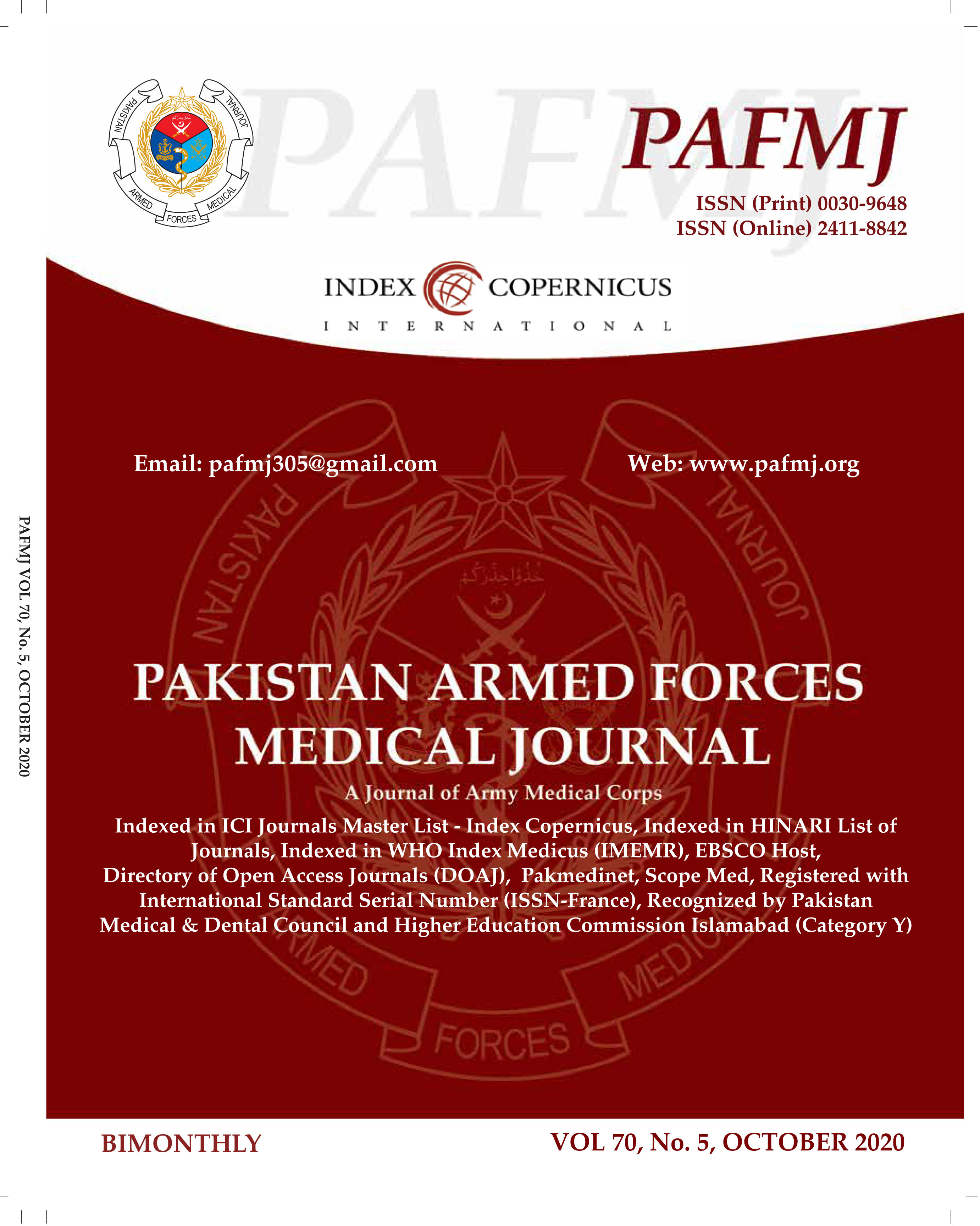 How to Cite
Iqbal, M., Hussain, T., Khalid, F., Ali, M., Ashraf, I., & Nazir, T. (2020). DIASTASIS RECTI ABDOMINIS AND ITS ASSOCIATED RISK FACTORS IN POSTPARTUM WOMEN. PAFMJ, 70(5), 1535-38. Retrieved from https://pafmj.org/index.php/PAFMJ/article/view/5600
Section
Original Articles