HEALTH CARE SEEKING BEHAVIOR AMONG NEWLY DIAGNOSED HUMAN IMMUNODEFICIENCY VIRUS CASES IN RAWALPINDI
Keywords:
Health Care Seeking, Health Care Seeking Behaviour, Human Immunodeficiency Virus, Acquired Immunodeficiency Syndrome, HIV/AIDS
Abstract
Objective: To determine the health care seeking behaviour and its association with socio-demographic factors among newly diagnosed Human Immunodeficiency virus infection patients.
Study Design: Cross sectional analytical study.
Place and Duration of Study: The study was conducted in a regional blood centre and an Institute of Pathology affiliated with National University of Medical Sciences (NUMS) in Rawalpindi, from Feb 2019 to Oct 2019.
Methodology: A pretested structured questionnaire was used to collect data from thirty newly diagnosed (within last one year) Human Immunodeficiency Virus Infection (HIV) patients, using consecutive sampling. Age, education, socioeconomic score (SES), family size, income and months living with HIV were divided into groups for analysis. Chi square test was applied to determine association between these variables and health care seeking behaviour. Data was analysed using SPSS version 22. A p-value of <0.05 was taken as significant.
Results: The participants were divided into three groups depending on their total questionnaire score value based on cut-off score value of 60%. Out of total 30 patients, 7 (23.3%) had inappropriate behaviour, 18 (60%) moderately appropriate and 5 (16.7%) appropriate behaviour respectively. No statistically significant association (p-value >0.05) was found between these independent variables and overall health care seeking behaviour.
Conclusions: Health care seeking behaviour of newly diagnosed Human Immunodeficiency Virus infected patients was moderately appropriate and no significant association was found between sociodemographic variables and health care seeking behaviour.
Downloads
Download data is not yet available.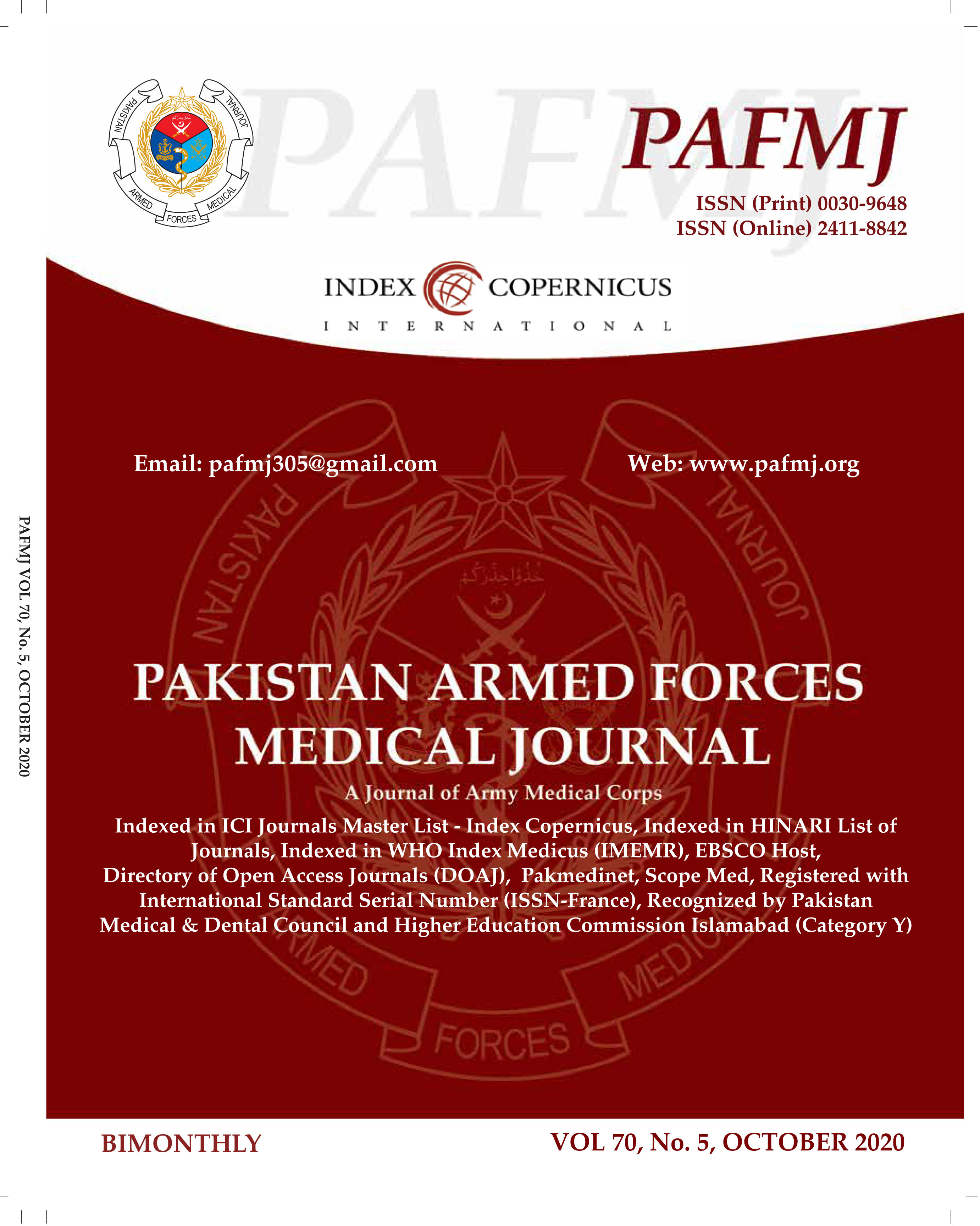 Downloads
How to Cite
Rathore, M. A., Rashid, Z., Mashhadi, S. F., Rathore, M. A., & Sharif, I. (2020). HEALTH CARE SEEKING BEHAVIOR AMONG NEWLY DIAGNOSED HUMAN IMMUNODEFICIENCY VIRUS CASES IN RAWALPINDI. Pakistan Armed Forces Medical Journal, 70(5), 1522–27. Retrieved from https://pafmj.org/PAFMJ/article/view/5598
Section
Original Articles