OUTCOME OF CHEMOTHERAPY IN NON ACUTE PROMYELOCYTIC ACUTE MYELOID LEUKAEMIA
Nighat Shahbaz

Armed Forces Institute of Bone Marrow Transplant Center/National University of Medical Sciences (NUMS) Rawalpindi Pakistan

Parvez Ahmed

Armed Forces Institute of Bone Marrow Transplant Center/National University of Medical Sciences (NUMS) Rawalpindi Pakistan

Tariq Mehmood Satti

Armed Forces Institute of Bone Marrow Transplant Center/National University of Medical Sciences (NUMS) Rawalpindi Pakistan

Nadeem Paracha

Armed Forces Institute of Bone Marrow Transplant Center/National University of Medical Sciences (NUMS) Rawalpindi Pakistan

Syed Kamran Mehmood

Armed Forces Institute of Bone Marrow Transplant Center/National University of Medical Sciences (NUMS) Rawalpindi Pakistan

Qamar Un Nisa Chaudhary

Armed Forces Institute of Bone Marrow Transplant Center/National University of Medical Sciences (NUMS) Rawalpindi Pakistan

Mehreen Ali Khan

Armed Forces Institute of Bone Marrow Transplant Center/National University of Medical Sciences (NUMS) Rawalpindi Pakistan

Humayyun Satti

Armed Forces Institute of Bone Marrow Transplant Center/National University of Medical Sciences (NUMS) Rawalpindi Pakistan
Keywords:
Acute myeloid leukemia, Complete remission, Induction chemotherapy
Abstract
Objective: Retrospective analysis to evaluate overall response and outcome of various therapeutic regimens given in patients with non acute promyelocytic acute myeloid leukaemia (non APL AML).
Study Design: Retrospective study.
Place and Duration of Study: Armed Forces Bone Marrow Transplant centre/ National Institute of Blood and Marrow Transplant (AFBMTC/NIBMT), Rawalpindi.
Methodology: Patients of non APL AML managed at Armed Forces Bone Marrow Transplant Centre between Jul 2001 and Dec 2014 were evaluated. These patients included cases of denovo (n=103) and relapsed (n=18) AML cases. After baseline investigations bone marrow examination was carried out in all cases and cytogenetics and immunophenotyping in some cases. Informed written consent was taken before starting chemotherapy. The chemotherapy regimens used were D3A7, ADE, ICE, MAE, FLAG & FLAG-IDA and HiDAC. Majority of patients received induction with daunorubicin/cytarabine based chemotherapy. Post remission chemotherapy included either second course of D3A7/ADE combination or FLAG-Ida/ICE chemotherapy in relapsed AML followed by one to two courses of HiDAC (high dose cytarabine). Bone marrow examination was carried out after each course of chemotherapy to assess remission status.
Results: Total 121 cases were evaluated. Median age of patients was 28 years with 68% males and 32% females. Sixty four (53%) patients were of AML-M2 subtype. All 121 cases received induction chemotherapy including 103 denovo and 18 relapsed patients. Anthracycline based chemotherapy was given to majority of denovo cases (68%) while most of the relapsed AML patients received FLAG-Ida regimen. Hematological complete remission (CR) was achieved in 37% of denovo and 58% of relapsed patients after first course. Twenty nine (24%) patients failed to respond 11% had partial remission while 19 (15%) died within four weeks post induction and 9% discontinued the treatment. Out of eighty patients who received second course of chemotherapy 60 (75%) achieved CR. Only 62 patients including 52 denovo and 10 relapsed cases completed four courses of chemotherapy and were followed for a period of one to five years after completion of treatment. Out of these 62 patients 31 (50%) achieved CR, six of these 31 subsequently relapsed and two are alive on palliation. Overall and disease free survival in patients who completed chemotherapy was 43% and 40% respectively.
Conclusion: A significant number of patients with AML can be saved provided proper risk adapted chemotherapy is given. Standard induction with daunorubicin/cytarabine chemotherapy followed by two to three courses of high dose cytarabine is associated with overall and disease free survival in a significant proportion of cases.
Downloads
Download data is not yet available.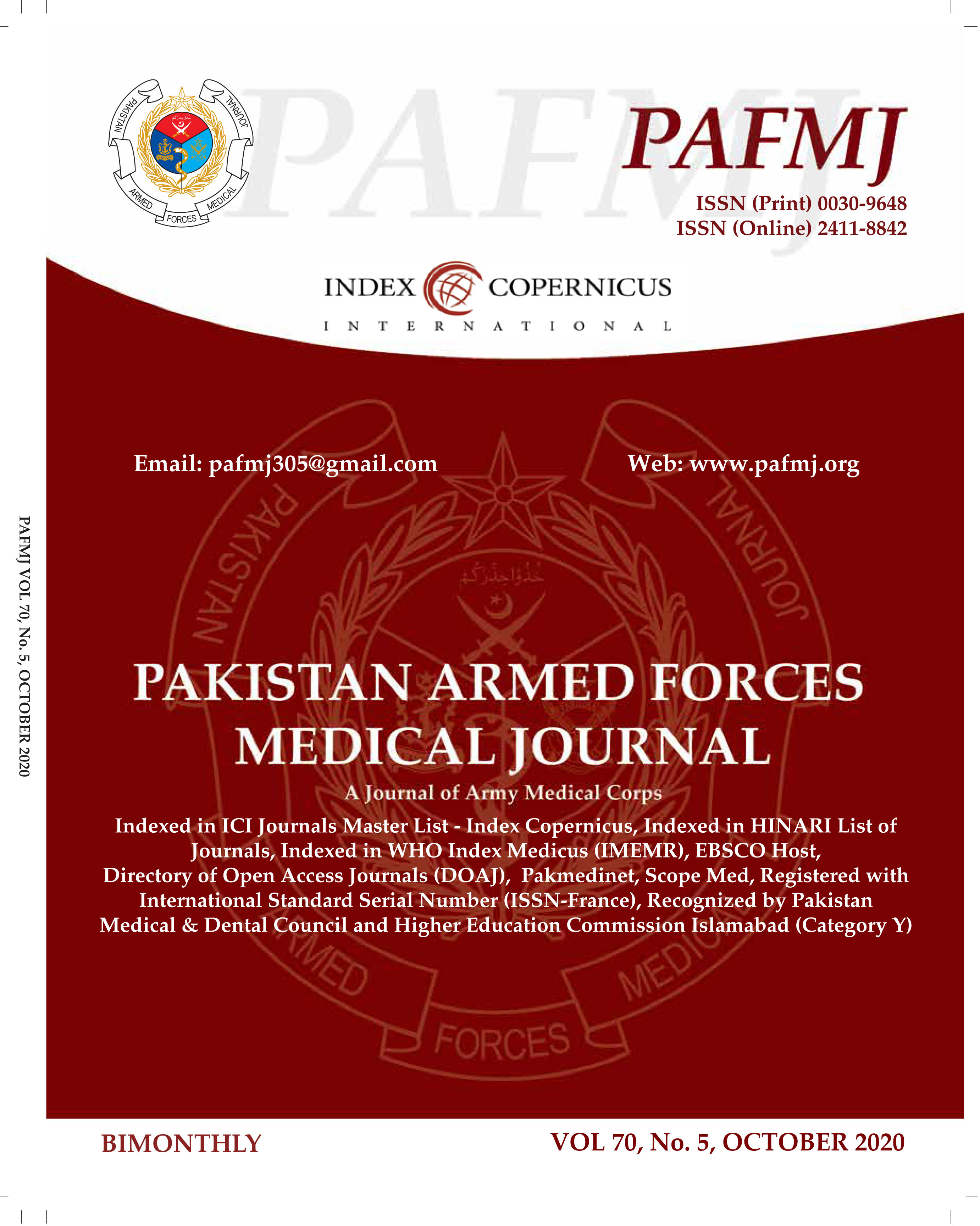 How to Cite
Shahbaz, N., Ahmed, P., Satti, T., Paracha, N., Mehmood, S., Chaudhary, Q., Khan, M., & Satti, H. (2020). OUTCOME OF CHEMOTHERAPY IN NON ACUTE PROMYELOCYTIC ACUTE MYELOID LEUKAEMIA. PAFMJ, 70(5), 1516-21. Retrieved from https://pafmj.org/index.php/PAFMJ/article/view/5597
Section
Original Articles