CORRELATION BETWEEN CLINICAL NEUROGENIC CLAUDICATION OUTCOME SCORE (NCOS) AND RADIOLOGICAL GRADING OF LUMBAR SPINAL STENOSIS ON MAGNETIC RESONANCE IMAGING LUMBOSACRAL SPINE
Asim Ishfaq

Combined Military Hospital/National University of Medical Sciences (NUMS) Rawalpindi Pakistan

Muhammad Shahzad

Combined Military Hospital/National University of Medical Sciences (NUMS) Rawalpindi Pakistan

Qasim Bashir

CMH Lahore Medical College, Lahore Pakistan

Syeda Hiraa Jeelani

Combined Military Hospital/National University of Medical Sciences (NUMS) Rawalpindi Pakistan
Keywords:
Lumbar spinal canal stenosis (LSCS), Magnetic resonance imaging (MRI), Neurogenic claudication, Neurogenic claudication outcome score (NCOS), Spinal stenosis
Abstract
Objective: To evaluate whether the clinical grading system of Neurogenic Claudication Outcome Score has the same causal relationship to severity of spinal stenosis on Magnetic Resonance Imaging in patients of neurogenic claudication.
Study Design: Cross sectional study.
Place and Duration of Study: Department of Neurosurgery, Combined Military Hospital Lahore. Jan 2020 to Apr 2020.
Methodology: Sixty patients of both genders with complaints of neurogenic claudication were scored as per Neurogenic Claudication Outcome Score. Symptoms of back pain, leg pain and numbness were recorded. Effect on daily routine, frequency of medication, doctor visit and pain intensity score were asked. Magnetic Resonance Imaging of lumbosacral spine was graded as; grade 0 = no obliteration of anterior cerebrospinal fluid space; grade 1 = mild stenosis with all cauda equina nerve roots separated, grade 2 = moderate stenosis some of cauda equina fibers aggregated, grade 3 = severe stenosis with none of cauda equina separate on T2 weighted image.
Results: Patient's age range was 33–80 years, mean of 60.6 ± 14.31 with female to male ratio of 1.5:1. For pain intensity scale (1-10), 21 (35%) gauged it to be 8 whereas 9 (15%) patients rated as 9 on pain scale. Most common level of spinal stenosis was L4/5 in 31 (51.6%), followed by L5/S1 level in 14 (23.3%) patients. Neurogenic claudication outcome score score ranged from 35-63 with mean 49.5. When neurogenic claudication outcome score was plotted against radiological grade, there was no statistically significant association amongst the two parameters (p=0.285).
Conclusion: There is no significant causative relationship between the clinical and radiological grading system for patients with spinal stenosis.
Downloads
Download data is not yet available.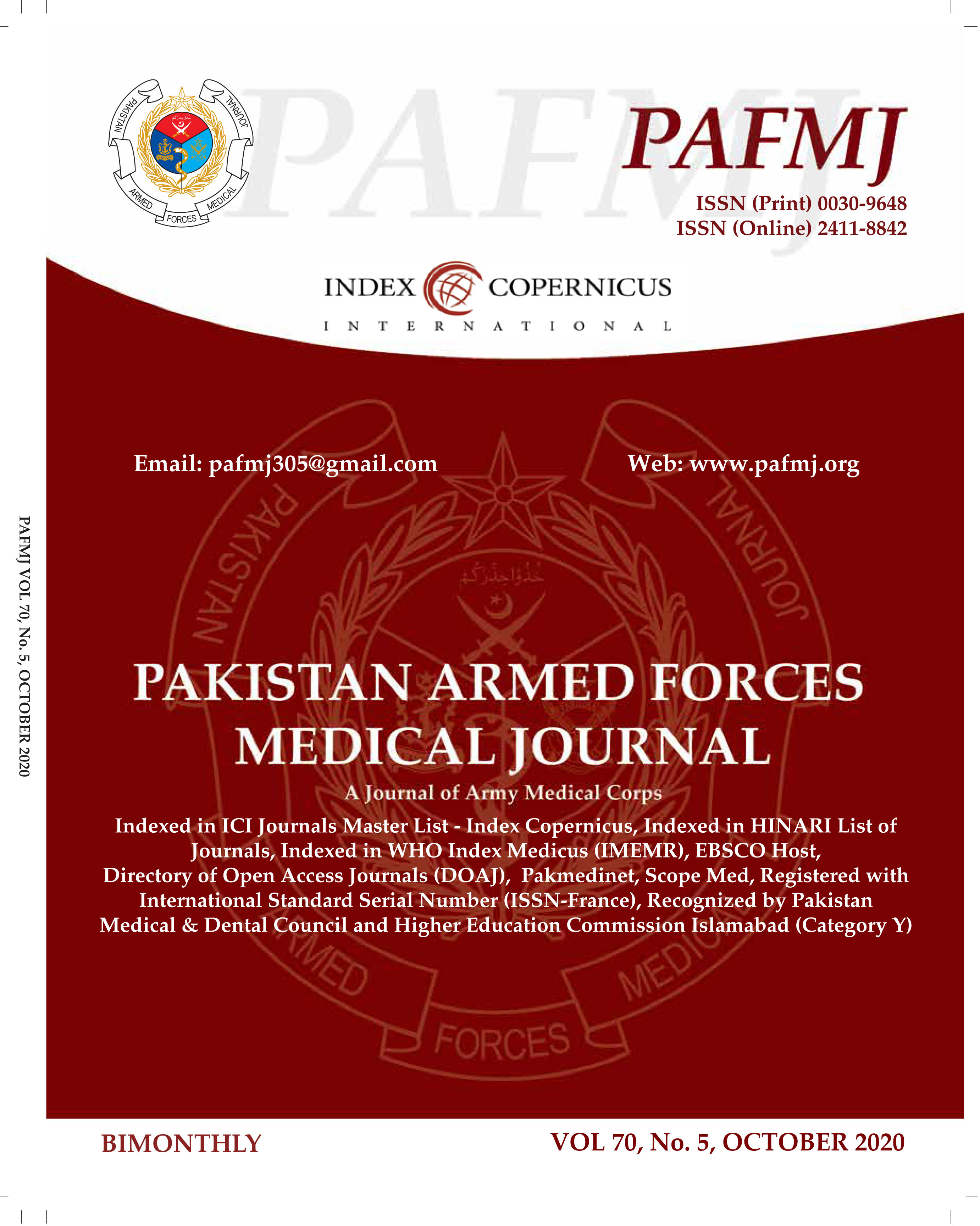 How to Cite
Ishfaq, A., Shahzad, M., Bashir, Q., & Jeelani, S. (2020). CORRELATION BETWEEN CLINICAL NEUROGENIC CLAUDICATION OUTCOME SCORE (NCOS) AND RADIOLOGICAL GRADING OF LUMBAR SPINAL STENOSIS ON MAGNETIC RESONANCE IMAGING LUMBOSACRAL SPINE. PAFMJ, 70(5), 1506-10. Retrieved from https://pafmj.org/index.php/PAFMJ/article/view/5595
Section
Original Articles