FACTORS AFFECTING HEALTH SEEKING BEHAVIOR AMONG ELDERLY COMMUNITY WOMEN: A MIXED METHOD STUDY
Iram Yasir

Al-Nafees Medical Collge, Islamabad Pakistan

Rukhsana Ayub

Al-Nafees Medical Collge, Islamabad Pakistan
Keywords:
Health-seeking behavior, elderly people, aging, health services, gender, Pakistan
Abstract
Objective: To outline common old age diseases affecting elderly community women of a poor peri-urban area. To identify the type of health services used by the elderly community women. To explore the health seeking behavior of the elderly community women and the factors affecting it.
Study Design: It was a descriptive cross sectional study complemented with qualitative study design.
Place and Duration of Study: The study was conducted at Farash Town. The duration of study was three months from May 2014 Jul 2014.
Methodology: Sample size consisted of 175 respondents. Respondents were selected by convenient sampling. Data was entered into SPSS version 18 for statistical analysis. Frequencies were calculated for the variables. Thirteen semi-structured in-depth interviews were also conducted. For qualitative analysis generated ideas, codes and themes were written.
Results: The findings of the study shows that majority of the respondents were from the age group 56-65. One hundred and thirty (74%) of respondents were married, 43 (24%) were widows and only 2 respondent were unmarried. Most of the respondents were illiterate 140 (80%), 30 (17%) were primary pass and 5 (3%) were above Matric. Out of 175 respondents, 169 (97%) were found to be unemployed while only 6 (3%) were working as maid. Locomotor disorders came out to be most prevalent followed by hypertension and diabetes mellitus. One hundred and thirty one (70%) respondents reported themselves unhealthy for which 119 (68%) were taking medicine. Only quarter of respondents were able to get treatment from public sector. The interviews revealed that majority of the respondents reported themselves as sick and weak. Most of them opted for allopathic mode of treatment however affordability was the most common barrier for health seeking among study population. Regarding compliance, only some of the respondents were complying with the treatment. When inquired about the decision-making regarding health seeking, the strongest theme which emerged out was own self as most of the respondents cited themselves as the primary decision makers for their health seeking.
Conclusion: Ageing, poverty and immobility complicated by poor access and availability of health care services were the main contributors towards impoverished elderly women health status. The study necessitates the need of obligatory services that could highlight as well as advocate the issued face by elderly women.
Downloads
Download data is not yet available.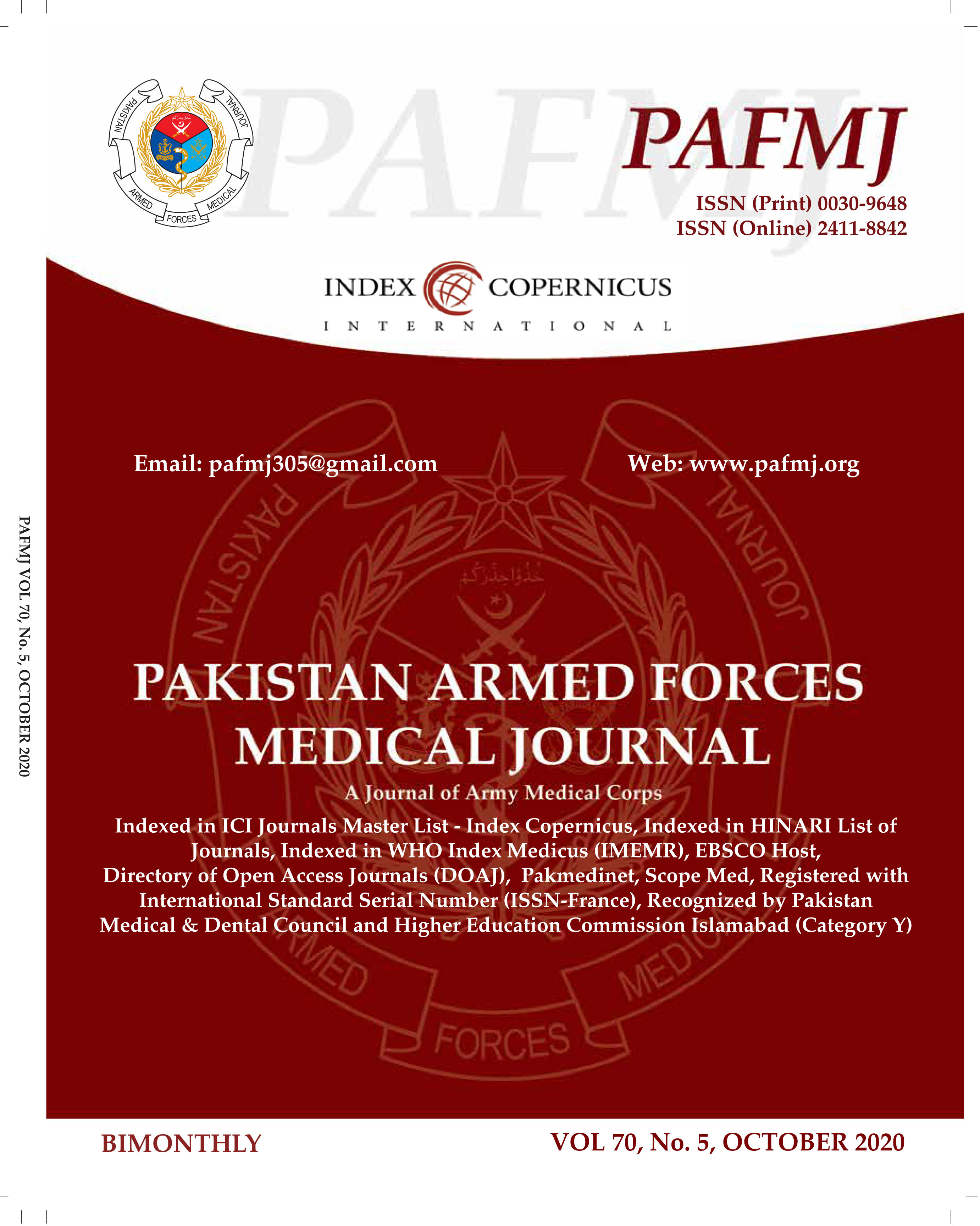 How to Cite
Yasir, I., & Ayub, R. (2020). FACTORS AFFECTING HEALTH SEEKING BEHAVIOR AMONG ELDERLY COMMUNITY WOMEN: A MIXED METHOD STUDY. PAFMJ, 70(5), 1499-1505. Retrieved from https://pafmj.org/index.php/PAFMJ/article/view/5594
Section
Original Articles