ASSOCIATION OF VITAMIN B12 DEFICIENCY AND METFORMIN USE IN PATIENTS PRESENTING WITH TYPE II DIABETES MELLITUS
Karamat Ali

Pak Emirates Military Hospital/National University of Medical Sciences (NUMS) Rawalpindi Pakistan

Shahid Ahmed

Pak Emirates Military Hospital/National University of Medical Sciences (NUMS) Rawalpindi Pakistan

Attia Khaliq

Pak Emirates Military Hospital/National University of Medical Sciences (NUMS) Rawalpindi Pakistan

Aqeel Peter

Pak Emirates Military Hospital/National University of Medical Sciences (NUMS) Rawalpindi Pakistan

Jawad Gul

Pak Emirates Military Hospital/National University of Medical Sciences (NUMS) Rawalpindi Pakistan

Asad Habib

Armed Forces Institute of Ophthalmology/National University of Medical Sciences (NUMS) Rawalpindi Pakistan
Keywords:
Diabetes Mellitus, Type 2, Metformin, Vitamin B12 deficiency
Abstract
Objective: To compare the association of vitamin B12 deficiency and metformin use in patients presenting with type II diabetes mellitus.
Study Design: Case control study.
Place and Duration of Study: Department of Medicine, Military Hospital Rawalpindi from Apr 2017 to Sep 2017.
Methodology: All patients who fulfilled the inclusion criteria and visited OPD of department of Medicine Military Hospital Rawalpindi, were included in the study. After approval from the ethical review committee, informed written consent was taken from patients. The patients were divided into two groups group A (metformin use) & B (without metformin use). Outcome was checked by comparing both the groups for vitamin B12 deficiency.
Results: Two hundred and eighty patients with diabetes mellitus were included. One hundred and seventy one (61.07%) were males and 109 (38.93%) were females, with the mean age of 59.52 ± 12.441. Vitamin B12 deficiency in group I was seen in 30 (10.71%) and in 9 patients (3.21%) in group II (OR >1).
Conclusion: In conclusion, our study indicates that patients with type 2 diabetes mellitus treated with metformin should be screened for vitamin B12 deficiency, especially with longer durations of treatment.
Downloads
Download data is not yet available.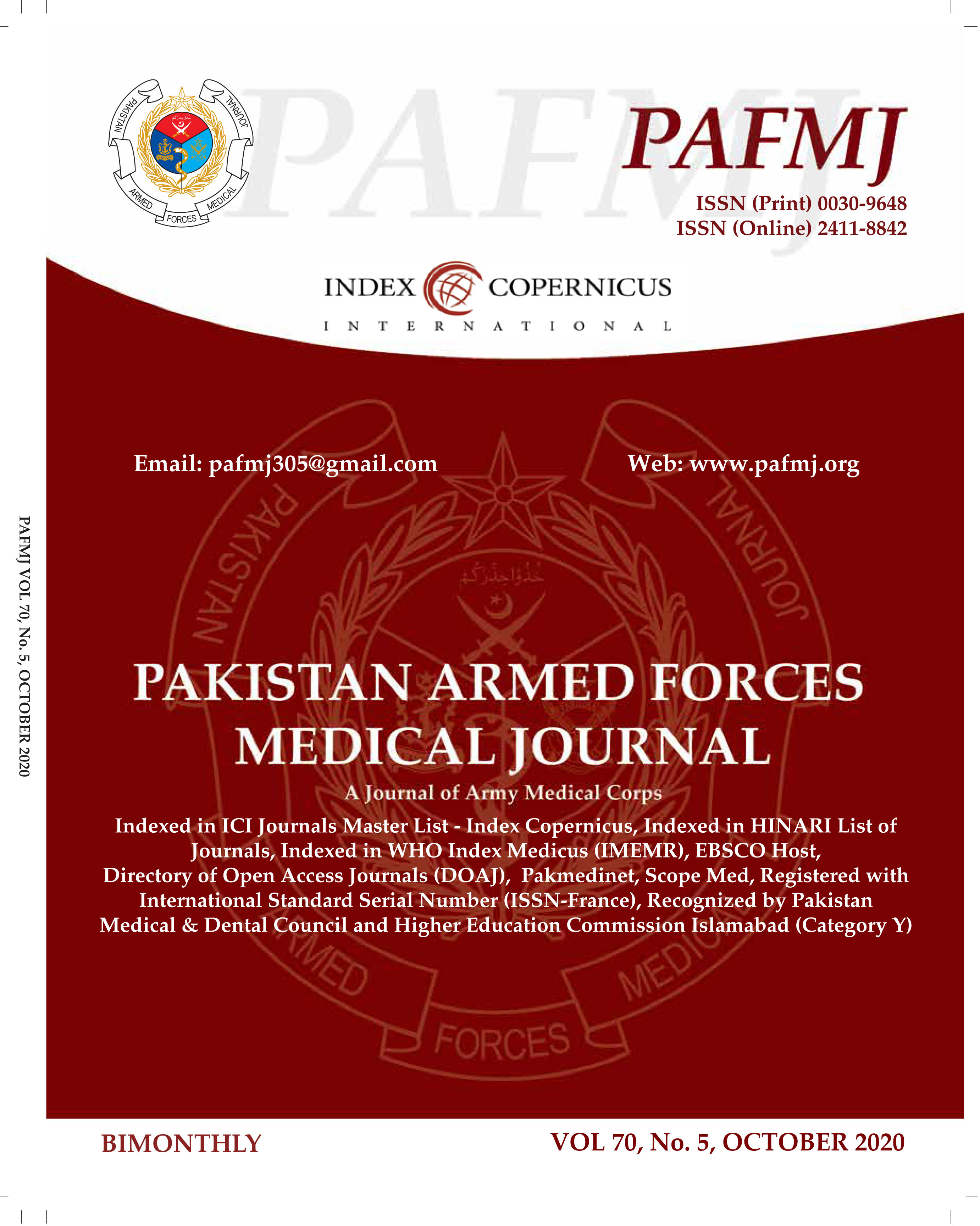 How to Cite
Ali, K., Ahmed, S., Khaliq, A., Peter, A., Gul, J., & Habib, A. (2020). ASSOCIATION OF VITAMIN B12 DEFICIENCY AND METFORMIN USE IN PATIENTS PRESENTING WITH TYPE II DIABETES MELLITUS. PAFMJ, 70(5), 1495-98. Retrieved from https://pafmj.org/index.php/PAFMJ/article/view/5593
Section
Original Articles