RIGHT LOWER ABDOMINAL PAIN IN FEMALES OF REPRODUCTIVE AGE: COMPARISON OF CLINICAL, LABORATORY AND SONOGHRAPHIC PARAMETERS
Sajjad Ahmad Ansari

Combined Military Hospital, Sargodha/National University of Medical Sciences (NUMS) Pakistan

Saima Kanwal

Khawaja Fareed Social Security Hospital, Multan Pakistan

Zaib Un Nisa

Combined Military Hospital, Sargodha/National University of Medical Sciences (NUMS) Pakistan
Keywords:
Acute appendicitis, Females of child bearing age, Pain right lower abdomen
Abstract
Objective: To determine the causes of right lower abdominal pain in females of child bearing age and compare the diagnostic value of clinical, laboratory and sonographic parameters in these patients.
Study Design: Prospective comparative study.
Place and Duration of Study: Department of Surgery, Combined Military Hospital Sargodha, from Nov 2018 to Oct 2019.
Methodology: The study included 92 female patients between the age of 13 to 45 years who presented in Surgical Department with pain right lower abdomen and underwent surgery with a pre-operative diagnosis of appendicitis. Intra-operative findings were recorded and final diagnosis was made by peroperative macroscopic examination. Data consisting of symptoms, signs, investigation and final diagnosis was analyzed.
Results: Mean age of the patients was 21.3 ± 3.7 years. Out of 92 study subjects, 78 (84.68%) had appendicitis while 14 (15.21%) were having gynaecological disorders. The rate of negative appendectomy was 15.21%. The most common gynaecological disorder was ruptured ovarian cyst seen in seven patients (7.6%). Most of the symptoms and signs were common in acute appendicitis and gynaecological disorders except migration of pain to the right iliac fossa which was seen in appendicitis only. Rise in leukocytes and neutrophil counts and a positive ultrasound for appendix were seen only in about 50% of the appendicitis patients.
Conclusion: A considerable number of females of child bearing age with gynaecological disorders presented with symptoms and signs simulating as acute appendicitis. Out of the three parameters, not a single parameter was 100% efficient in diagnosing the cause of pain.
Downloads
Download data is not yet available.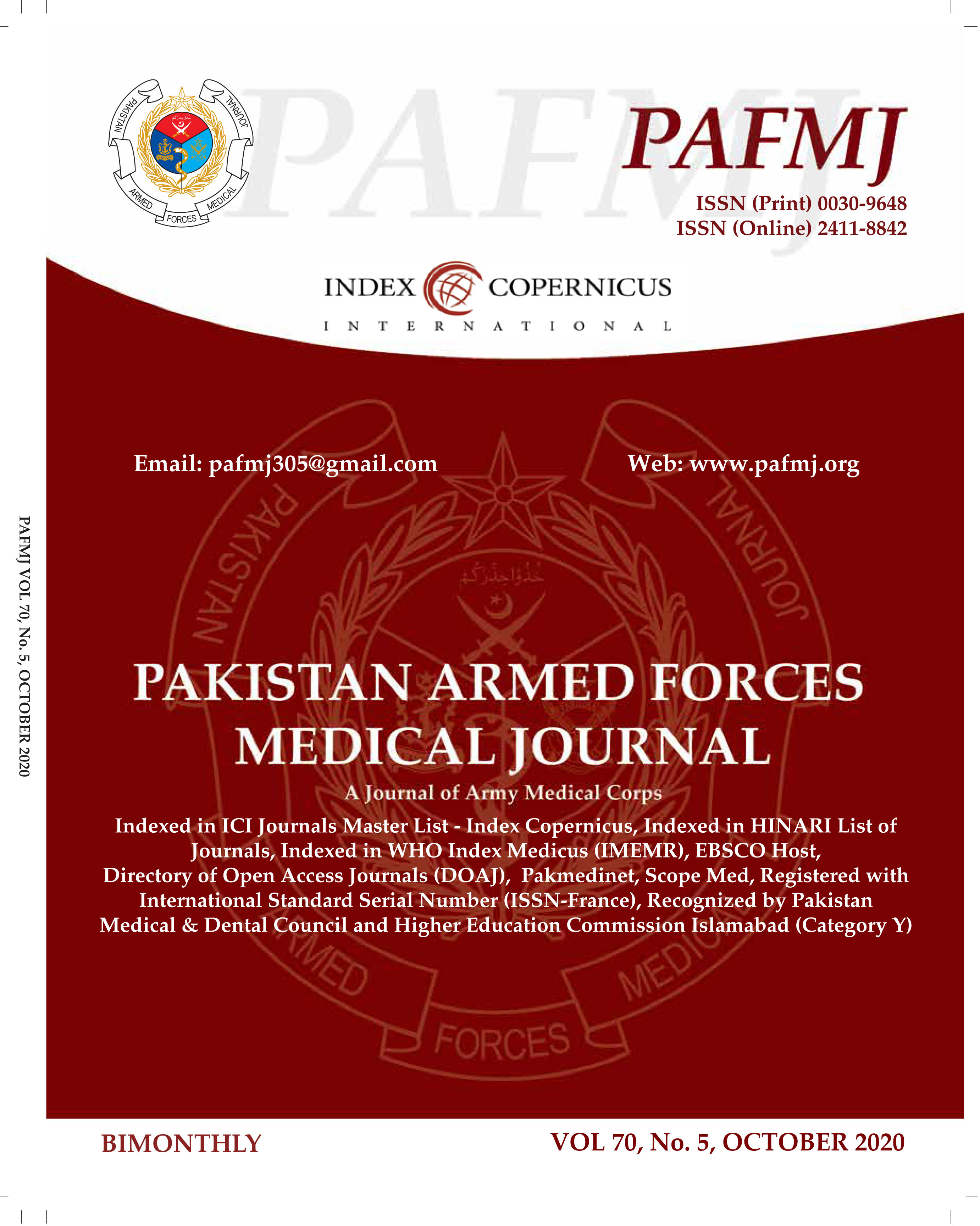 How to Cite
Ansari, S., Kanwal, S., & Nisa, Z. (2020). RIGHT LOWER ABDOMINAL PAIN IN FEMALES OF REPRODUCTIVE AGE: COMPARISON OF CLINICAL, LABORATORY AND SONOGHRAPHIC PARAMETERS. PAFMJ, 70(5), 1490-94. Retrieved from https://pafmj.org/index.php/PAFMJ/article/view/5591
Section
Original Articles