COMPARING EFFICACY OF 10% GLYCOLIC ACID VERSUS 10% MANDELIC ACID PEEL IN TREATMENT OF ACNE
Sarah Anwar

Sheikh Zayed Hospital, Rahim Yar Khan Pakistan

Malik Muhammad Hanif

Sheikh Zayed Hospital, Rahim Yar Khan Pakistan

Rozena Tumrani

Sheikh Zayed Hospital, Rahim Yar Khan Pakistan

Maryam Mumtaz

Sheikh Zayed Hospital, Rahim Yar Khan Pakistan
Keywords:
Acne, Efficacy, Glycolic Acid, Mandelic Acid
Abstract
Objective: Comparing the efficacy of 10% Glycolic acid versus 10% Mandelic acid peels in treatment of acne.
Study Design: Comparative cross sectional study.
Place and Duration of Study: This study was carried out at department of dermatology, Sheikh Zayed Hospital, Rahim Yar Khan, from Mar to Sep 2019.
Methodology: One hundred and twenty cases of more than 12 years age and either gender suffering from mild to moderate acne scored on Global acne grading system were randomised into group A and group B to be treated with 10% Glycolic acid and 10% Mandelic acid peels respectively for 6 weeks. Patients were treated and scored for improvement on weekly basis up to 6weeks and finally followed up at 12th week for reoccurrence. Response was graded on the basis of percentage reduction in number of lesions.
Results: Out of total 120 cases and 60 in each group, the mean age was 27.87 ± 7.0 vs 25.57 ± 7.05 in group A and B with p=0.31. There were 34 (56.67%) females in group A and 38 (63.33%) in group B with p=0.58. Mean acne score in group A and B was 25.10 ± 8.83 versus 26.03 ± 7.35 with p=0.53. Mild response was seen in 20% in either group, moderate in 13.33% versus 36.67%, good in 30% versus 33.33% and significant in 36.67% and 10% of cases in group A and B respectively with p-value of 0.001.
Conclusion: 10% Glycolic acid was found significantly better than 10% Mandelic acid peels in the treatment of acne.
Downloads
Download data is not yet available.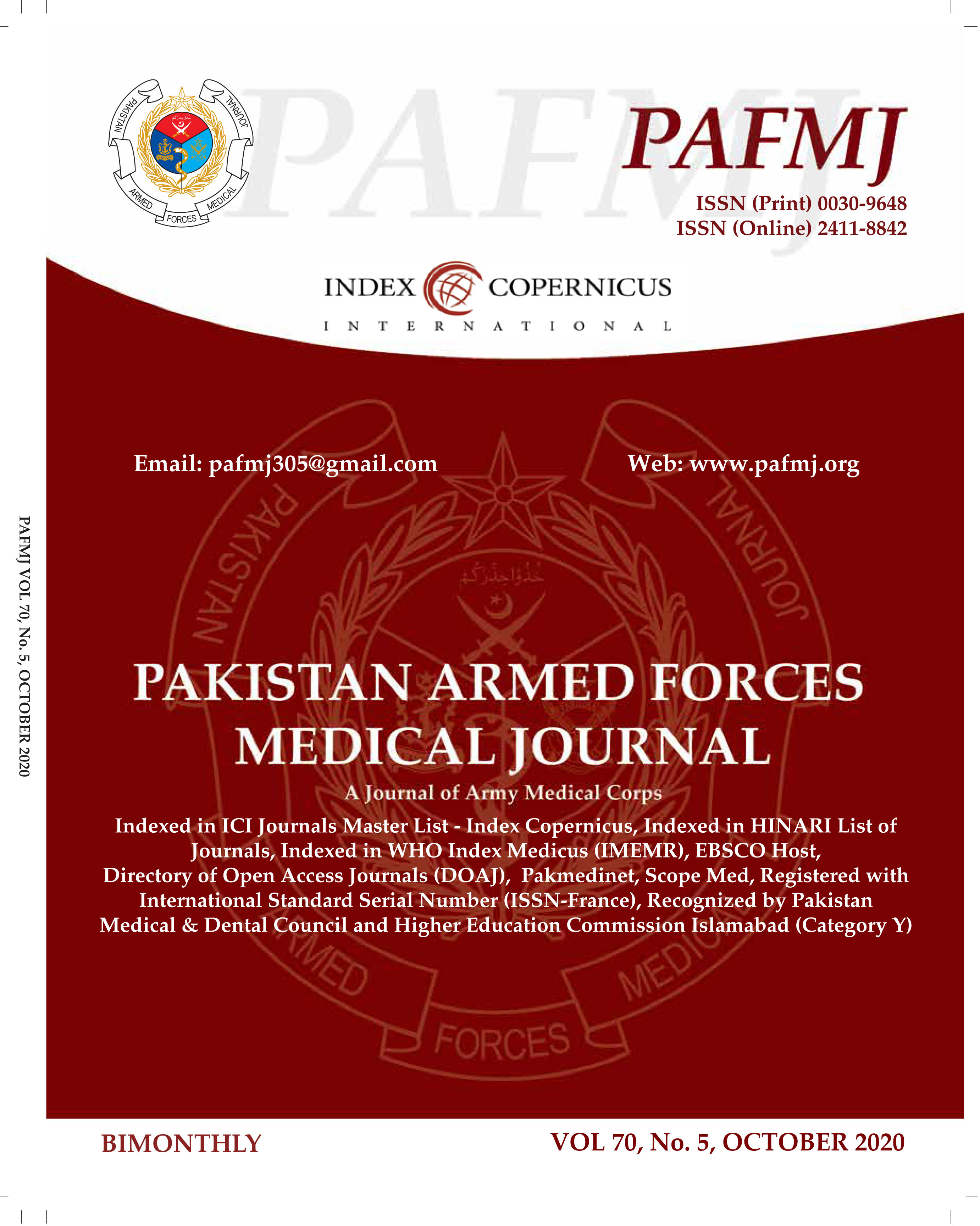 How to Cite
Anwar, S., Hanif, M., Tumrani, R., & Mumtaz, M. (2020). COMPARING EFFICACY OF 10% GLYCOLIC ACID VERSUS 10% MANDELIC ACID PEEL IN TREATMENT OF ACNE. PAFMJ, 70(5), 1481-84. Retrieved from https://pafmj.org/index.php/PAFMJ/article/view/5589
Section
Original Articles