DIETARY HABITS AND KNOWLEDGE OF NUTRITIONAL REQUIREMENTS OF STUDENTS OF A PRIVATE MEDICAL COLLEGE
Shazia Tufail

CMH Lahore Medical College, Lahore/National University of Medical Sciences (NUMS) Pakistan

Arub Ahmed

CMH Lahore Medical College, Lahore/National University of Medical Sciences (NUMS) Pakistan

Rehana Kanwal

CMH Lahore Medical College, Lahore/National University of Medical Sciences (NUMS) Pakistan

Ayesha Malik

CMH Lahore Medical College, Lahore/National University of Medical Sciences (NUMS) Pakistan

Zainab Noor

CMH Lahore Medical College, Lahore/National University of Medical Sciences (NUMS) Pakistan

Qurat Ul Ain Mushtaq

CMH Lahore Medical College, Lahore/National University of Medical Sciences (NUMS) Pakistan
Keywords:
Diet, Dietary habits, Eating behavior, Medical students, Morning meal
Abstract
Objective: To determine medical and dental students' eating habits and knowledge of nutritional requirements for health.
Study Design: A cross-sectional analytical study.
Place and Duration of Study: Conducted at CMH Lahore Medical College & Institute of Dentistry (CMH LMC & IOD), from Jun to Nov 2019.
Methodology: A total of 142 students of first year of MBBS and BDS of CMH Lahore Medical College & Institute of Dentistry fulfilling the inclusion criteria were given a self-administered survey questionnaire consisting of demographic details, dietary habits and dietary knowledge. Data was analyzed through SPSS 21.
Results: Majority of participants (75, 52.8%) were females and aged less than 22 years (78.2%). Most of them (73, 51.4%) were hostelite and 82 (57.7%) had normal body mass index (BMI). Most participants exhibited good knowledge of nutrition. 89 (62.7%) consumed fast food once or twice a week and 31 (21.8%) took fast food daily. There was no significant difference among the genders or among hostelites and day scholars with respect to most of the identified dietary habits. However, male students drank more soda, but ate more fresh fruits than the female students. Also, hostelites were found to be more prone to eat unhealthy foods when stressed as compared to the day scholars.
Conclusion: Most of the students had adequate dietary knowledge. High rates of fast food consumption imply the need for increased awareness of links between health and nutrition in these students.
Downloads
Download data is not yet available.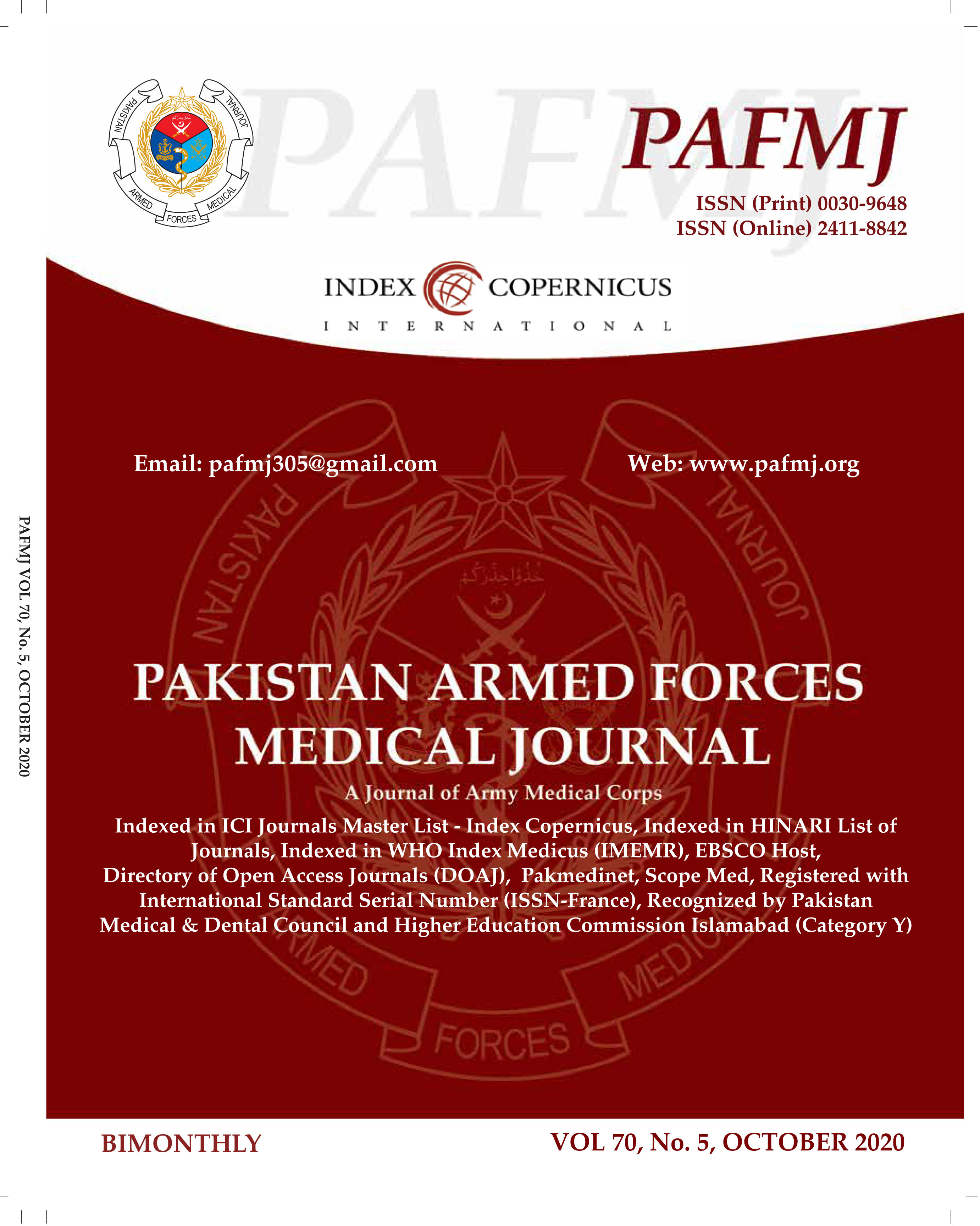 How to Cite
Tufail, S., Ahmed, A., Kanwal, R., Malik, A., Noor, Z., & Mushtaq, Q. U. A. (2020). DIETARY HABITS AND KNOWLEDGE OF NUTRITIONAL REQUIREMENTS OF STUDENTS OF A PRIVATE MEDICAL COLLEGE. PAFMJ, 70(5), 1474-80. Retrieved from https://pafmj.org/index.php/PAFMJ/article/view/5588
Section
Original Articles