SAFETY OF HASSON`S TECHNIQUE IN LAPAROSCOPIC CHOLECYSTECTOMY
Farhan Ahmed Majeed

Combined Military Hospital, Multan/National University of Medical Sciences (NUMS) Pakistan

Hassan Shabbir

Combined Military Hospital, Multan/National University of Medical Sciences (NUMS) Pakistan

Tehmina Rehman

Combined Military Hospital, Multan/National University of Medical Sciences (NUMS) Pakistan

Muhammad Nadeem

Combined Military Hospital, Multan/National University of Medical Sciences (NUMS) Pakistan

Ch Muhammad Qamar-ul-Haq

Combined Military Hospital, Multan/National University of Medical Sciences (NUMS) Pakistan

Umar Bashir

Combined Military Hospital, Multan/National University of Medical Sciences (NUMS) Pakistan

Ayema Shabbir

Combined Military Hospital, Multan/National University of Medical Sciences (NUMS) Pakistan
Keywords:
Hasson technique, Laparoscopic cholecystectomy, Pneumoperitoneum
Abstract
Objective: To evaluate the safety profile of Hasson's technique of laparoscopic port access in patients undergoing laparoscopic cholecystectomy.
Study Design: Cross-sectional study.
Place and Duration of Study: Department of general surgery, Combined Military Hospital Lahore, from Oct 2014 to Aug 2018.
Methodology: A total of 1037 patients with acute or chronic cholecystitis who were scheduled for laparoscopic cholecystectomy were included. Hasson (open) technique was used to insert first laparoscopy port for creation of pneumoperitoneum. Following laparoscopic cholecystectomy, data of intra-operative and post-operative complications was noted. Patients were followed during hospital stay to evaluate any procedure related injury. Follow-up was done at up-to six months to determine wound infections and formation of umbilical hernia.
Results: Mean age of the patients was 44.65 ± 8.98 years. Out of 1037 patients, procedure was simple in 655 (63.16%) patients and complex in 382 (36.83%) patients due to the presence of inflammatory adhesions and anatomic access. There was no intra-abdominal injury, omental injury, vascular injury or gut perforation. Port-site infections were diagnosed in 6 (0.57%) patients during 06 months' follow-up. Umbilical hernia was diagnosed in only 1 (0.09%) patient.
Conclusion: We found that Hasson technique of first laparoscopy port access for creation of pneumoperitoneum was a safe technique with minimum number access related complications.
Downloads
Download data is not yet available.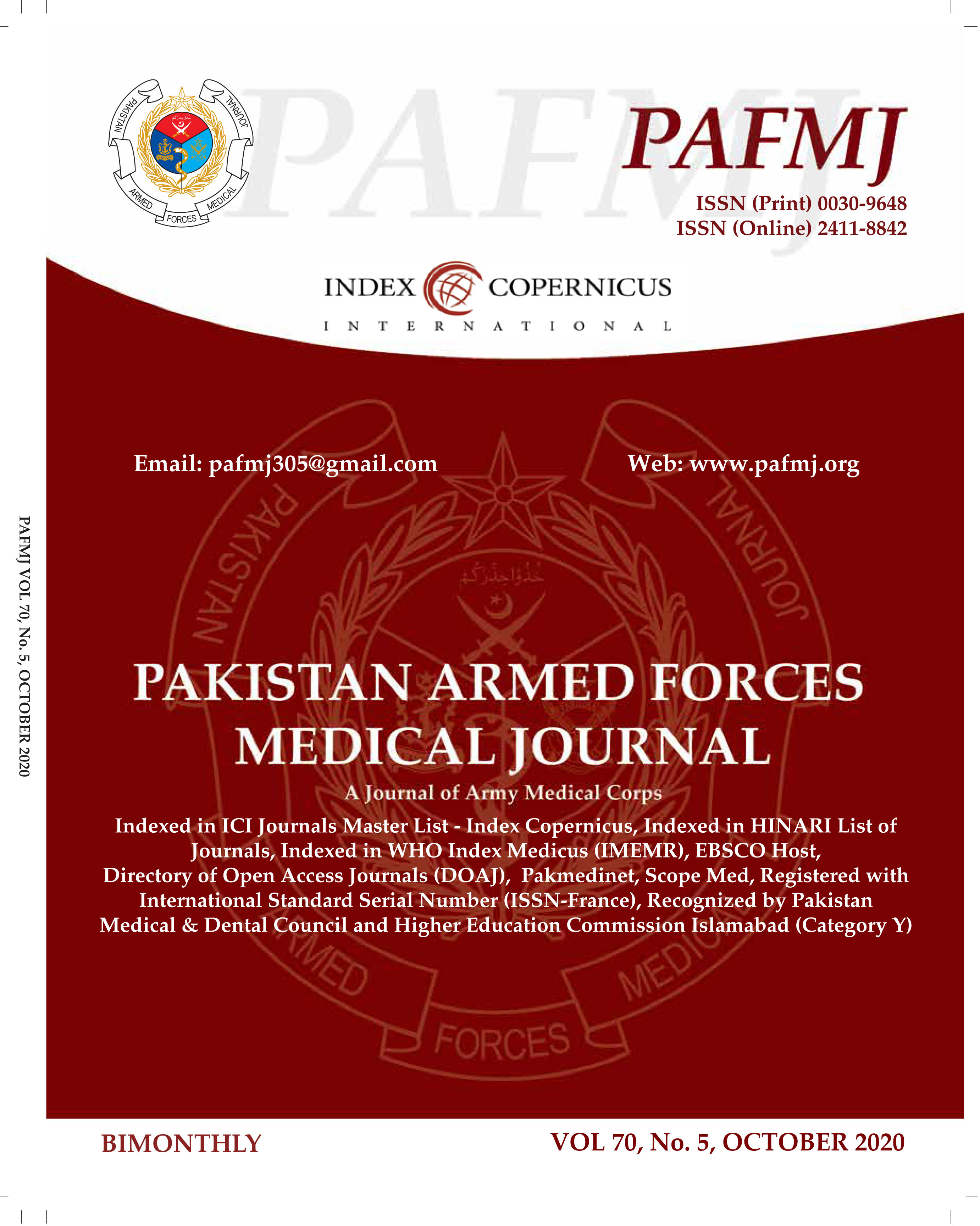 How to Cite
Majeed, F., Shabbir, H., Rehman, T., Nadeem, M., Qamar-ul-Haq, C., Bashir, U., & Shabbir, A. (2020). SAFETY OF HASSON`S TECHNIQUE IN LAPAROSCOPIC CHOLECYSTECTOMY. PAFMJ, 70(5), 1465-68. Retrieved from https://pafmj.org/index.php/PAFMJ/article/view/5586
Section
Original Articles