IMPACT ON MENTAL HEALTH OF UNDERGRADUATES AND THE WAYS TO COPE STRESS DURING COVID-19 PANDEMIC
Kiran Fatima Bana

Bahria University Medical & Dental College, Karachi Pakistan

Shaur Sarfraz

Jinnah Sindh Medical University, Karachi Pakistan
Keywords:
Coping method, COVID-19, Dental undergraduates, Medical undergraduate, Mental Health
Abstract
Objective: To evaluate the mental health status of undergraduate's students of three different programs. To correlate the related factors influencing GAD-7 score and to assess the coping methods practiced by undergraduates during COVID-19 outbreak.
Study Design: Cross-sectional survey.
Place and Duration of Study: COVID-19 lock down period among public and private universities in Karachi, from 10th May to 30th May 2020.
Methodology: It was conducted among the medical, dental and engineering students of private sector universities of Karachi. The GADS-7 (Generalized anxiety disorder scale 7-items) validated tool was used along with the demographic variables, related stress factors and the coping skills practiced. Total 571 questionnaires were found completed in all sections.
Results: From the total students 132 (23.1%) experienced mild, 343 (60.1%) moderate and 78 (13.7%) had severe anxiety level on GADS-7. All related stressors were significantly associated with GAD-7 scale at p-value of <0.01. Moreover the results depicted that there was a moderate positive correlation found (0.489, 0.342, 0.310 and 0.328) for all related stressors. Taking breaks from watching, reading news about outbreak of COVID-19, meditation and engaging in some other activities were the most frequently used coping strategies among undergraduates'.
Conclusion: Study has shown 96.9% drastically augmented level of anxiety. There was significant difference found in mental health of all three cohorts. There was a moderate positive correlation found for all related stressors. Taking breaks from watching, reading news about the outbreak of COVID-19 was the most frequent coping behavior practiced by all students.
Downloads
Download data is not yet available.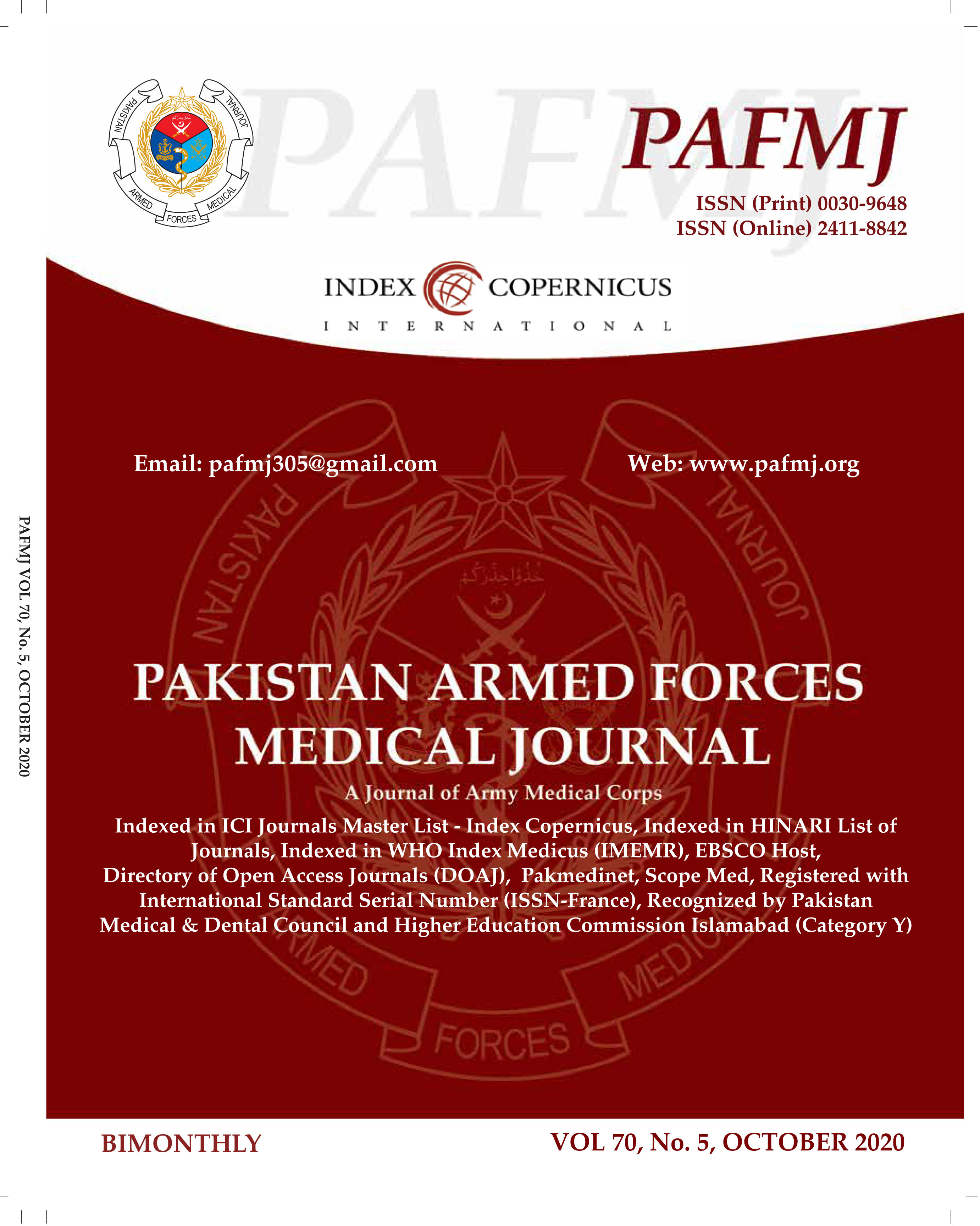 How to Cite
Bana, K., & Sarfraz, S. (2020). IMPACT ON MENTAL HEALTH OF UNDERGRADUATES AND THE WAYS TO COPE STRESS DURING COVID-19 PANDEMIC. PAFMJ, 70(5), 1453-59. Retrieved from https://pafmj.org/index.php/PAFMJ/article/view/5584
Section
Original Articles