AWARENESS AND KNOWLEDGE AMONG DIABETEC PATIENTS OF DIABETES MELLITUS AND ITS OCULAR COMPLICATIONS
Qamar Ul Islam

Combined Military Hospital Malir/National University of Medical Sciences (NUMS) Pakistan

Masooma Bangash

Bahria University Medical and Dental College, Karachi Pakistan

Maha Mirza Zeeshan

Bahria University Medical and Dental College, Karachi Pakistan

Sahar Asif

Bahria University Medical and Dental College, Karachi Pakistan

Sarah Rashid

Bahria University Medical and Dental College, Karachi Pakistan
Keywords:
Awareness, Diabetes mellitus, Diabetic retinopathy, Screening
Abstract
Objective: To assess the level of awareness and knowledge of patients with diabetes about diabetes mellitus and its related ocular complications.
Study Design: Cross sectional study.
Place and Duration of Study: Eye and Medical Departments of Pakistan Naval Ship Hospital Shifa, from Oct 2018 to Mar 2019.
Methodology: Diagnosed cases of diabetes mellitus, of more than one year and age more than 15 years were included in the study. A structured questionnaire was given to each participant. Statistical analysis was done using SPSS 13.0.
Results: A total of 182 subjects having mean age of 50.10 ± 11.05 years were included. A total of 122 (67.03%) patients were aware about diabetes mellitus and its effects on eyes and 139 (76.37%) were aware that diabetes mellitus can affect eye sight. About 142 (78.02%) of patients believed that patients with diabetes should have regular eye examination. Awareness was significantly higher in patients who were more qualified (p=0.005) and who had relatively higher income (p=0.012).
Conclusion: The overall level of awareness and knowledge about the diabetes mellitus and its related eye complication is average. Hence, there should be continuous process of evaluation to improve patient care and importance of awareness campaign and patient counseling to improve their knowledge regarding diabetes.
Downloads
Download data is not yet available.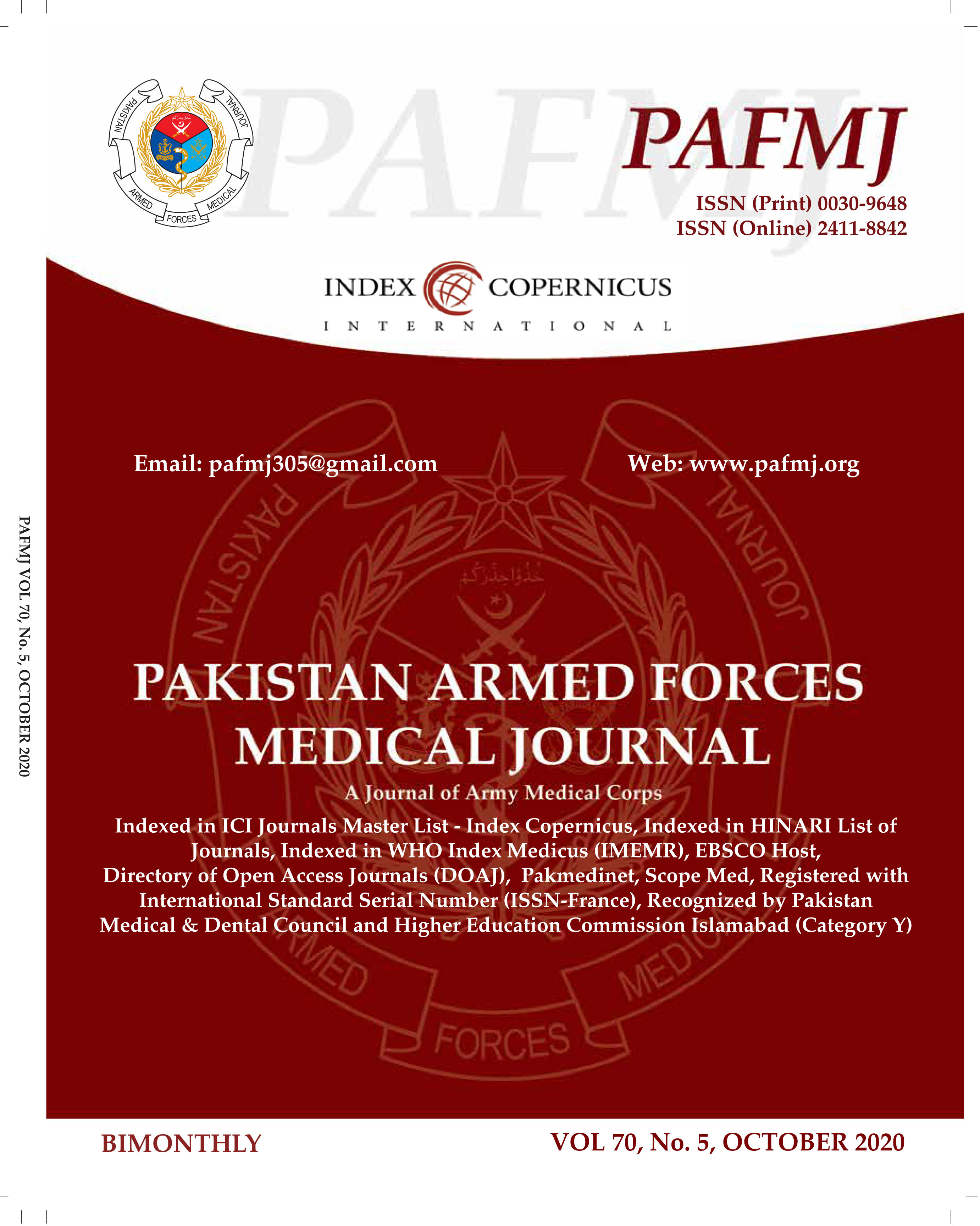 How to Cite
Islam, Q., Bangash, M., Zeeshan, M., Asif, S., & Rashid, S. (2020). AWARENESS AND KNOWLEDGE AMONG DIABETEC PATIENTS OF DIABETES MELLITUS AND ITS OCULAR COMPLICATIONS. PAFMJ, 70(5), 1448-52. Retrieved from https://pafmj.org/index.php/PAFMJ/article/view/5583
Section
Original Articles