CORRELATION OF PRE-OPERATIVE LEUKOCYTOSIS WITH POST-OPERATIVE WOUND INFECTION IN CAESAREAN-SECTION
Sadia Zainab

Combined Military Hospital Okara/National University of Medical Sciences (NUMS) Pakistan

Amina Akbar

Combined Military Hospital Okara/National University of Medical Sciences (NUMS) Pakistan

Saira Mahboob

Combined Military Hospital Okara/National University of Medical Sciences (NUMS) Pakistan

Mobeen Ikram

Combined Military Hospital Okara/National University of Medical Sciences (NUMS) Pakistan
Keywords:
Preoperative leukocytosis, Postoperative wound infection, Sensitivity, Specificity
Abstract
Objective: To assess the frequency of preoperative leukocytosis and its association with wound infection.
Study Design: Prospective-cross sectional, analytical study.
Place and Duration of Study: Department of Gynecology and Obstetrics, Combined Military Hospital, Thall, from Jan to Dec 2017.
Methodology: After the approval of hospital ethics committee, 340 pregnant ladies undergoing both elective and emergency cesarean section were included in our study. The outcome of our study was the frequency of preoperative leukocytosis and its association with postoperative wound infection. SPSS version 20 was used to analyze data. The qualitative data was presented as frequency and percentage. Chi-square was used to analyze significance. A p-value ≤0.05 was taken as significant.
Results: Frequency of preoperative leukocytosis was 121 (36.6%). A total of 111 (64.1%) pregnant ladies had pre-operative leukocytosis without post-operative wound infection versus 10 (66.6%) in patients with wound infection, p≤0.05, odd ratio 3.77. The sensitivity of pre-op total leukocyte count (TLC) for prediction of post-op wound infection was 66.6% (95% CI 38.3 to 88.8%) and specificity of 65.1% (59.5% to 70.34%). Most patients, 13 (86.6%), with wound infection required only debridement and intravenous antibiotics: IV linezolid and metronidazole; rest 2(13.4%) required secondary suturing for patient recovery.
Conclusion: Preoperative leukocytosis was common in parturient undergoing cesarean section incidence of wound infection was low in this study. The post-operative wound infection risk is shown to correlate with the preoperative leukocytosis.
Downloads
Download data is not yet available.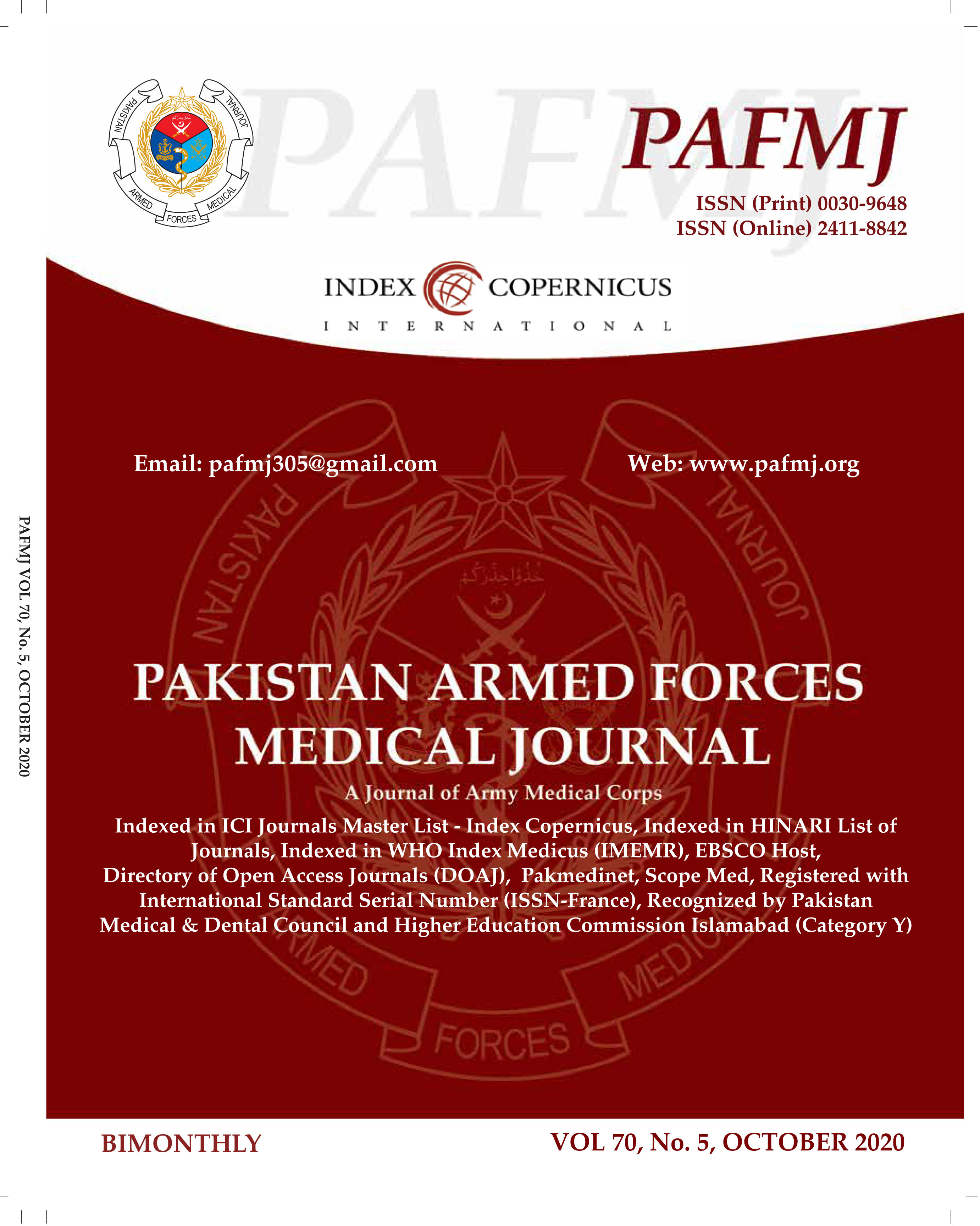 How to Cite
Zainab, S., Akbar, A., Mahboob, S., & Ikram, M. (2020). CORRELATION OF PRE-OPERATIVE LEUKOCYTOSIS WITH POST-OPERATIVE WOUND INFECTION IN CAESAREAN-SECTION. PAFMJ, 70(5), 1439-42. Retrieved from https://pafmj.org/index.php/PAFMJ/article/view/5581
Section
Original Articles