DIFFERENCE IN MICROFLORA BETWEEN BANDED AND BONDED ORTHODONTIC ATTACHMENT
Fatima Hamid

Armed Forces Institute of Dentistry/National University of Medical Sciences (NUMS) Rawalpindi Pakistan

Azhar Ali Bangash

21 MDC Quetta/National University of Medical Sciences (NUMS) Pakistan

Mehwish Khan

Armed Forces Institute of Dentistry/National University of Medical Sciences (NUMS) Rawalpindi Pakistan

Sana Tariq

Armed Forces Institute of Dentistry/National University of Medical Sciences (NUMS) Rawalpindi Pakistan

Munazza Saeed

Armed Forces Institute of Dentistry/National University of Medical Sciences (NUMS) Rawalpindi Pakistan
Keywords:
Microflora, Orthodontic attachments, Periodontopathogenic organisms
Abstract
Objective: To evaluate the difference in microflora produced by banded and bonded orthodontic attachments.
Study Design: Comparative cross sectional study.
Place and Duration of Study: Orthodontics department, Armed Forces Institute of Dentistry, Rawalpindi, from May 2017 to Jul 2018.
Methodology: Bacterial samples from 162 sites (premolar brackets and bands) were collected in patients undergoing fixed orthodontic therapy at T1 and T2. These samples were evaluated for various periodonto pathogenic organisms.
Results: Eighty four patients (162 teeth) with 37 (44%) males and 47 (55.9%) females were inducted into the study. Bacterial growth (log CFU/mg) in plaque samples from first premolars with orthodontic bands and brackets was 6.60 (SD ± 6.3) and 6.98 (SD ± 7.0) (p=0.03). The proportion of facultative anaerobes from molars with orthodontic bands and brackets were 81.3% and 75.3%. There is a statistically significant (p=0.02) difference in microflora in plaque samples around different types of orthodontic attachments such as bands and brackets.
Conclusion: There was a significant difference of microbiota associated with different orthodontic armamentarium. Banded attachments showed more affinity for cariogenic bacteria whereas periodontal pathogens more frequently colonizes the plaque associated with orthodontic brackets.
Keywords: , ,
Downloads
Download data is not yet available.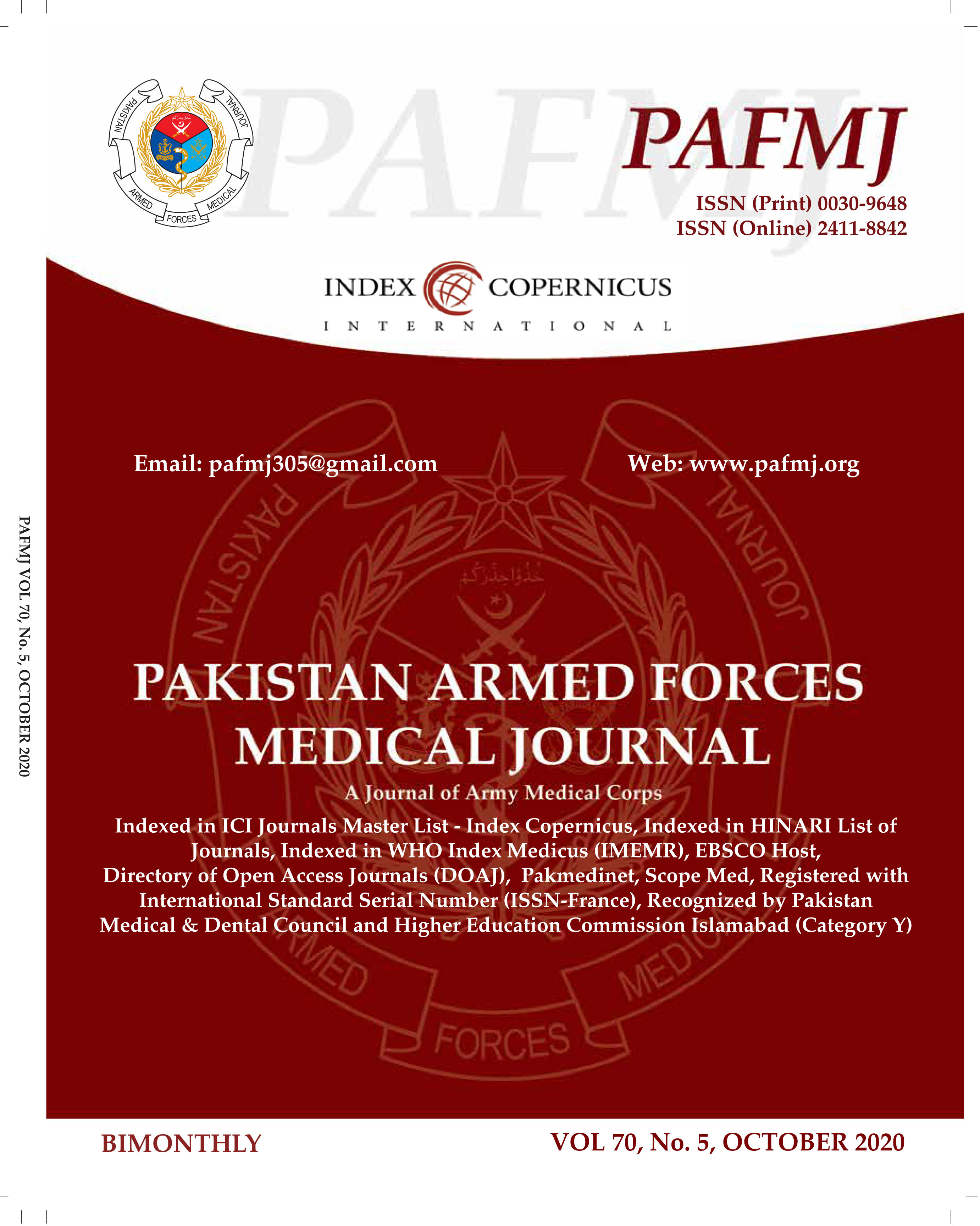 How to Cite
Hamid, F., Bangash, A., Khan, M., Tariq, S., & Saeed, M. (2020). DIFFERENCE IN MICROFLORA BETWEEN BANDED AND BONDED ORTHODONTIC ATTACHMENT. Pakistan Armed Forces Medical Journal, 70(5), 1434-38. Retrieved from https://pafmj.org/index.php/PAFMJ/article/view/5579
Section
Original Articles