DIAGNOSTIC ACCURACY OF FIRST TRIMESTER HYPERURICEMIA FOR PREDICTION OF GESTATIONAL DIABETES MELLITUS
Aiza Rehman

Combined Military Hospital Lahore Medical College, Lahore/National University of Medical Sciences (NUMS) Pakistan

Hajra Omar

Combined Military Hospital Lahore Medical College, Lahore/National University of Medical Sciences (NUMS) Pakistan

Saima Qamar

Combined Military Hospital Lahore Medical College, Lahore/National University of Medical Sciences (NUMS) Pakistan

Humaira Osman Jaffery

Combined Military Hospital Lahore Medical College, Lahore/National University of Medical Sciences (NUMS) Pakistan

Uzma Asif

Islam Medical College, Sialkot Pakistan

Faiza Ibrar

Fauji Foundation Hospital, Rawalpindi Paksitan
Keywords:
Diagnostic accuracy, First trimester, Gestational diabetes mellitus, Hyperuricemia, Oral glucose tolerance test, Uric acid
Abstract
Objective: To find the diagnostic accuracy of first trimester hyperuricemia for the prediction of development of subsequent gestational diabetes mellitus.
Study Design: Cross-sectional study.
Place and Duration of Study: Conducted at department of Obstetrics & Gynaecology, Combined Military Hospital Lahore, from Apr 2017 to Oct 2017.
Methodology: All pregnant patients who met the inclusion criteria were enrolled in this study after informed consent. Blood samples in first trimester were collected for analysis of serum uric acid. Then after 24-28 weeks of gestation, Oral glucose tolerance test was done and presence of gestational diabetes mellitus was recorded. All the data were collected on a proforma.
Results: The mean age of females was 26.70 ± 5.21 years. The mean height and weight was 1.62 ± 0.07 meters and 61.07 ± 8.54 kg respectively. Body mass index of patients was 23.32 ± 3.72 kg/m2. The mean gestational age of females was 9.96 ± 0.37 weeks at time of enrolment in the study. The mean uric acid level at time of presentation was 4.43 ± 3.61 mg/dl. In this study, the sensitivity and specificity of hyperuricemia for prediction of gestational diabetes mellitus were 91.1% and 95.7%. The positive predictive value and negative predictive value of hyperuricemia were 86.8% and 97.2% respectively. The overall diagnostic accuracy was 94.5%.
Conclusion: Hyperuricemia in the first trimester is a reliable marker for prediction of gestational diabetes mellitus in later pregnancy.
Downloads
Download data is not yet available.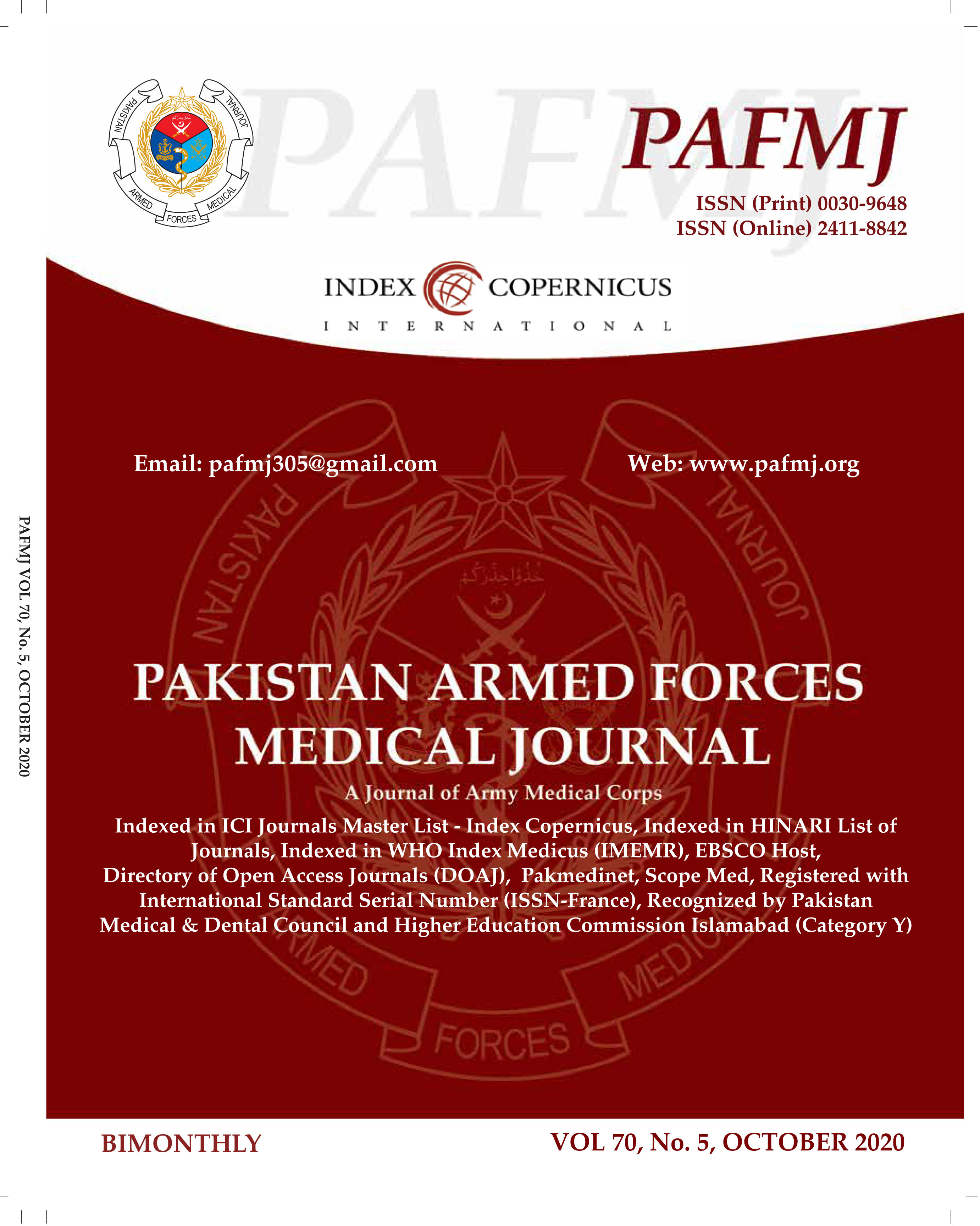 How to Cite
Rehman, A., Omar, H., Qamar, S., Jaffery, H., Asif, U., & Ibrar, F. (2020). DIAGNOSTIC ACCURACY OF FIRST TRIMESTER HYPERURICEMIA FOR PREDICTION OF GESTATIONAL DIABETES MELLITUS. PAFMJ, 70(5), 1586-89. Retrieved from https://pafmj.org/index.php/PAFMJ/article/view/5577
Section
Original Articles