OUTCOME OF LAPAROSCOPIC CHOLECYSTECTOMY PERFORMED BY SURGICAL RESIDENTS
Ahmad Naeem Kiani

Teaching Hospital, Mirpur, Azad Jammu & Kashmir, Pakistan

S H Waqar

Pakistan Institute of Medical Sciences, Islamabad Pakistan

Muhammad Tariq Abdullah

Pakistan Institute of Medical Sciences, Islamabad Pakistan
Keywords:
Bile duct injury, Cholelithiasis, Laparoscopic cholecystectomy, Surgical resident
Abstract
Objective: To evaluate the laparoscopic cholecystectomy (LC) performed by surgical residents in terms of frequency of bleeding, biliary injury and mean operating time.
Study Design: Descriptive study.
Place and Duration of Study: This study was conducted at the Department of General Surgery, Shaheed Zulfiqar Ali Bhutto Medical University (SZABMU), Pakistan Institute of Medical Sciences (PIMS) Islamabad, from Jan 2015 to Jun 2017.
Methodology: All laparoscopic cholecystectomies performed by fourth year resident were included by consecutive sampling. Variables like bleeding, biliary injuries, and total operating time were observed. Data was collected on a pre-designed proforma. SPSS version 22 was used for data entry and analysis.
Results: A total of 150 patients were included with mean age of 42.66 ± 12.27 years. There were 38 (25.33%) males and 112 (74.67%) females. During surgery, bleeding was noted in eight cases (5.3%) and cystic duct injury in one patient (0.66%). Seven patients (4.6%) had biliary collection postoperatively. The mean operative time was 40.52 ± 6.97 minutes. There was insignificant difference among all age groups for bleeding, biliary injury and mean operative time i.e. p>0.05. Similarly there was no significant difference between both genders for any complication and mean operative time i.e. p>0.05.
Conclusion: Laparoscopic cholecystectomy is a safe surgical procedure done by senior surgical residents and they can perform laparoscopic surgery with satisfactory results.
Downloads
Download data is not yet available.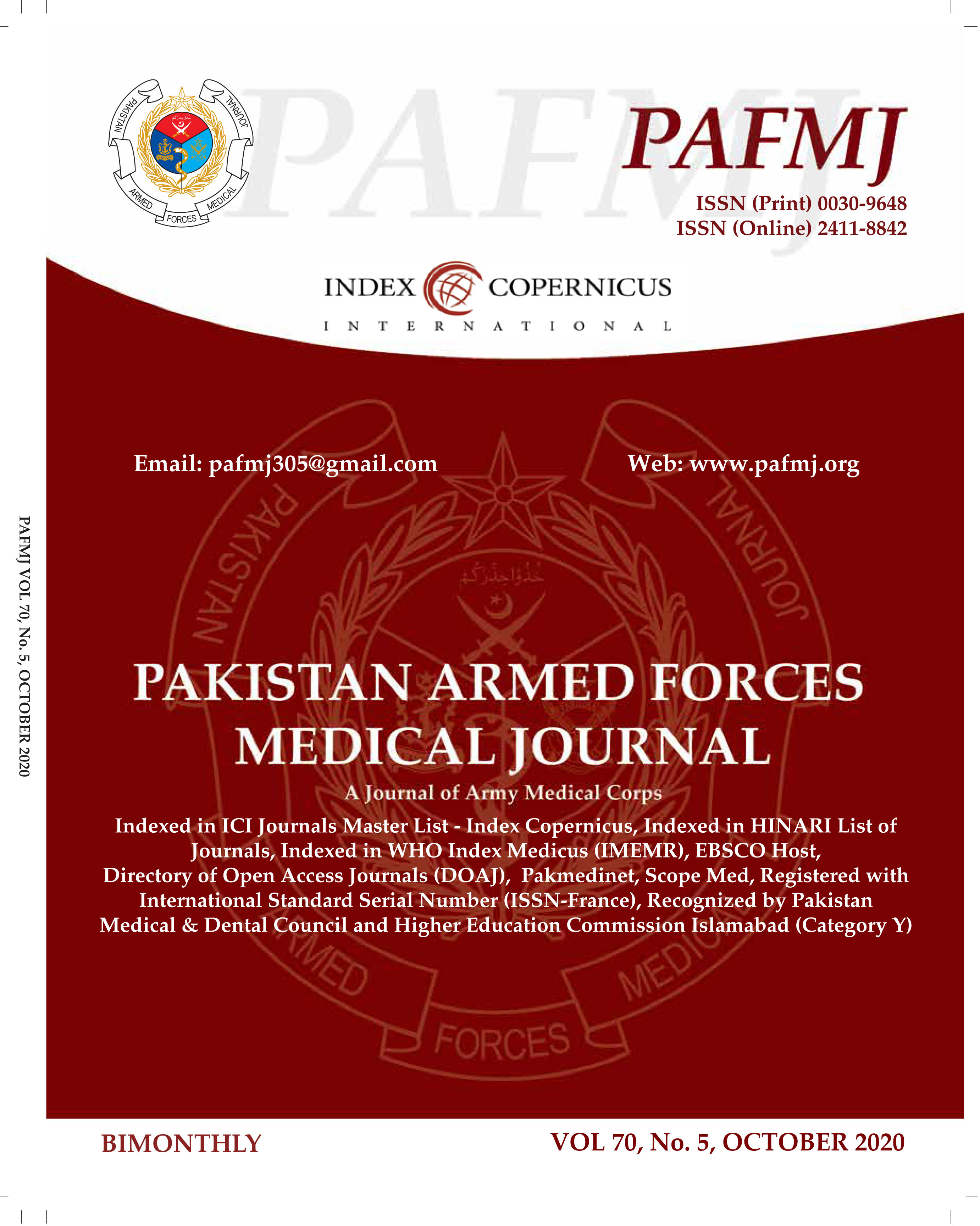 How to Cite
Kiani, A., Waqar, S. H., & Abdullah, M. (2020). OUTCOME OF LAPAROSCOPIC CHOLECYSTECTOMY PERFORMED BY SURGICAL RESIDENTS. PAFMJ, 70(5), 1381-85. Retrieved from https://pafmj.org/index.php/PAFMJ/article/view/5568
Section
Original Articles