EFFECTIVENESS OF PIRANI SCORE IN PREDICTING SELECTION OF ACHILLES TENOTOMY IN IDIOPATHIC CLUBFOOT: A CASE CONTROL STUDY
Ahmed Mushtaq Khan

Combined Military Hospital Gujranwala/National University of Medical Sciences (NUMS) Pakistan

Syed Faraz Anwar

Combined Military Hospital Malir/National University of Medical Sciences (NUMS) Pakistan

Anas Bin Saif

FTC Kotli/National University of Medical Sciences (NUMS) Pakistan Pakistan

Saeed Akhtar Awan

Combined Military Hospital Kohat/National University of Medical Sciences (NUMS) Pakistan
Keywords:
Idiopathic club foot, Pirani scoring system, Ponseti Method, tenotomy
Abstract
Objective: To assess the effectiveness of Pirani scoring system in predicting the need of percutaneous Achilles tenotomy in cases of idiopathic club foot.
Study Design: Case control study.
Place and Duration of Study: Orthopaedic department of CMH Kohat, from Mar 2017 to Aug 2018.
Methodology: This study included newborn babies to the age of 3 months with idiopathic club foot. The patients were treated by Ponseti method. The Pirani Score was calculated at initial presentation before starting treatment with casting according to Ponseti method. After three months percutaneous tenotomy was performed based on progression. The data was analyzed by applying unpaired t-test to determine the statistical significance keeping p-value <0.05. Binary regression was evaluated to determine the odds ratio.
Results: A total of 39 patients were included in study with 67 club feet. There were 26 (66.6%) males and 13 (33.3%) females. The mean Pirani score of patients who had tenotomy was 4.45 ± 0.74, whereas, it was 3.476 ± 0.48 in patients who did not underwent tenotomy (p-value ≤0.001). There were higher odds of tenotomy in patients who have high Pirani score at initial presentation (OR=19.61, p-value ≤0.001). The cut off limit of pirani score beyond which tenotomy was essential was 3.95.
Conclusion: Higher Pirani score was associated with higher chances of percutaneous Achilles Tenotomy in cases of Idiopathic Club foot.
Downloads
Download data is not yet available.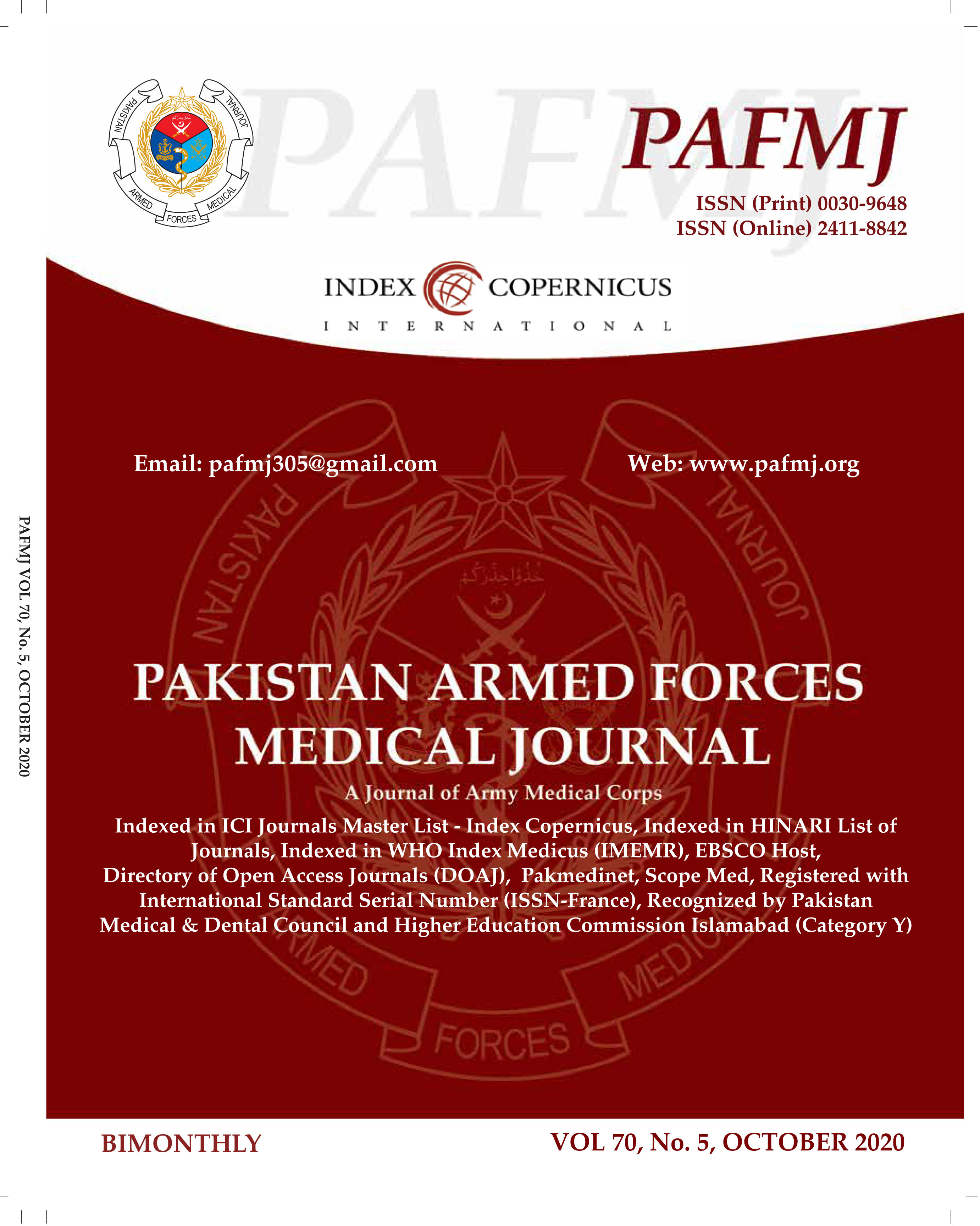 How to Cite
Khan, A., Anwar, S., Saif, A., & Awan, S. (2020). EFFECTIVENESS OF PIRANI SCORE IN PREDICTING SELECTION OF ACHILLES TENOTOMY IN IDIOPATHIC CLUBFOOT: A CASE CONTROL STUDY. PAFMJ, 70(5), 1376-80. Retrieved from https://pafmj.org/index.php/PAFMJ/article/view/5567
Section
Original Articles