COMPARING HEPATITIS B SEROPROTECTION IN PAKISTANI CHILDREN AT 5 AND 6 YEARS OF AGE AFTER EXPANDED PROGRAMME ON IMMUNIZATION (EPI) VACCINATION
Keywords:
Anti-HBs antibodies, EPI, Hepatitis B vaccination, Seroprotection
Abstract
Objective: To compare seroprotection of children at 5 and 6 year of age after receiving Hepatitis B vaccination according to Expanded Programme on Immunization (EPI).
Study Design: Cross sectional study.
Place and Duration of Study: The study was conducted in the Department of Paediatric Medicine, Pak Emirates Military Hospital, Rawalpindi, from Oct 2015 to Apr 2016.
Methodology: After the approval of ethics committee, informed consent of participants was obtained. Total 85 children, both male and female, aging 5 and 6 years were included in study fulfilling inclusion criteria. 3.5 ml blood samples were obtained ensuring antiseptic precautions using disposable syringes. Samples were taken in vaccutainers, labeled with patient's demographic information and were immediately transported to the Armed Forces Institute of Pathology (AFIP) for analysis. Hepatitis B surface antibody titers of >10 IU/ L was taken as protective and <10 IU/L were considered negative. Children with anti-HBs titer <10 IU/L were sent for revaccination. Data was analyzed using SPSS version 22.
Results: Out of 85 children, 41 (48.2%) were female and 44 (51.8%) male. Mean anti hepatitis B antibodies levels was 92.15 ± 66.03 IU/L. There were 32 (74.4%) seroprotected children who have age of five years and there were 20 (47.6%) seroprotected children who were six years old.
Conclusion: Our study concluded that with increasing age, significant number of children have decline in seroprotection against hepatitis B after receiving vaccination according to EPI schedule.
Downloads
Download data is not yet available.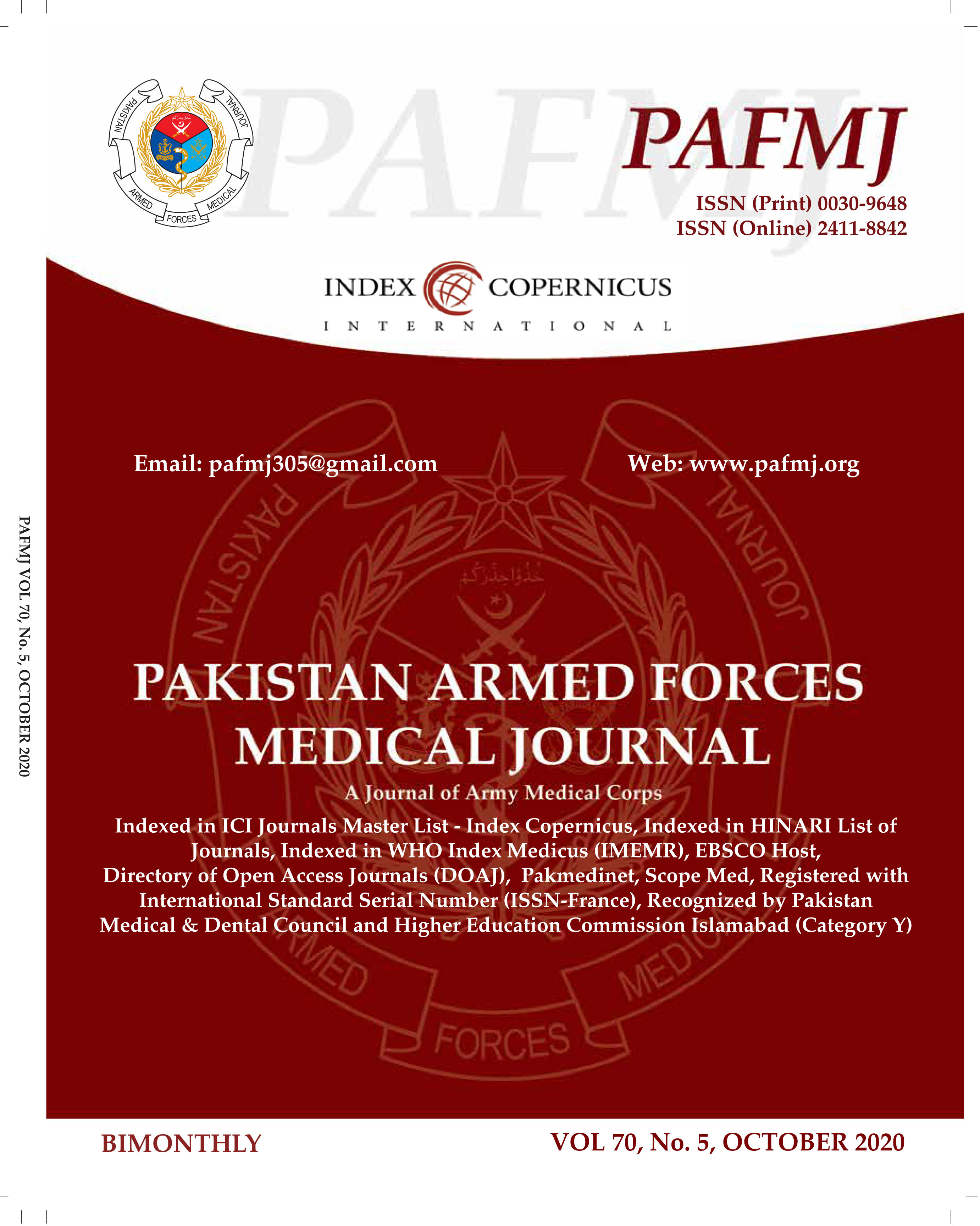 Downloads
How to Cite
Qadir, E., Malik, Q., Zahid, M., Raza, A., Shah, S. A., & Hussain, S. S. (2020). COMPARING HEPATITIS B SEROPROTECTION IN PAKISTANI CHILDREN AT 5 AND 6 YEARS OF AGE AFTER EXPANDED PROGRAMME ON IMMUNIZATION (EPI) VACCINATION. Pakistan Armed Forces Medical Journal, 70(5), 1349–53. Retrieved from https://pafmj.org/index.php/PAFMJ/article/view/5562
Section
Original Articles