EFFECT OF INTRAVENOUS IRON THERAPY ON SERUM FERRITIN AND HAEMOGOBIN LEVELS IN CHILDREN REPORTING WITH IRON DEFECIENCY ANAEMIA
Keywords:
Hemoglobin, Iron deficiency anemia, Mean corpuscular volume, Serum ferritin
Abstract
Objective: To evaluate the effect of intravenous Iron therapy on serum Ferritin and Haemoglobin levels in children with iron deficiency anaemia.
Study Design: Cross sectional study.
Place and Duration of Study: Combined Military Hospital (CMH), Quetta, from Aug 2015 to Jul 2017.
Methodology: Patients of either sex with age 1 to 12 years with iron deficiency anemia were included in the study. Sampling technique was Consecutive non-probability purposive sampling. Iron deficiency anemia was diagnosed on the basis of mean corpuscular volume (MCV), Hemoglobin (hb) concentration and serum ferritin. Intravenous iron therapy was given to all patients included in the study. Patients were followed up after 4 weeks. Paired t-test was applied for pre and post therapy HB and serum Ferritin. A p-value ≤0.05 was considered significant.
Results: Total number of patients included in the study was 55. Out of total patients male were 35 (64%) and female were 20 (36%). Mean age of patients was 2.48 ± 1.89 years. Pre therapy Hb and serum ferritin were 8.13 ± 1.96 g/dl and 8.87 ± 10.24, respectively. Post therapy HB and serum ferritin were 11.06 ± 93 g/dl and 52.60 ± 28.61 respectively. When paired t test was applied, the p-value was found statistically significant <0.05.
Conclusion: Intravenous iron therapy effectively improved serum ferritin and Hb concentration in patients with iron deficiency anemia.
Downloads
Download data is not yet available.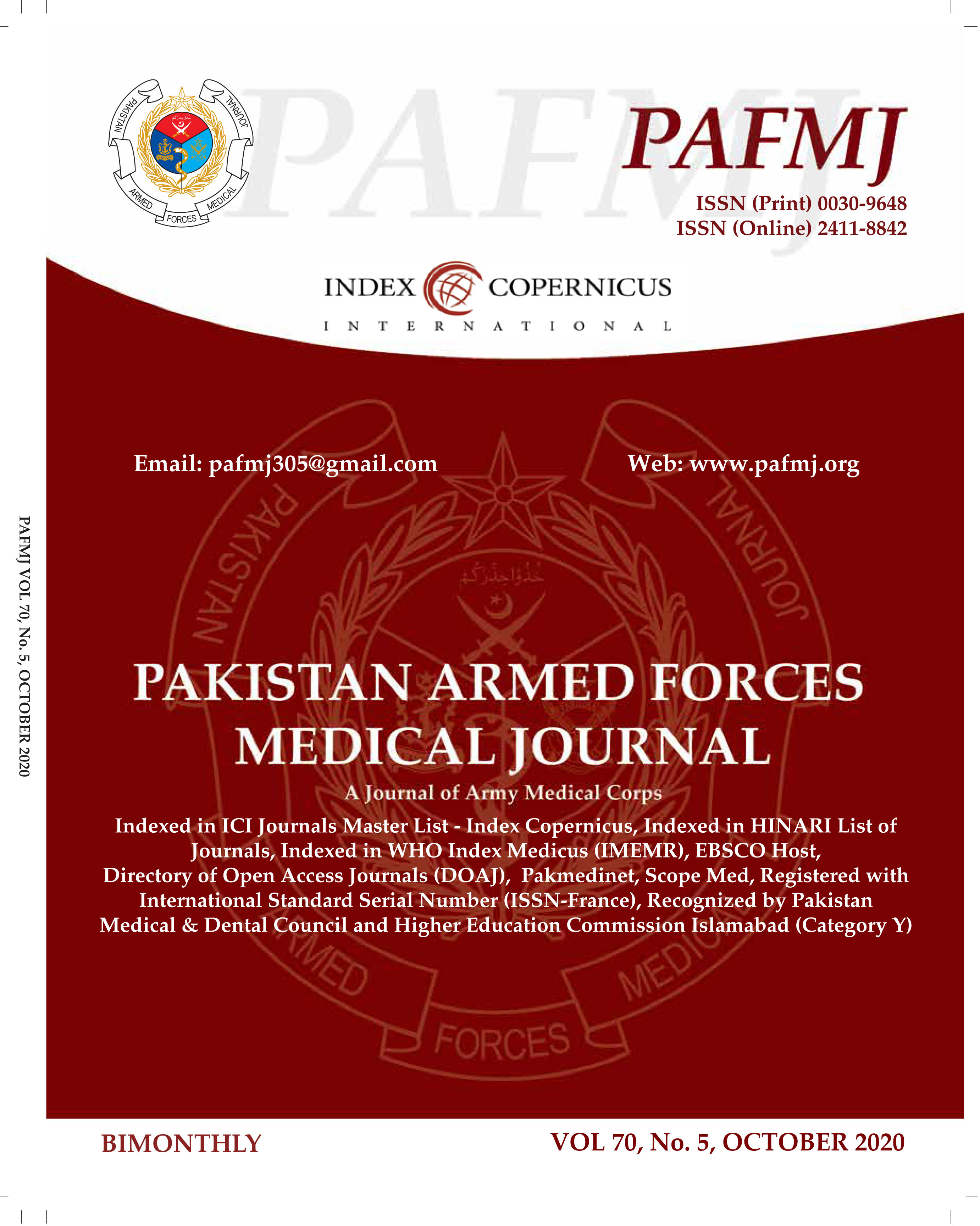 Downloads
How to Cite
Zaman, S., Shah, S. A., Jehanzeb, K., Sabir, S., Rashid, H. U., & Haq, Z. U. (2020). EFFECT OF INTRAVENOUS IRON THERAPY ON SERUM FERRITIN AND HAEMOGOBIN LEVELS IN CHILDREN REPORTING WITH IRON DEFECIENCY ANAEMIA. Pakistan Armed Forces Medical Journal, 70(5), 1344–48. Retrieved from https://pafmj.org/PAFMJ/article/view/5561
Section
Original Articles