EARLY POST-OPERATIVE PERINEAL WOUND COMPLICATIONS IN PATIENTS UNDERGOING EXTRA LEVATOR ABDOMINOPERINEAL EXCISION, A RETROSPECTIVE STUDY AT DEPARTMENT OF SURGICAL ONCOLOGY
Aun Jamal

Shaukat Khanum Memorial Cancer Hospital & Research Center Lahore Pakistan

Sadaf Batool

Shaukat Khanum Memorial Cancer Hospital & Research Center Lahore Pakistan

Ihtisham Ul Haq

Shaukat Khanum Memorial Cancer Hospital & Research Center Lahore Pakistan

Jibran Mohsin

Shaukat Khanum Memorial Cancer Hospital & Research Center Lahore Pakistan

Osama Shakeel

Shaukat Khanum Memorial Cancer Hospital & Research Center Lahore Pakistan

Shahid Khattak

Shaukat Khanum Memorial Cancer Hospital & Research Center Lahore Pakistan

Aamir Ali Syed

Shaukat Khanum Memorial Cancer Hospital & Research Center Lahore Pakistan
Keywords:
Abdominoperineal excision, Dehiscence, Distal rectal cancer, Extra levator, Extra levator abdominoperineal excision, Perineal wound
Abstract
Objective: To emphasize on the early wound complications of the above-mentioned procedure.
Study Design: Retrospective observational study.
Place and Duration of Study: The study was conducted at department of Surgical Oncology, Shaukat Khanum Memorial Cancer Hospital & Research Center, from Jan 2014 to Dec 2019.
Methodology: A total of 84 patients were included in the study who underwent extra levator abdominoperineal excision. It was a retrospective study with convenient sampling. The data was retrieved from Hospital information system (HIS) that is a fully electrotonic system and is prospectively maintained. Variables were expressed as median and IQR was calculated. Univariate and multivariate analysis was performed. The p-value of ≤0.05 was considered significant.
Results: Wound infection was observed in 32 (38.09%) of the patients. Wound dehiscence was seen is 5 (5.95%) of the patients. Median day of detection of infection was day 10 (5-22). Median hospital stay was 7 (4-22) days. On multivariate analysis the correlation of Body mass index with perineal wound infection was statistically significant with p-value of 0.045.
Conclusion: Extra levator abdominoperineal excision is a procedure with significant perineal wound complication rate. The occurrence of perineal wound complications is multifactorial. Judicial use of the procedure is warranted.
Downloads
Download data is not yet available.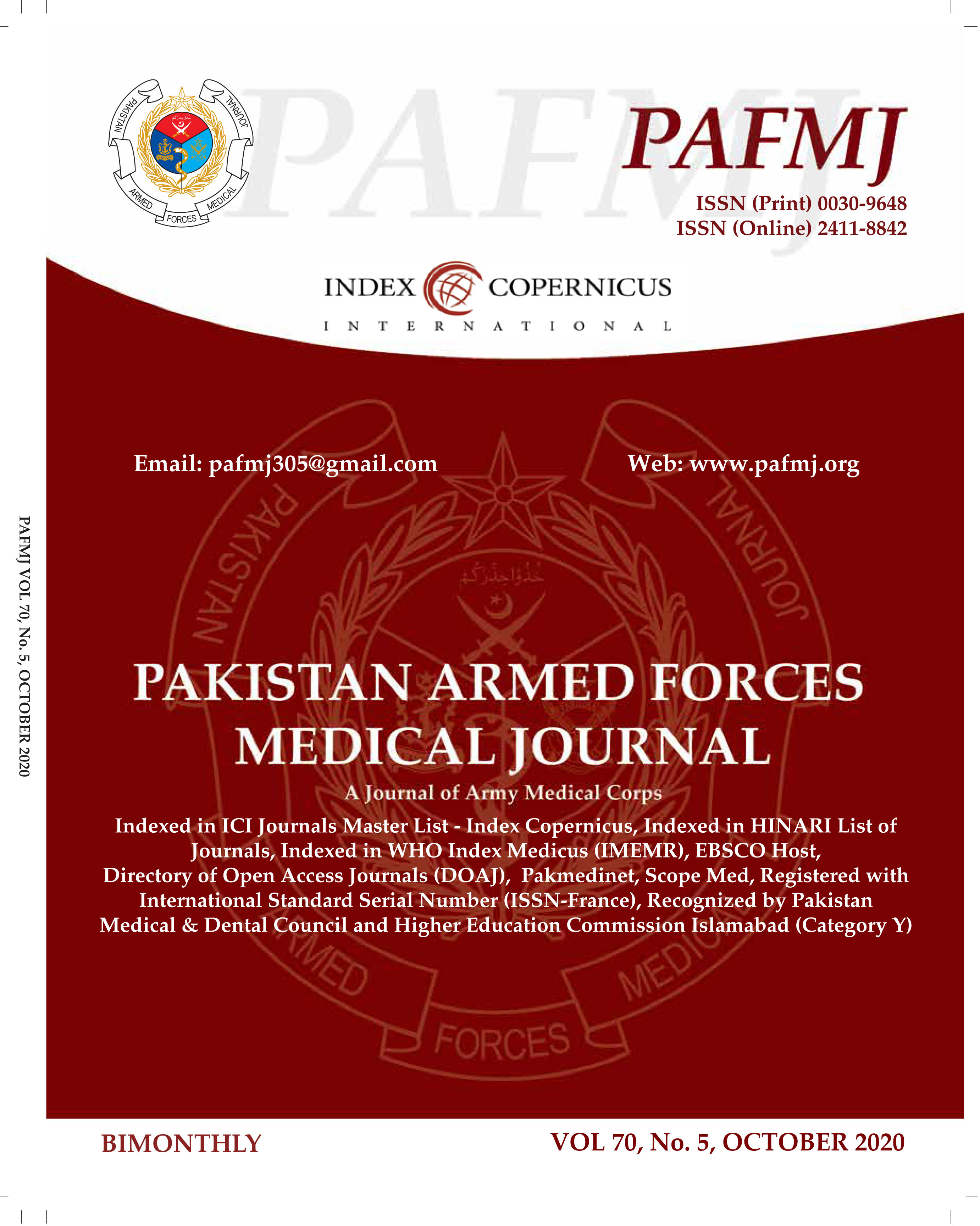 How to Cite
Jamal, A., Batool, S., Haq, I., Mohsin, J., Shakeel, O., Khattak, S., & Syed, A. (2020). EARLY POST-OPERATIVE PERINEAL WOUND COMPLICATIONS IN PATIENTS UNDERGOING EXTRA LEVATOR ABDOMINOPERINEAL EXCISION, A RETROSPECTIVE STUDY AT DEPARTMENT OF SURGICAL ONCOLOGY. PAFMJ, 70(5), 1337-43. Retrieved from https://pafmj.org/index.php/PAFMJ/article/view/5560
Section
Original Articles