EFFECT OF SINGLE DOSE OF KETAMINE IN PATIENTS OF MAJOR DEPRESSIVE DISORDER-A PAKISTANI PERSPECTIVE
Muhammad Siddique Kakar

Combined Military Hospital Gilgit/National University of Medical Sciences (NUMS) Pakistan

Mansoor Mustafa

Combined Military Hospital Quetta/National University of Medical Sciences (NUMS) Pakistan

Haroon Khattak

Combined Military Hospital Lahore/National University of Medical Sciences (NUMS) Pakistan

Syed Khurram Naseer

130 Medical Battalion/National University of Medical Sciences (NUMS) Pakistan
Keywords:
Ketamine, Major depressive disorder MDD, NMDA receptor
Abstract
Objective: To evaluate the effect of a single dose of Ketamine in treatment of severe Major Depressive Disorder MDD in Pakistani patients.
Study Design: Quasi-experimental study.
Place and Duration of Study: The study was conducted at Combined Military Hospital, Gilgit, from Apr 2017 to Mar 2018.
Methodology: Twenty nine subjects for this study had a primary diagnosis of severe Major Depressive disorder with a score of more than 19 on the HAM-D (Hamilton rating scale for depression) scale. These patients were divided into two groups. Group A received injection ketamine IV whereas group B received placebo 0.9% normal saline. Both were reassessed after 24 hours and there HAM-D scores were measured again.
Results: Out of the total 29 patients, response was present in 14 (48.2%) and 15 (51.8%) did not respond to the treatment. Out of 19 patients that were treated with ketamine, 12 (63.1%) showed response to treatment while 7 (36.9%) did not respond. Out of 10 patients that were treated with placebo, 2 (20%) showed response to treatment while 8 (80%) did not respond. The p-value with a confidence interval of 95% was 0.033 showing that the difference in the two treatments was statistically significant.
Conclusion: Ketamine demonstrated rapid antidepressant effects in this study, further supporting N-methyl-Daspartate (NMDA) receptor modulation as a novel mechanism for accelerated improvement in severe forms of depression. However further trials are needed to establish long term effects of the drug.
Downloads
Download data is not yet available.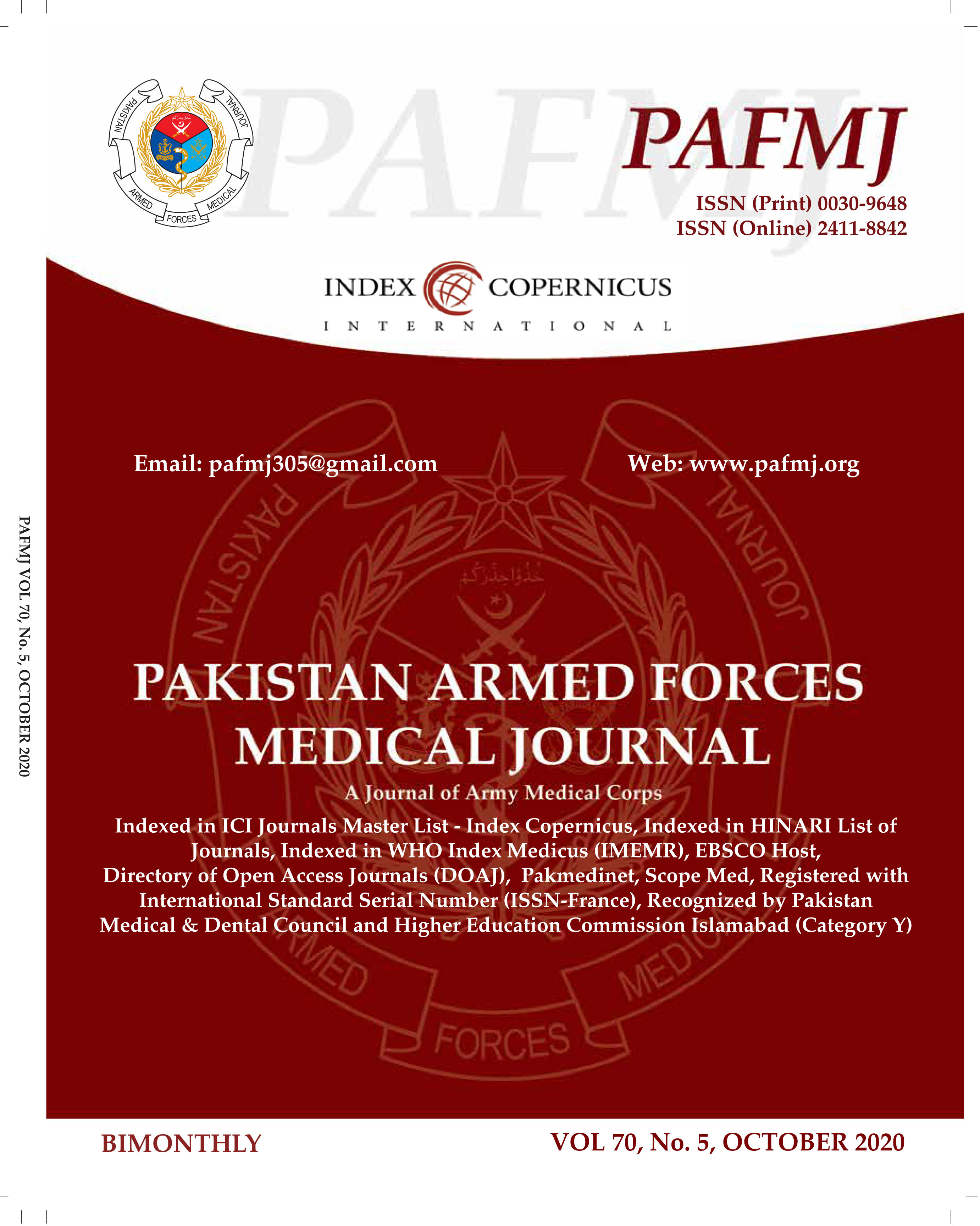 How to Cite
Kakar, M., Mustafa, M., Khattak, H., & Naseer, S. (2020). EFFECT OF SINGLE DOSE OF KETAMINE IN PATIENTS OF MAJOR DEPRESSIVE DISORDER-A PAKISTANI PERSPECTIVE. PAFMJ, 70(5), 1332-36. Retrieved from https://pafmj.org/index.php/PAFMJ/article/view/5559
Section
Original Articles