FREQUENCY, RISK FACTORS, TREATMENT AND OUTCOMES OF HYPERINSULINEMIC HYPOGLYCEMIA IN NEONATES PRESENTING WITH PROLONGED HYPOGLYCEMIA IN A TERTIARY CARE HOSPITAL OF KARACHI, PAKISTAN
Vinod Kumar Hasija

Aga Khan University Hospital, Karachi Pakistan

Waqar Khowaja

Aga Khan University Hospital, Karachi Pakistan

Saroop Chand

Aga Khan University Hospital, Karachi Pakistan

Adnan Mirza

Aga Khan University Hospital, Karachi Pakistan

Shabina Arrif

Aga Khan University Hospital, Karachi Pakistan
Keywords:
Glucose Infusion Rate, Hyperinsulinemic hypoglycemia, Prolonged hypoglycemia, Small for gestational age (SGA)
Abstract
Objective: To identify frequency of hyperinsulinemic hypoglycemia in neonates with prolonged hypoglycemia, its risk factors, treatment and outcome.
Study Design: Cross-sectional analytical study.
Place and Duration of Study: The department of Pediatrics, neonatal unit of a tertiary care hospital, from Jan 2014 to Dec 2018.
Methodology: Data on infants with prolonged hypoglycemia was collected retrospectively from hospital medical records. Cases of Hyperinsulinemic hypoglycemia were analyzed for demographic characteristics, associated risk factors, and details of time and age of diagnosis along with the management.
Results: Fifty two cases (50.9%) were studied and treated for Hyperinsulinemic hypoglycemia out of 102 with prolong hypoglycemia. Male gender, Pregnancy induced hypertension, maternal diabetes and Small for gestational age were common risk factors associated with hyperinsulinemic hypoglycemia (p<0.05). Mean days taken to maintain normoglycemia on feed and medicine (off IV) was 7.7 ± 3.3, while total duration of medicine required for normoglycemia on feed only was 23.5 ± 2.0 days. Overall 48 cases (92%) were cured, 29 (56%) patients were treated with diazoxide, whereas 3 (6.0%) cases were lost to follow up in outpatient department and 1 (2.0%) patient died.
Conclusion: Hyperinsulinemia remains a common cause of prolonged hypoglycemia in neonates. Male gender, Pregnancy induced hypertension, diabetes, and Small for gestational age are associated risk factors. Diazoxide is a safe and effective therapy.
Downloads
Download data is not yet available.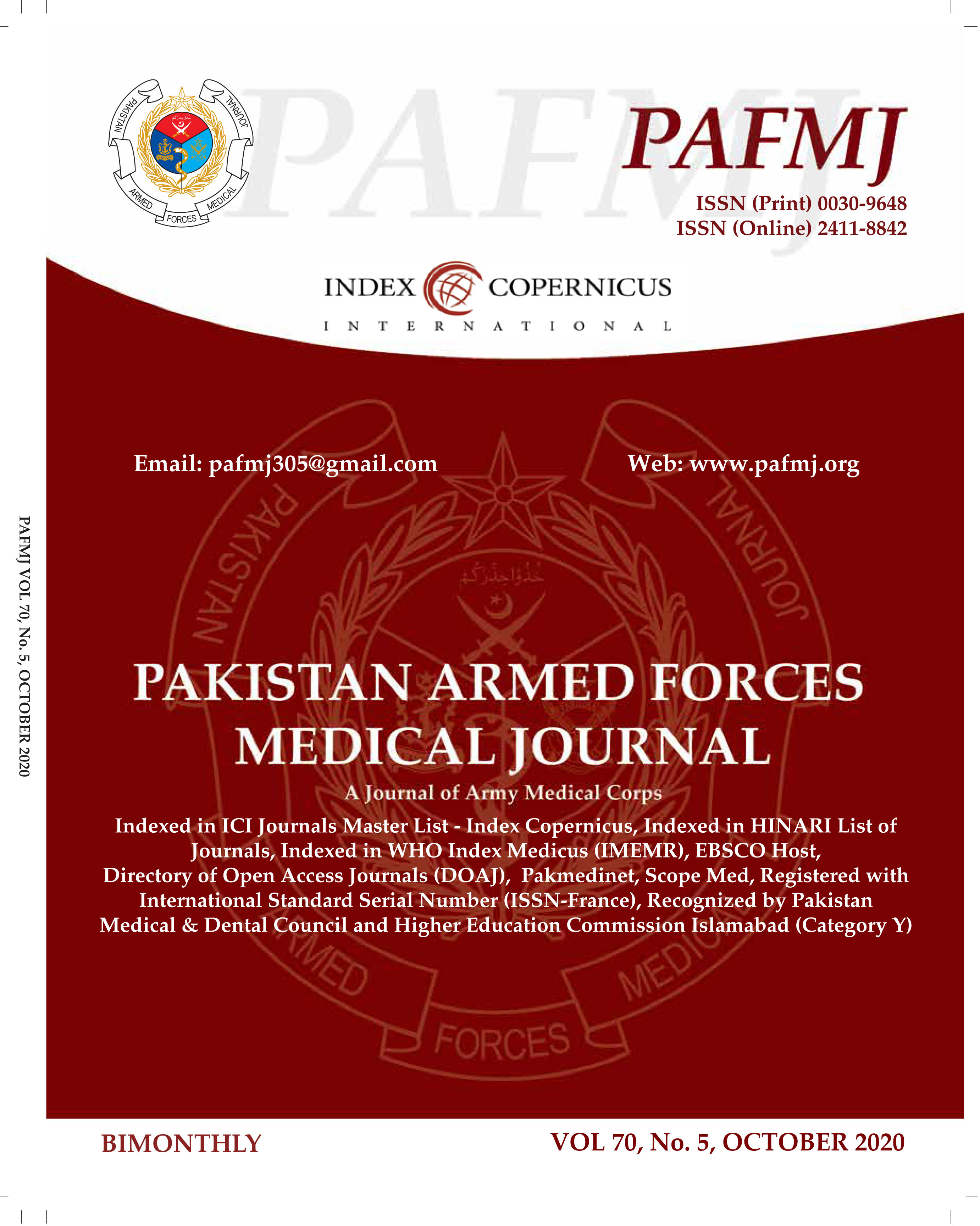 How to Cite
Hasija, V., Khowaja, W., Chand, S., Mirza, A., & Arrif, S. (2020). FREQUENCY, RISK FACTORS, TREATMENT AND OUTCOMES OF HYPERINSULINEMIC HYPOGLYCEMIA IN NEONATES PRESENTING WITH PROLONGED HYPOGLYCEMIA IN A TERTIARY CARE HOSPITAL OF KARACHI, PAKISTAN. PAFMJ, 70(5), 1321-26. Retrieved from https://pafmj.org/index.php/PAFMJ/article/view/5557
Section
Original Articles