ROLE OF CONTRAST ENHANCED FLAIR MRI AS A NEW TOOL IN DIAGNOSING TUBERCULOUS MENINGITIS
Riffat Mushtaq

DHQ Mir Pur Azad Kashmir Pakistan

Sadaf Arooj

King Edward Medical University Mayo Hospital, Lahore Pakistan

Ume Kalsoom

Benazir Bhutto Hospital Rawalpindi Pakistan

Riffat Raja

Holy Family Hospital Rawalpindi Pakistan
Keywords:
Meningitis, Magnetic resonance imaging, Tuberculous
Abstract
Objective: To determine the diagnostic accuracy of contrast-enhanced FLAIR images as an imaging tool in diagnosing tuberculous meningitis considering CSF analysis as gold standard.
Study Design: Comparative Cross sectional Study.
Place and Duration of Study: This study was conducted in Radiology Department of Pakistan Institute of Medical Sciences, Islamabad, from May to Oct 2016 in collaboration with Neurology Department.
Methodology: Total 255 patients having clinical suspiscion of Tuberculous meningitis were included. Patients having intracranial hemorrhage, claustrophobia and metallic implants in body were excluded. MRI scan of brain from the vertex till the base of skull was performed at 1.5 Tesla MRI machine. Contrast enhanced T2 FLAIR images were acquired and evaluated by radiologists for tuberculous meningitis. CSF analysis was done after lumbar puncture of the patient. Diagnostic accuracy of the procedure was determined by taking CSF analysis as the gold standard. Data was analyzed by using SPSS 21.
Results: One hundred and fifty four (61%) patients were found to have abnormal enhancement on contrast enhanced FLAIR images. One hundred and forty six (58.4%) were True Positive and 8 (3.2%) were False Positive. Among, 101 contrast enhanced FLAIR images negative patients, 6 (2.4%) were False Negative where as 95 (38%) were True Negative. Overall sensitivity was 96.05%, specificity 92.23%, positive predictive value 94.81%, negative predictive value 94.06% and diagnostic accuracy 94.51%.
Conclusion: This study concluded that contrast-enhanced FLAIR magnetic resonance images have high sensitivity and specificity in diagnosing tuberculous meningitis.
Downloads
Download data is not yet available.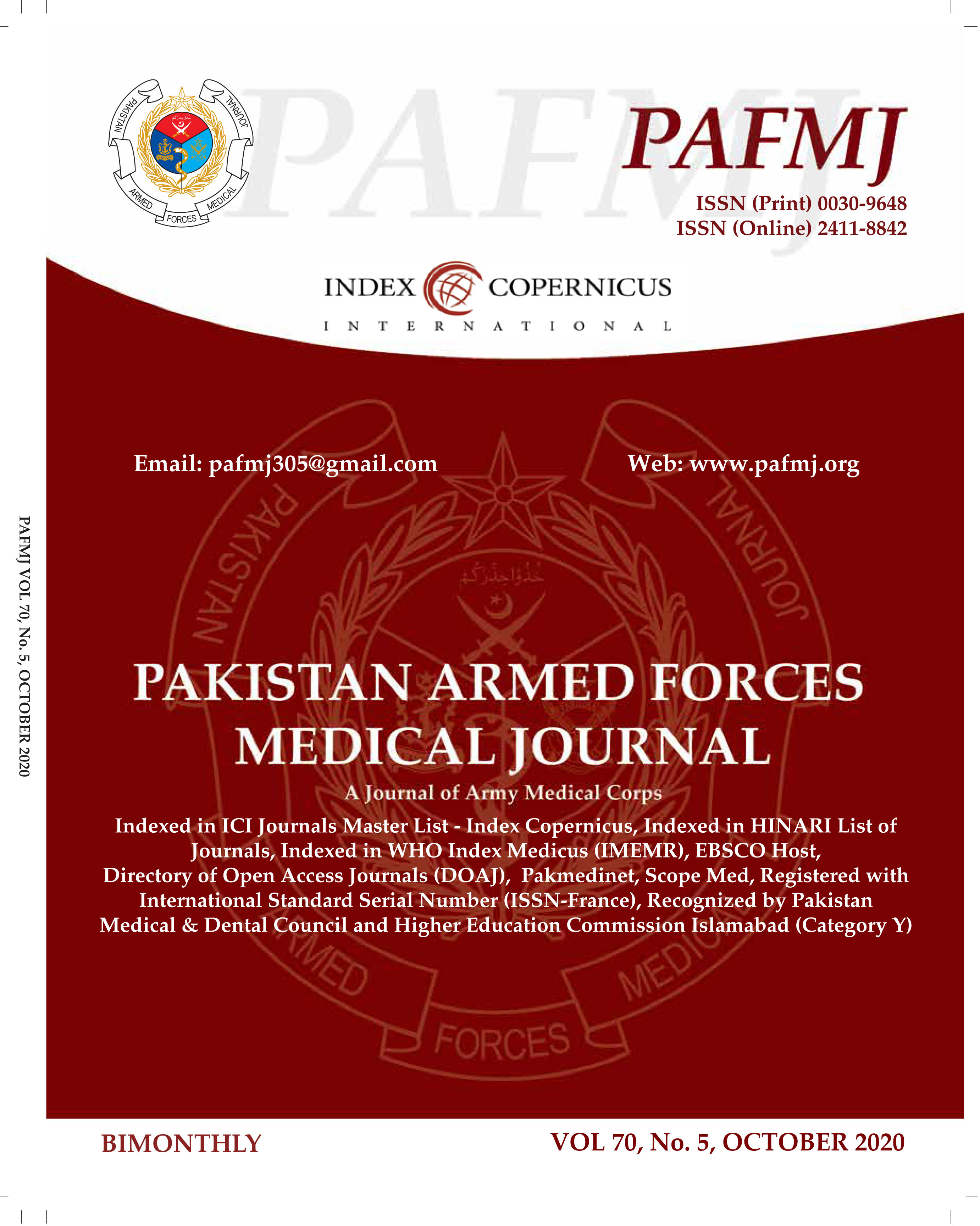 How to Cite
Mushtaq, R., Arooj, S., Kalsoom, U., & Raja, R. (2020). ROLE OF CONTRAST ENHANCED FLAIR MRI AS A NEW TOOL IN DIAGNOSING TUBERCULOUS MENINGITIS. PAFMJ, 70(5), 1310-14. Retrieved from https://pafmj.org/index.php/PAFMJ/article/view/5555
Section
Original Articles