PREDICTING SEVERITY AND VISUAL OUTCOMES OF EYE TRAUMA FOLLOWING TREATEMENT, USING OCULAR TRAUMA SCALE
Teyyeb Azeem Janjua

Armed Forces Institute of Ophthalmology/National University of Medical Sciences (NUMS) Rawalpindi Pakistan

Taimoor Ashraf Khan

Pak Emirates Military Hospital/National University of Medical Sciences (NUMS) Rawalpindi Pakistan

Abdullah Anis Raja

Army Medical College/National University of Medical Sciences (NUMS) Rawalpindi Pakistan

Muhammad Abdullah Zahid

Mayo Hospital Lahore Pakistan
Keywords:
Closed globe injury, Open globe injury, Secondary repair, Visual rehabilitation, Visual outcomes
Abstract
Objective: To predict the severity and visual outcomes following treatment in patients sustaining eye trauma using ocular trauma scale.
Study Design: Retrospective case series.
Place and Duration of Study: Armed Forces Institute of Ophthalmology Rawalpindi, from Jan 2015 to Jan 2017.
Methodology: A total of 50 patients with eye trauma were included. Injuries were classified according to 'Birmingham Eye Trauma Terminology System". "Ocular trauma scale' was used to predict the visual outcome. We analyzed the data by using Statistical Package for Social Sciences version 22.
Results: Patients" mean age was 30 ± 5.632 years. Forty-nine (98%) had open globe injury and 01 (2%) had closed globe injury. Primary & secondary repair was performed and pars plana vitrectomy in 28 (56%), patients was most commonly performed procedure. Based on best-corrected visual acuity vision of 4 (8%) patients significantly improved. Twenty (40%) were bilaterally blind while 16 (32%) were unilaterally blind in right eye and 10 (20%) were blind in left eye.
Conclusion: Open globe injuries of grade IV and V on Ocular trauma scale were found to be severe with the worst visual and anatomical outcomes. Use of protective eye equipment in high-risk individuals including welders, and sportsmen etc would have an invaluable role in reducing the incidence of ocular trauma and its severity.
Downloads
Download data is not yet available.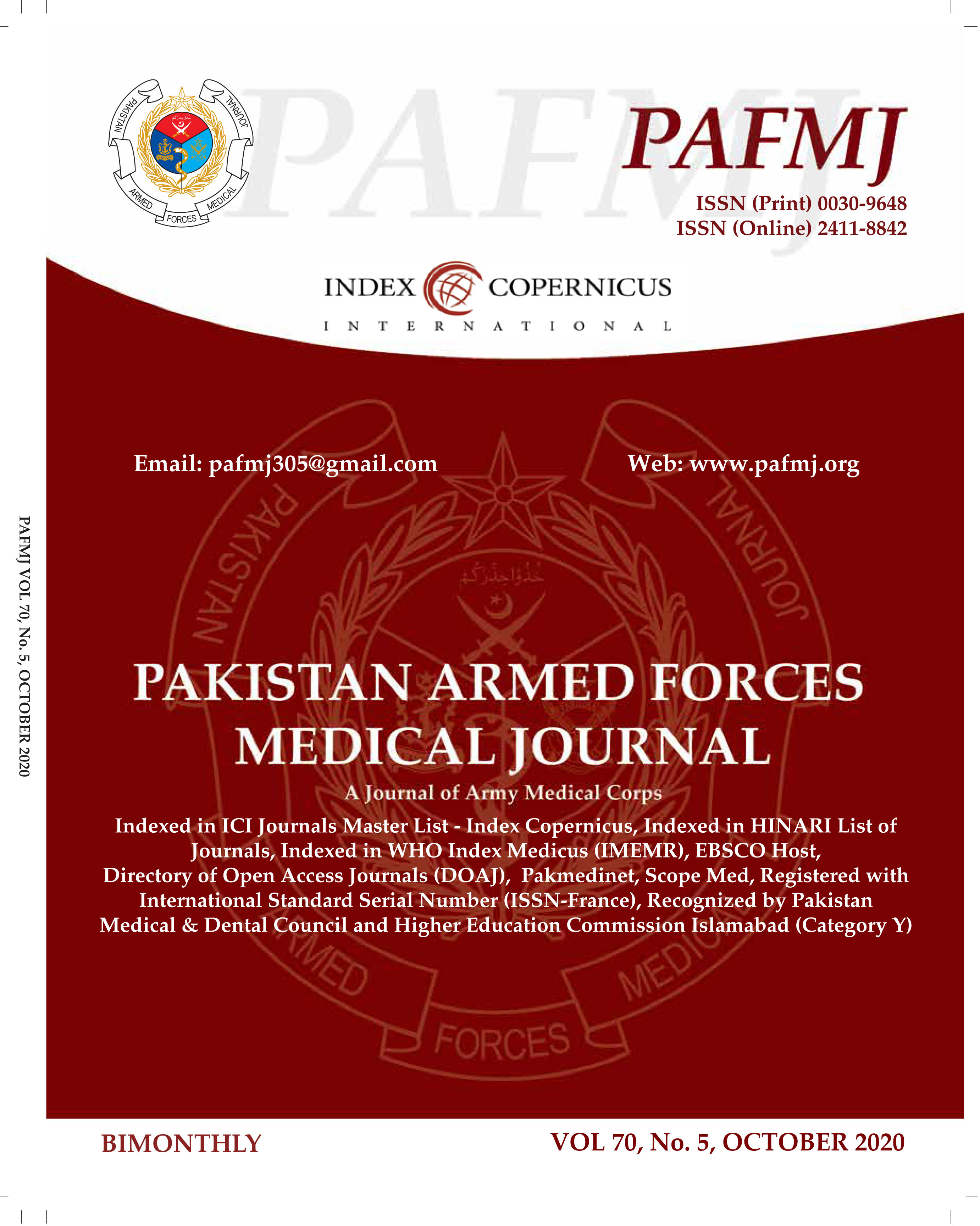 How to Cite
Janjua, T., Khan, T., Raja, A., & Zahid, M. (2020). PREDICTING SEVERITY AND VISUAL OUTCOMES OF EYE TRAUMA FOLLOWING TREATEMENT, USING OCULAR TRAUMA SCALE. PAFMJ, 70(5), 1300-04. Retrieved from https://pafmj.org/index.php/PAFMJ/article/view/5553
Section
Original Articles