COMPARATIVE ANALYSIS OF COLON PREPARATION USING POLY ETHYLENE GLYCOL (PEG) WITH LACTULOSE FOR COLONOSCOPY
Keywords:
Bowel preparation, Colonoscopy, Lactulose, Ottawa score, Polyethylene glycol (PEG)
Abstract
Objective: To compare the adequacy of preparation for colonoscopy using polyethylene glycol with lactulose.
Study Design: Quasi experimental study.
Place and Duration of Study: Department of Gastroenterology, Combined Military Hospital Lahore, from Jul 2019 to Dec 2019.
Methodology: The enrolled patients were randomized into two equal groups. Group A received polyethylene glycol (PEG) formulation containing 13.125g x 24 sachets with 4 liters of water over 24 hours, group B received lactulose 600ml (66.7g/100ml) with 4 liters of water over 24 hours. Quality of bowel preparation was assessed using Ottawa scoring system (OBPS). A designed questionnaire was used for recording patients' tolerability toward the preparation method. Questionnaire was filled pre and post-procedure for socio-demographic data and scores. Patients were also assessed for tolerability of procedure and palatability of the solutions by questionnaire.
Results: The median age of patients in group A was 49 (26 IQR) years and in group B was 48 (18.5 IQR) years. Out of 100 patients 60% were males and 40% were females. The most common indication of colonoscopy was anemia (32%), followed by diarrhea (26%), bleeding per-rectum (24%) and constipation (18%). Polyethylene glycol showed better bowel cleansing score compared with lactulose (p<0.001). Tolerability and palatability for polyethylene glycol were statistically superior to the same volume of lactulose.
Conclusion: Polyethylene glycol is superior to lactulose in terms of bowel preparation, tolerability and palatability.
Downloads
Download data is not yet available.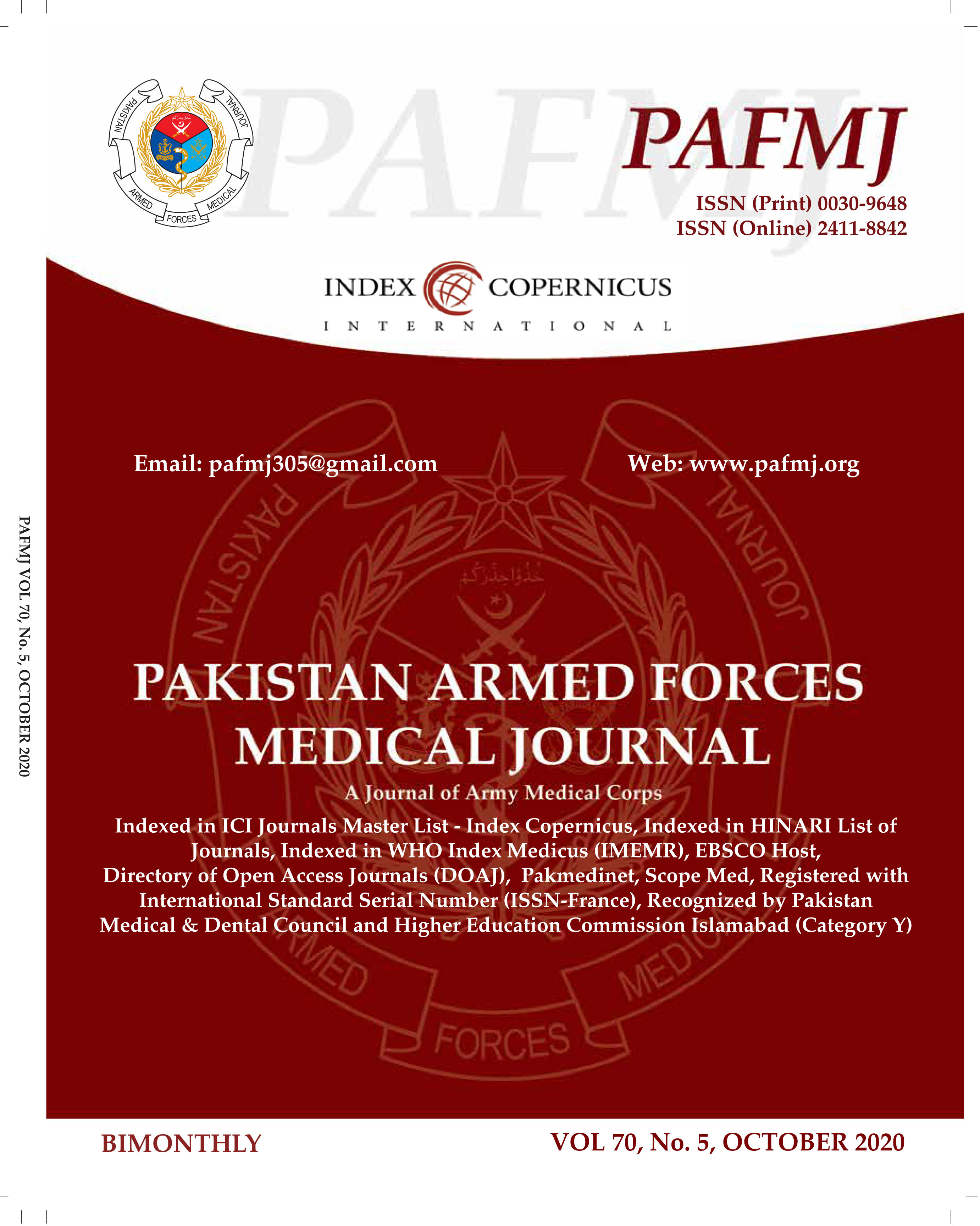 Downloads
How to Cite
Asghar, A., Alam, L., Farooq, A., Hayat, A., Saeed, F., & Ahmed, J. (2020). COMPARATIVE ANALYSIS OF COLON PREPARATION USING POLY ETHYLENE GLYCOL (PEG) WITH LACTULOSE FOR COLONOSCOPY. Pakistan Armed Forces Medical Journal, 70(5), 1261–65. Retrieved from https://pafmj.org/index.php/PAFMJ/article/view/5546
Section
Original Articles