KHALID'S MANEUVER; A NEW APPROACH TO GROCCO'S SIGN IN PATIENTS WITH PLEURAL EFFUSION
Muhammad Khalid Azam

Combined Military Hospital Lahore/National University of Medical Sciences (NUMS) Pakistan

Abdul Latif Khattak

Combined Military Hospital Lahore/National University of Medical Sciences (NUMS) Pakistan

Shazia Naz

Pak Rangers Teaching Hospital, Lahore Pakistan

Muhammad Tahir Ibrahim

Combined Military Hospital Lahore/National University of Medical Sciences (NUMS) Pakistan

Karamat Hussain Shah Bukhari

Combined Military Hospital Lahore/National University of Medical Sciences (NUMS) Pakistan

Riaz Ahmed

Combined Military Hospital/National University of Medical Sciences (NUMS) Rawalpindi Pakistan
Keywords:
Empyema thorax, Grocco's sign, Khalid's maneuver, Paravertebral triangle pleural effusion
Abstract
Objective: To compare the usefulness of Grocco's sign with an alternative method, Khalid's maneuver, which does not require any change in patient's position to elicit Grocco's sign.
Study Design: A comparative prospective study.
Place and Duration of Study: Combined Military Hospital Lahore, from Jan 2019 to Jul 2019.
Methodology: A total of 200 patients who were divided into two groups (group A and group B) with 100 patients in each group. Group A was a control group. Group B was subdivided into group B1 containing patients with serous pleural effusion and group B2 containing patients with empyema. Two independent operators were asked to do chest percussion in all patients to elicit Grocco's sign. Furthermore Positional method and Inspiratory
method (Khalid's maneuver) to elicit disappearance of dullness in Grocco's triangle were compared in patients with positive Grocco's sign Statistical significance & 95% confidence interval was calculated using nonparametric unpaired t test (Mann-Whitney U-Test).
Results: Grocco's sign was negative in all patients in group A while it was positive in all patients in group B. In group B1 patients, the percussion dullness disappeared in Grocco's triangle in 48 (96%) (95% CI 93.2-98.1) patients by the positional method and 46 (92%) (95% CI 90.1-95.6) patients by Khalid's maneuver with statistically insignificant p-value i.e. 0.44. In group B2 patients, the percussion dullness failed to disappear by both methods.
Conclusion: Grocco's sign helps in assessment of the patients with simple and complex pleural effusion and thus guiding further management decisions early in time. Khalid's maneuver which has the ability to elicit Grocco's sign with near similar accuracy provides handy alternative for such patients with comparable p-value to the standard procedure.
Downloads
Download data is not yet available.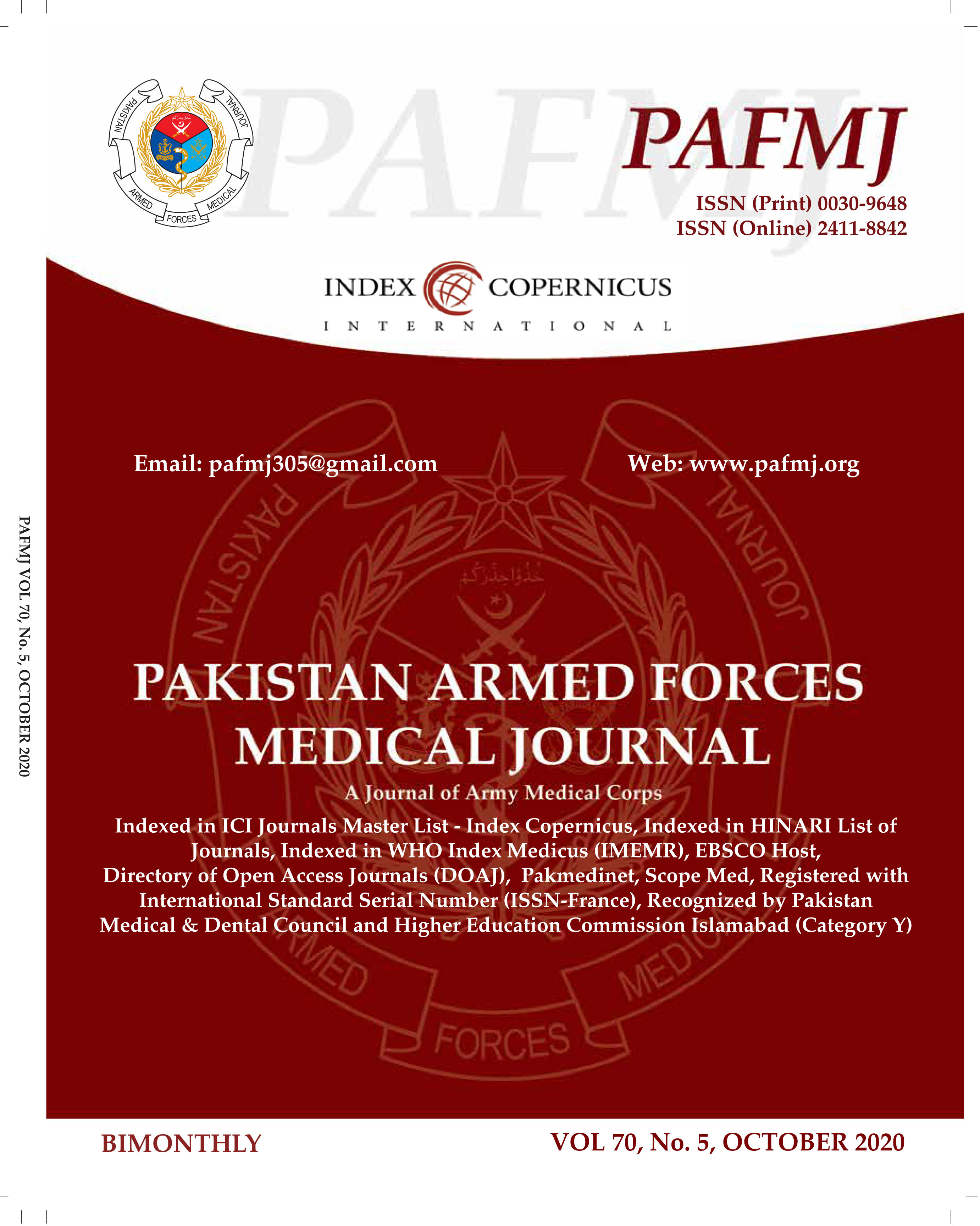 How to Cite
Azam, M., Khattak, A., Naz, S., Ibrahim, M., Bukhari, K. H., & Ahmed, R. (2020). KHALID'S MANEUVER; A NEW APPROACH TO GROCCO'S SIGN IN PATIENTS WITH PLEURAL EFFUSION. Pakistan Armed Forces Medical Journal, 70(5), 1251-55. Retrieved from https://pafmj.org/index.php/PAFMJ/article/view/5544
Section
Original Articles