A FOCUSED EDUCATIONAL PROGRAM FOR FRONT-LINE HEALTH CARE WORKERS DURING COVID -19 OUTBREAK IMPROVES MENTAL HEALTH
Front-Line Health Care Workers
Urwah Ikhlaq

National Institute of Cardiovascular Diseases, Karachi Pakistan

Madiha Umair

National Institute of Cardiovascular Diseases, Karachi Pakistan

Komal Baloch

National Institute of Cardiovascular Diseases, Karachi Pakistan

Imran Ansari

National Institute of Cardiovascular Diseases, Karachi Pakistan

Jawed Abu Baker

National Institute of Cardiovascular Diseases, Karachi Pakistan

Nawal Salahuddin

National Institute of Cardiovascular Diseases, Karachi Pakistan
Keywords:
COVID-19, Anxiety, Depression, Personal Protective Equipment, Health Care Workers
Abstract
Objective: To determine whether an educational program on personal protective measures can reduce anxiety and depression in Hospital workers exposed to COVID-19.
Study Design: Quasi-experimental study.
Place and Duration of Study: COVID Units & Emergency Room, from May to Jul 2020.
Methodology: Educational tool based on World Health Organization and Pan American Health Organization guidelines including videos on Personal Protective Equipment usage was delivered to hospital staff assigned to areas with COVID-19 patients. Likert scale, Generalised Anxiety Disorder-7 score and Major Depression Inventory were used.
Results: 100 hospital staff were included. About 40% doctors, 41% Nurses. None had preexisting anxiety or depression. 11% reported COVID-19, 46% reported quarantine, and 91% reported contact. About 93% stated insufficient knowledge of usage of personal protective equipment and 35% reported inadequate provision of personal protective equipment. Median score on the likert scale was 5 (IQR 4-7). Mean generalized anxiety disorder score was 6.48 ± 3.4, which improved to 4.65 ± 2.7 post session, p-value <0.001. 41% reported minimal, 34% mild, 24% moderate and 1% severe anxiety. Post session, 62% reported minimal Anxiety, 33% mild, 5% moderate and 0% severe anxiety. Mean major depression inventory score was 16.10 ± 7.05 which reduced to 13.58 ± 5.84, p-value <0.001. Pre-session 59% reported "no/doubtful depression", 40% mild, 1% moderate depresssion, while post-session 85% reported "no/doubtful", 15% mild and none had moderate/severe depression.
Conclusion: We found an educational program that provided information on personal protective measures significantly reduced anxiety and depression in front-line workers during COVID-19 pandemic.
Downloads
Download data is not yet available.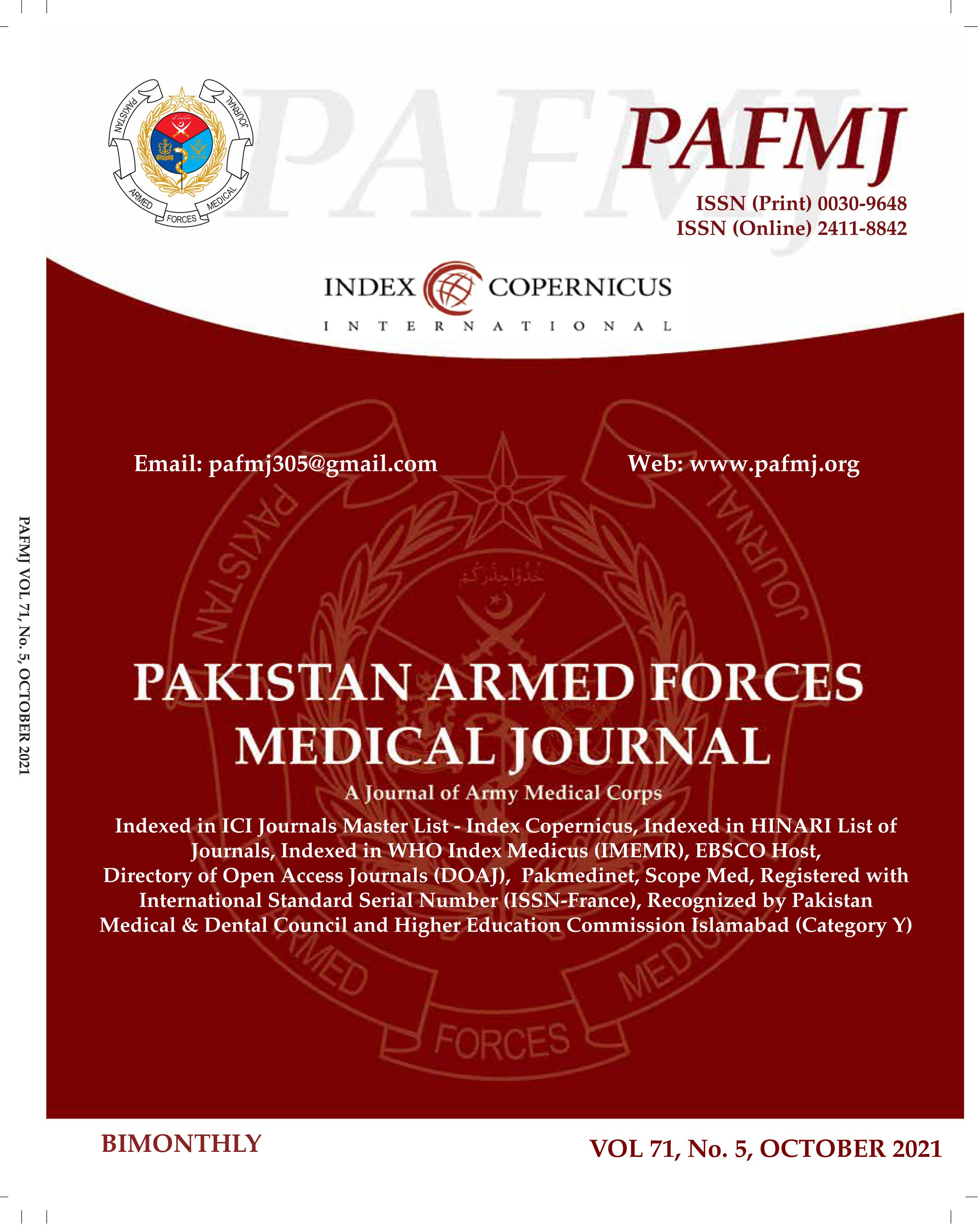 How to Cite
Ikhlaq, U., Umair, M., Baloch, K., Ansari, I., Baker, J., & Salahuddin, N. (2021). A FOCUSED EDUCATIONAL PROGRAM FOR FRONT-LINE HEALTH CARE WORKERS DURING COVID -19 OUTBREAK IMPROVES MENTAL HEALTH. PAFMJ, 71(5), 1870-74. https://doi.org/10.51253/pafmj.v71i5.5541
Section
Original Articles