KINETICS OF PLATELET COUNT IN P. VIVAX MALARIA; A STUDY IN YOUNG SOLDIERS
Tariq Bashir Tareen

Combined Military Hospital Kohat/National University of Medical Sciences (NUMS) Pakistan

Zahid Farooq Baig

Combined Military Hospital Multan/National University of Medical Sciences (NUMS) Pakistan

Karamat Hussain Bokhari

Combined Military Hospital/National University of Medical Sciences (NUMS) Rawalpindi Pakistan

Grana Khattak

Combined Military Hospital Kohat/National University of Medical Sciences (NUMS) Pakistan
Keywords:
Hospital stay, P. vivax malaria, Thrombocytopenia
Abstract
Objective: To estimate the time of recovery from moderate to severe thrombocytopenia in young soldiers with P. vivax malaria.
Study Design: A cross-sectional analytical study.
Place and Duration of Study: Combined Military Hospital Pano-Aqil, Mangla and Kohat, from Sep 2012 to Sep 2017.
Methodology: Young adult patients suffering from P. vivax malaria with platelet count of less than 100 x 109/L and no co-morbidity were included in this study. All included patients were treated with standard dose of tablet Chloroquine as per WHO protocol. Peripheral blood film was examined daily till eradication of parasite and complete blood counts were carried out daily till the platelet count was decreasing and then on alternate days
after the count started to rise. Data was grouped on basis of day of fever. It was collected prospectively on predesigned proformas on Microsoft Access 2013 and was analysed using SPSS 21.
Results: A total of 390 patients were studied out of which 319 patients finally met the inclusion criteria for data analysis. Average age of patients was 28.25 + 6.97 years. Treatment was started on 3.08 ± 1.33 days from fever onset. The maximum decline in platelet count was seen on day 3 to 5 of fever onset (62.49 x 109/L ± 19.13 on day 4). Recovery of platelet count (more than 100 x 109/L) was seen by day 9 to 11 without any complication. All
patients had platelet count more than 100 x 109/L by day 13.
Conclusion: Moderate to severe thrombocytopenia seen in P. vivax malaria is benign and almost all patients recover by two weeks.
Downloads
Download data is not yet available.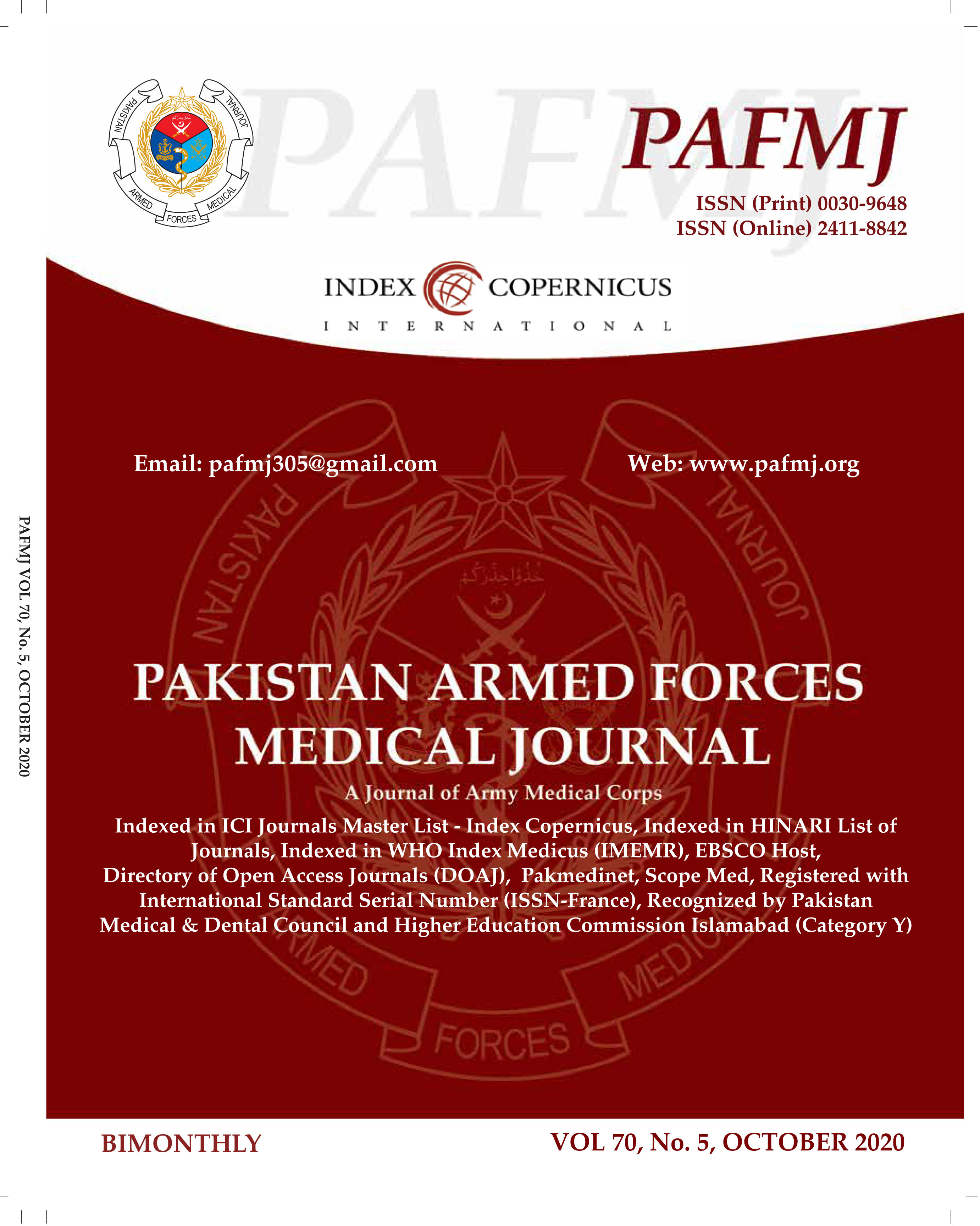 How to Cite
Tareen, T., Baig, Z., Bokhari, K., & Khattak, G. (2020). KINETICS OF PLATELET COUNT IN P. VIVAX MALARIA; A STUDY IN YOUNG SOLDIERS. PAFMJ, 70(5), 1240-44. Retrieved from https://pafmj.org/index.php/PAFMJ/article/view/5539
Section
Original Articles