FREQUENCY AND ASSOCIATIONS OF MARCUS GUNN PHENOMENON IN CONGENITAL PTOSIS
Maqsood Ahmad

Khyber Teaching Hospital Peshawar Pakistan

Hafiza Sadia Imtiaz

Gujranwala Medical Medical College, Gujranwala Pakistan

Usama Iqbal

Gujranwala Medical Medical College, Gujranwala Pakistan

https://orcid.org/0000-0002-9847-3193

Muhammad Sharjeel

Gomal Medical College DI Khan Pakistan

Syed Imad Zahir

Khyber Teaching Hospital Peshawar Pakistan

Ibrar Hussain

Khyber Teaching Hospital Peshawar Pakistan
Keywords:
Association, Blinking, Blepharoptosis, Congenital, Jaw, Marcus Gunn Phenomenon, Reflex, Synkinesis
Abstract
Objective: To determine the frequency and various associations of Marcus Gunn Phenomenon in patients of congenital ptosis.
Study Design: Cross-sectional observational study.
Place and Duration of Study: Department of Ophthalmology, Khyber Teaching Hospital, Peshawar, from Jun to Sep 2020.
Methodology: A total of 100 patients with congenital ptosis were included. Patients with any cause of secondary or acquired ptosis were excluded. Congenital ptosis was classified as simple and complex. Assessment for ptosis severity, presence of jaw winking ptosis, jaw winking severity, refractive error, amblyopia, strabismus, systemic association and family history for congenital ptosis was performed.
Results: Simple congenital ptosis was the most common type overall (84%). A total of 60% patients were males and 40% were females. More than 90% of the patients had severe ptosis. Ninety eight percent cases had onset since birth. No patient had systemic association or positive family history. Nine percent frequency of Marcus Gunn Phenomenon was noted with congenital ptosis. All the patients with Marcus Gunn Phenomenon had unilateral presentation. Left eye was affected predominantly (88.89%). A total of 22.22% of the patients with Marcus Gunn Phenomenon had anisometropic amblyopia. No other ocular or systemic association of Marcus Gunn Phenomenon was observed.
Conclusion: Simple congenital ptosis is the most common type of congenital ptosis. The authors report 9% frequency of Marcus Gunn Phenomenon with congenital ptosis and left side effected predominantly. Anisometropic amblyopia was the major ocular association of Marcus Gunn Phenomenon observed.
Downloads
Download data is not yet available.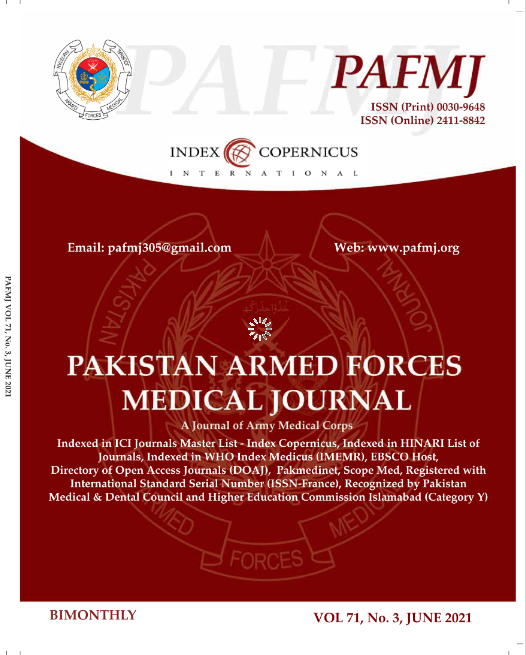 How to Cite
Ahmad, M., Imtiaz, H., Iqbal, U., Sharjeel, M., Zahir, S., & Hussain, I. (2021). FREQUENCY AND ASSOCIATIONS OF MARCUS GUNN PHENOMENON IN CONGENITAL PTOSIS. PAFMJ, 71(3), 783-86. https://doi.org/10.51253/pafmj.v71i3.5519
Section
Original Articles