Association of Urinary Tract Infection with Preterm Labor in Gravid Females in a Tertiary Care Hospital
Shehla Baqai

CMH Lahore Medical College, Lahore/National University of Medical Sciences (NUMS) Pakistan

Humaira Osman Jaffery

CMH Lahore Medical College, Lahore/National University of Medical Sciences (NUMS) Pakistan

Viqar Ashraf

CMH Lahore Medical College, Lahore/National University of Medical Sciences (NUMS) Pakistan

Sidra Hameed

CMH Lahore Medical College, Lahore/National University of Medical Sciences (NUMS) Pakistan
Keywords:
Low birth weight, Preterm labour, Urinary tract infection
Abstract
Objective: To compare the frequency of preterm labour in pregnant patients with and without urinary tract infection in a tertiary care hospital in Punjab.
Study Design: Cross-sectional comparative study.
Place and Duration of Study: Department of Obstetrics and Gynaecology, Combined Military Hospital, Lahore Pakistan, from Jul 2019 to Jan 2020.
Methodology: Three hundred and eighty-five pregnant women were inducted into the study. The midstream urine sample was collected from patients between 24-28 weeks of gestation with complaints of burning micturition and was sent for microscopic examination. Urinary tract infection was diagnosed on the urinalysis report. Patients were followed till delivery.Patients were labelled as preterm who delivered neonates <37 weeks of gestation.
Results: In this study, the mean age of the patients was 25.2±3.0. The majority of the patients were para 1-2. The mean body mass index was 25.3±1.9 kg/m2. Urinary tract infection was found in 12 patients (3.2%), and preterm labour occurred in 52 patients (13.5%). The mean birth weight of neonates was 3.0±0.5kg. A comparison of preterm labour in patients with and without urinary tract infections revealed that patients with urinary tract infections were associated with preterm labour (p<0.001).
Conclusion: Urinary tract infection during pregnancy significantly impacts pregnancy outcomes, mainly preterm labour and low birth weight.
Downloads
Download data is not yet available.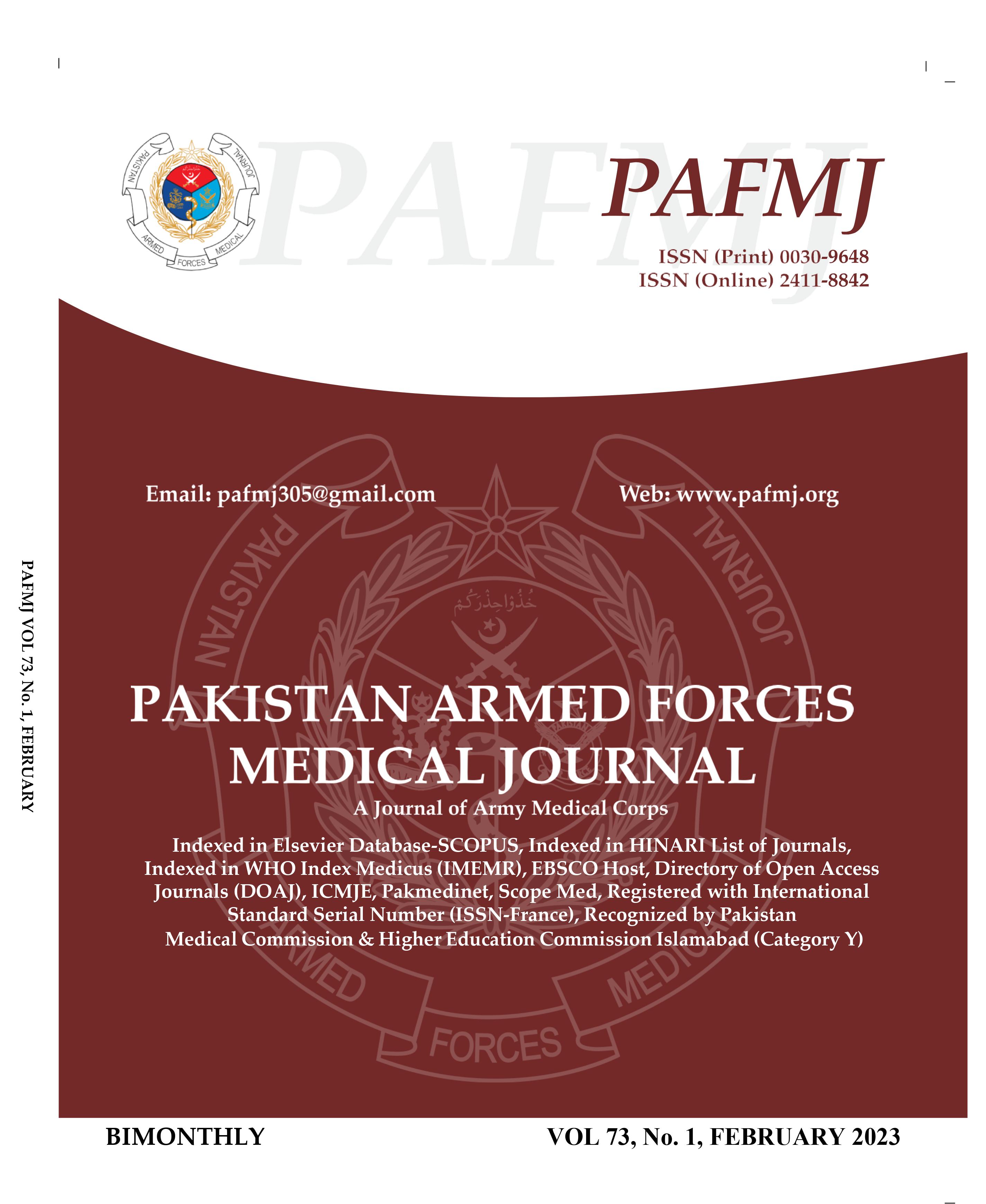 How to Cite
Baqai, S., Jaffery, H. O., Ashraf, V., & Hameed, S. (2023). Association of Urinary Tract Infection with Preterm Labor in Gravid Females in a Tertiary Care Hospital. Pakistan Armed Forces Medical Journal, 73(2), 357-60. https://doi.org/10.51253/pafmj.v73i2.5515
Section
Original Articles