Salivary Diagnosis of COVID-19
Seema Shafiq

Assistant Professor, Rawal Institute of Health Sciences, Islamabad Pakistan

Asim Riaz

Assistant Professor, Fatima Memorial Hospital College of Medicine & Dentistry, Lahore Pakistan
Keywords:
Salivary, COVID-19, Dental settings, Dentists, Salivary diagnosis
Abstract
Dear Editor,
It is indeed an honour for us to contribute towards the ongoing research regarding the latest contagion, Coronavirus disease (COVID-19) as caused by severe acute respiratory syndrome coronavirus 2 (SARS-CoV-2) leading to global pandemic with variable clinical outcomes. COVID-19 positive individuals present with a variety of signs and symptoms as sore throat, cough, fever, dyspnoea, headache, myalgia, nausea, and vomiting whereas, some develop severe acute respiratory distress syndrome with a fatality rate of about 10%.1 Possible oral findings include xerostomia, hypogeusia, and chemosensory alterations. Common routes of transmission being person-to-person via direct sneeze, cough, and droplet inhalation or by contact through mucosa of eyes, nose and saliva.
Downloads
Download data is not yet available.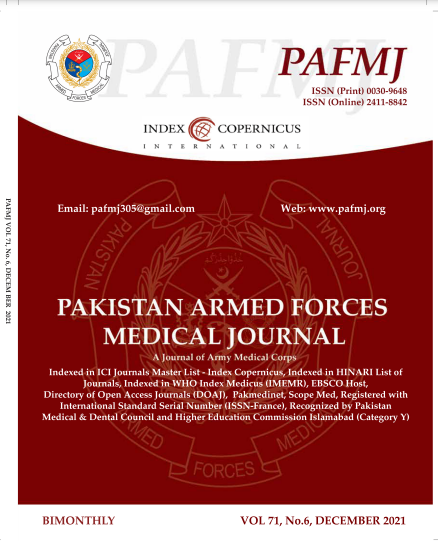 How to Cite
Shafiq, S., & Riaz, A. (2022). Salivary Diagnosis of COVID-19. PAFMJ, 71(6), 2262-63. https://doi.org/10.51253/pafmj.v71i6.5498
Section
Letter to the Editor