SPONTANEOUS PNEUMOTHORAX IN A PATIENT WITH COVID-19
Syed Turab Fatima Abidi

POF Hospital Wah Cantt Pakistan

Syed Asim Ali Shah

POF Hospital Wah Cantt Pakistan

Aziz Ullah Qadir

POF Hospital Wah Cantt Pakistan

Huma Hussain

POF Hospital Wah Cantt Pakistan

Rifat Yasmin

POF Hospital Wah Cantt Pakistan

Anum Afsar

POF Hospital Wah Cantt Pakistan

Ali Raza Hayat

POF Hospital Wah Cantt Pakistan

Rabia Asghar

POF Hospital Wah Cantt Pakistan
Keywords:
COVID-19, Spontaneous Pneumothorax
Abstract
The coronavirus disease 2019 (COVID-19) frequently involves the respiratory system causing pneumonia. The disease started in December 2019 and is now a global pandemic. The disease is not limited to the respiratory system and cardiac, cutaneous, and neurological involvement has been reported. Psychiatric features of agitation and delirium have also been described in COVID-19. It is yet to be determined whether this will have any long term effect on the quality of life of these patients. We report a case of delirium in a COVID-19 patient who had also developed spontaneous pneumothorax on the day 15 of illness. Few of such case reports have been reported internationally but to the best of authors' knowledge, no such case has been reported in Pakistan.
Downloads
Download data is not yet available.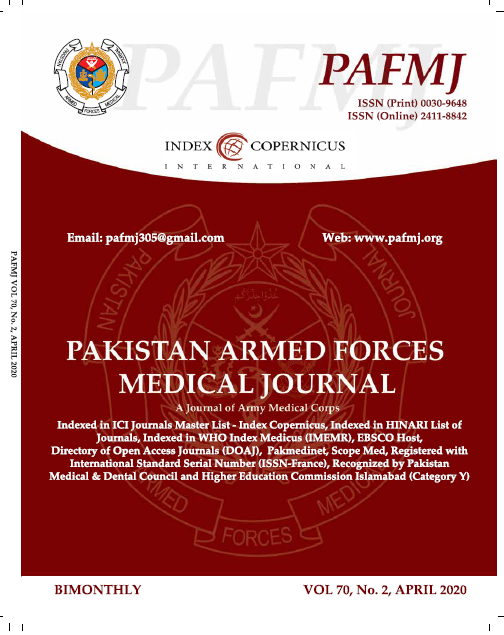 How to Cite
Abidi, S., Shah, S., Qadir, A., Hussain, H., Yasmin, R., Afsar, A., Hayat, A., & Asghar, R. (2021). SPONTANEOUS PNEUMOTHORAX IN A PATIENT WITH COVID-19. Pakistan Armed Forces Medical Journal, 71(2), 716-18. https://doi.org/10.51253/pafmj.v71i2.5477