Comparison of Post-Operative Pain in Mandibular and Maxillary 1st and 2nd Molars after Pulp Capping with Biodentine and Endosequence Root Repair Material as Pulp Capping Agent
Muzammil Jamil Rana

Armed Forces Institute of Dentistry/National University of Medical Sciences (NUMS) Rawalpindi Pakistan

Mehmood Ahmed Rana

Armed Forces Institute of Dentistry/National University of Medical Sciences (NUMS) Rawalpindi Pakistan

Sadaf Islam

Armed Forces Institute of Dentistry/National University of Medical Sciences (NUMS) Rawalpindi Pakistan

Ajmal Yousaf Bangash

Armed Forces Institute of Dentistry/National University of Medical Sciences (NUMS) Rawalpindi Pakistan

Sara Bano

Armed Forces Institute of Dentistry/National University of Medical Sciences (NUMS) Rawalpindi Pakistan

Sara Hamdani

Armed Forces Institute of Dentistry/National University of Medical Sciences (NUMS) Rawalpindi Pakistan
Keywords:
Bio-ceramic material, Bio-dentine, Endo-sequence, Pulp capping, Pulp capping agent
Abstract
Objective: To analyze and compare the response of human pulpal pain with Bio-dentine and Endo-sequence root repair material as pulp capping agents.
Study Design: Quasi-experimental study.
Place and Duration of Study: Operative Dentistry Department, Armed Forces Institute of Dentistry, Rawalpindi Pakistan,from Feb 2019 to Aug 2020.
Methodology: This study was performed on 100 maxillary and mandibular vital permanent molars with symptoms of reversible pulpitis. Patients were divided into two groups, with 50 patients in each group. In Group-A, Bio-dentine was used as a pulp capping agent whereas Endo-sequence root repair material was used for pulp capping in Group-B. Patients of both groups were then recalled after one week, one month and three months. A visual analogue scale was used to record the intensity of pain.
Results: In a sample size of 100 patients, 16% were maxillary first molars, 4% were maxillary second molars, 26% were mandibular second molars, and 54% were mandibular first molars. Between Groups A and B, four patients from Group-A (8%) and three patients from Group-B (6%) complained of pain of mild category (1-3), according to VAS. The rest of the patients remained asymptomatic at 1 and 3-months follow-up (p-value=0.695). Hence no significant difference was found in the post-operative pain following pulp capping with Bio-dentine and Endo-sequence root repair material.
Conclusion: Bio-dentine and Endo-sequence root repair material has comparable effectiveness. Hence, they can be used as suitable pulp capping agents.
Downloads
Download data is not yet available.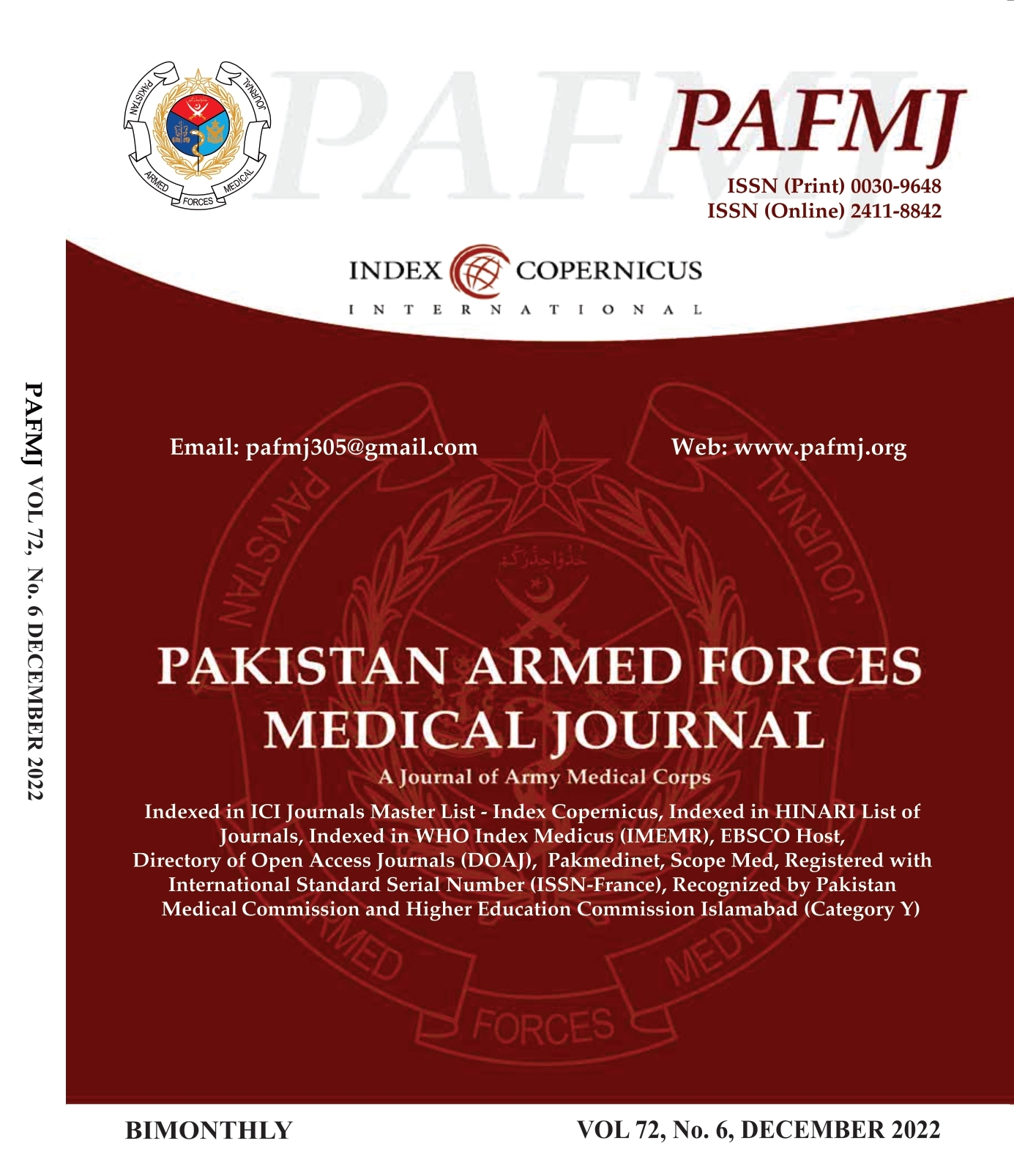 How to Cite
Rana, M., Rana, M., Islam, S., Bangash, A., Bano, S., & Hamdani, S. (2022). Comparison of Post-Operative Pain in Mandibular and Maxillary 1st and 2nd Molars after Pulp Capping with Biodentine and Endosequence Root Repair Material as Pulp Capping Agent. Pakistan Armed Forces Medical Journal, 72(6), 1929-32. https://doi.org/10.51253/pafmj.v72i6.5473
Section
Original Articles