ADULT PNEUMOCOCCAL MENINGITIS PRESENTING WITH STROKE LIKE SYMPTOMS
Muhammad Mohsin Sajjad

Cavan General Hospital, Cavan Ireland

Sidra Yousaf

Cavan General Hospital, Cavan Ireland
Keywords:
CT scan, Meningitis, Stroke
Abstract
Meningitis can present as a stroke mimic. We report a case of a 69 years old lady who presented to accident and emergency 2-hours after an episode of vomiting followed by sudden onset left sided weakness and drowsiness. Examination revealed left sided weakness with dysphasia. Initial plan was to decide if the patient was for thrombolysis. An urgent CT scan ruled out hemorrhage. On re-examination the patient was febrile and there was some degree of neck stiffness. Magnetic resonance imaging of brain was performed (DW1 no stroke) which ruled out acute ischemia. A lumber puncture was done eventually that showed low glucose, high leukocyte count, and gram staining revealed diplococci in chains. Clinicians should bear in mind the differential diagnosis of meningitis when there are risk factors and overlapping clinical symptoms.
Downloads
Download data is not yet available.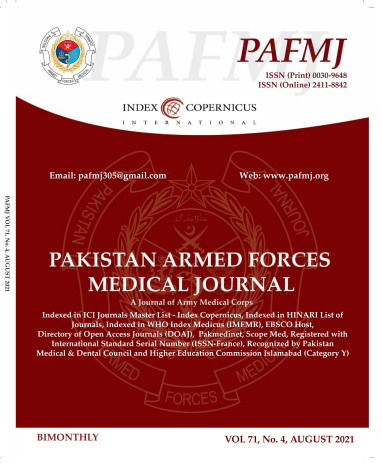 How to Cite
Sajjad, M., & Yousaf, S. (2021). ADULT PNEUMOCOCCAL MENINGITIS PRESENTING WITH STROKE LIKE SYMPTOMS. PAFMJ, 71(4), 1496-97. https://doi.org/10.51253/pafmj.v71i4.5454