ANTIMICROBIAL SUSCEPTIBILITY PATTERN OF STAPHYLOCOCCUS AUREUS STRAINS IN ISLAMABAD, PAKISTAN
Yasir Rasheed

COMSATS University Islamabad Pakistan

Kaleem Imdad

COMSATS University Islamabad Pakistan

Raheela Yasmin

HITEC-IMS Taxila/National University of Medical Sciences (NUMS) Pakistan

Ambreen Gul

HITEC-IMS Taxila/National University of Medical Sciences (NUMS) Pakistan

Aneela Jamil

Rawalpindi Medical College, Rawalpindi Pakistan

Ummara Aslam

COMSATS University Islamabad Pakistan
Keywords:
Antimicrobial, Islamabad, Pakistan, Staphylococcus aureus, Susceptibility
Abstract
Objective: To investigate the prevalence of S. aureus in hospitalized patients of Islamabad.
Study Design: Cross-sectional study.
Study Duration: Pakistan Institute of Medical Science, Applied Microbiology and Biotechnology Lab, COMSATS Institute of Information Technology, Islamabad, from Sep 2017 to Sep 2018.
Methodology: A total of 500 samples were collected. The isolates were divided into four study groups according to their source of origin i.e. group 1 (dermal group), group 2 (nasal group), group 3 (blood group) and group 4 (urine group). Gram staining, catalase test and DNA se media analysis were done for validation of S. aureus. Disc diffusion test (for antibiotic susceptibility), Oxacillin disc test (to differentiate between methicillin-resistant Staphylococcus aureus and methicillin-susceptible staphylococcus aureus) and minimal inhibitory concentration (for susceptibility to vancomycin), were performed.
Results: Degree of the prevalence of staphylococcus aureus was 21%, 17%, 9% and 8% in group 1, 2, 3 & 4 respectively. The overall prevalence of staphylococcus aureus was 19.5% in all isolates. The disc diffusion test showed the descending resistance pattern of isolates i.e. 100, 94, 94, 76, 58, 55, 47, 43, 40 and 37% for penicillin, ciprofloxacin, Kanamycin, erythromycin, tetracycline, oxazolidinone, sulfamethoxazole, doxycycline, clindamycin, and cipoxin respectively. Minimal inhibitory concentration found only one sample resistant at 2ug/l concentration of Vancomycin. Moreover, Oxacillin disc test showed 52% methicillin-susceptible
Staphylococcus aureus while 48.2% methicillin-resistant staphylococcus aureus among all isolates.
Conclusion: There is an increase in the frequency of methicillin-resistant staphylococcus aureus. Single vancomycin resistant staphylococcus aureus strain was also isolated.
Downloads
Download data is not yet available.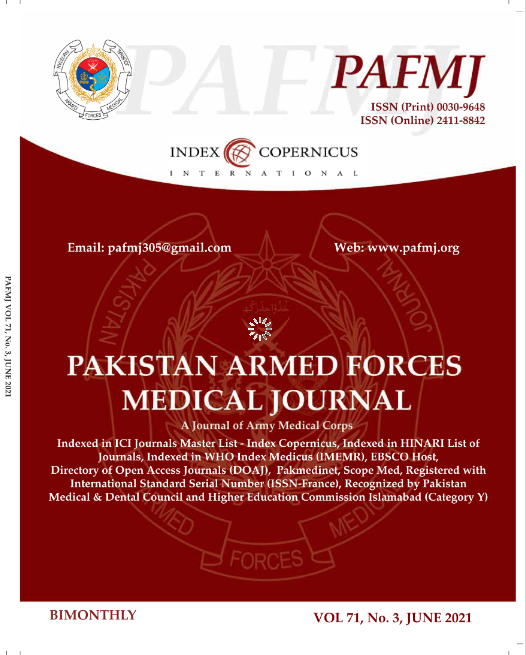 How to Cite
Rasheed, Y., Imdad, K., Yasmin, R., Gul, A., Jamil, A., & Aslam, U. (2021). ANTIMICROBIAL SUSCEPTIBILITY PATTERN OF STAPHYLOCOCCUS AUREUS STRAINS IN ISLAMABAD, PAKISTAN. PAFMJ, 71(3), 1056-60. https://doi.org/10.51253/pafmj.v71i3.5451
Section
Original Articles