ETHICAL DILEMMA OF CESAREAN SECTION ON MATERNAL REQUEST (CSMR)
Abeera Choudary

Pak Emirates Military Hospital/National University of Medical Sciences (NUMS) Rawalpindi Pakistan

Asifa Siraj

Pak Emirates Military Hospital/National University of Medical Sciences (NUMS) Rawalpindi Pakistan

Humaira Tariq

Combined Military Hospital/National University of Medical Sciences (NUMS) Rawalpindi Pakistan

Faiqa Chughtai

Pak Emirates Military Hospital/National University of Medical Sciences (NUMS) Rawalpindi Pakistan

Uzma Urooj

Pak Emirates Military Hospital/National University of Medical Sciences (NUMS) Rawalpindi Pakistan
Keywords:
Cesarean section, maternal request, tocophobia
Abstract
Objective: To study the demographic characteristics of pregnant ladies and factors contributing towards rise in cesarean section on maternal request to aid the obstetricians in decision making.
Study Design: Cross sectional analytical survey.
Place and Duration: Gynecology Department of Pak Emirates Military Hospital, Rawalpindi, from Nov 2019 to Mar 2020.
Methodology: One hundred and fifteen women of child bearing age requesting cesarean section were included in the study. Demographic details were noted. A study proforma was filled for determinants of primary and secondary tocophobia and factors that may be improved for vaginal delivery.
Results: A total of 115 patients with mean age of 27.99 years were included. Amongst them, 88 (76.5%) were Punjabi with 92 (80%) living in rural area. Primigravida were 11 (9.6%), 83 (72.2%) had previous lower segment cesarean section and 3 (2.6%) had vaginal delivery. For primary tocophobia, 22 ( 24.4%) experienced anxiety. Fear of labor pains was seen in 20 (19.2%) and lack of control in 27 (26%). For secondary tocophobia, 15 (37.5%) were fearful of prolonged labor and 5 (22.5%) of sub optimal birth outcome. In women with previous one cesarean section, 13 (14.8%) correlated negatively with birth experience and 20 (22.7%) found timed cesarean section convenient. For vaginal delivery, pain relief was preferred by 19 (20.2%) and 31 (33%)
wanted pain relief and attendant.
Conclusion: Better understanding of fears behind maternal request for cesarean section can lead to improved attitudes towards vaginal delivery. The negative perceptions of pregnant ladies should be addressed in antenatal.........
Downloads
Download data is not yet available.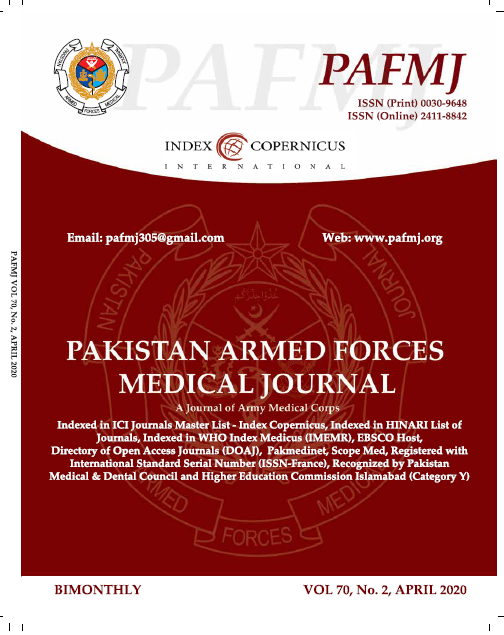 How to Cite
Choudary, A., Siraj, A., Tariq, H., Chughtai, F., & Urooj, U. (2021). ETHICAL DILEMMA OF CESAREAN SECTION ON MATERNAL REQUEST (CSMR). Pakistan Armed Forces Medical Journal, 71(2), 535-39. https://doi.org/10.51253/pafmj.v71i2.5448
Section
Original Articles